Investors compete for do ups at mortgagee auction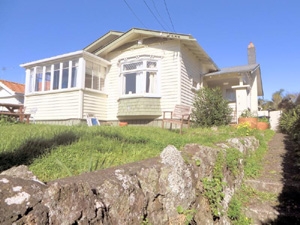 Mortgagee sales tend be few and far between these days so there was competitive bidding from a small but determined group of investors when two houses were put up for mortgagee auction at Barfoot & Thompson's CBD auction room this week.
Both properties were being sold by BNZ and both were do ups, providing investors with the opportunity to make improvements that could potentially lift their rental income and increase their value.
The first to be auctioned was at 5 Ranier St Ellerslie. This was a 1920s-era bungalow with an extension at the back that was added in the 1990s to give the house six bedrooms all up.
"It appears to need a little bit of work," the auctioneer said, adding the warning that that the agents handling the sale had been told that a Code Compliance Certificate may not have been issued for the extension to the back of the house.
The property had a rating valuation of $560,000 but that was surpassed by the opening bid of $600,000 and when the bids hit $710,000 the auctioneer announced the property was "on the market" an it went on to sell under the hammer for $780,000.
The second property was squarely located in investor alley at 82a Palmers Rd, Clendon Park.
This was a typical three bedroom, Hardiplank weatherboard and tile house on an 813 square metre section.
"Some elbow grease and further capital will be required," the auctioneer said before accepting the opening bid of $150,000.
There wee several bidders chasing this one and it sold under the hammer for $278,000 which was well up on its rating valuation of $220,000. According to QV.co.nz the property was previously sold for $248,000 in 2012.
----------------------------------------------------------------------------------------------------------------------------------------

Our new free Property email newsletter brings you all the stories about residential and commercial property and the forces that move these huge markets. Sign up here.
To subscribe to our Property newsletter, enter your email address here. It's free.
----------------------------------------------------------------------------------------------------------------------------------------