Auckland is falling behind the rest of NZ in home building and home ownership rates, but increasing its share of overcrowded housing stock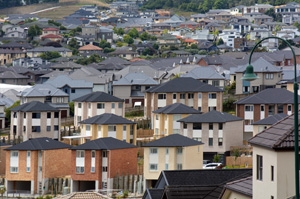 Auckland has fallen behind the rest of the country in the rate at which building consents are issued and in its home ownership rates, according to a report by Statistics NZ.
"Building consents per head of population have decreased markedly in Auckland since the building boom of the late 2000s," the Housing in Auckland report says.
"From 2006 onwards, building consents in Auckland have been lower per head of population than for New Zealand overall.
"For example, in 2013 there were 358 building consents per 100,000 people compared with 423 building consents per 100,000 people in New Zealand overall."
The report found that since 2006, Auckland's population had increased by 8.5%, but the number of occupied private dwellings in the region had increased by only 7.6%.
"Auckland showed little spare housing capacity with the second lowest percentage (6.6%) of unoccupied dwellings in New Zealand and little change in the number of these dwellings since 2006," the report said.
It also found that home ownership rates in the region had fallen behind the rest of the country.
"In 1986 home ownership rates in Auckland were similar to the rest of New Zealand at 73.9% and 73.6% respectively," it said.
"Since then home ownership rates in Auckland have fallen relative to the rest of New Zealand.
"In 2013, 61.5% of Auckland households owned their home or held it in a family trust, compared with 66.2% of households elsewhere in New Zealand."
Conversely, the report found that Auckland had a higher percentage of households that were renting their home than anywhere else in the country and that the percentage of Auckland households that were renting had increased from 32.4% in 2006 to 35.4% in 2013.
The number of Auckland children (aged under 15) living in rented accommodation had increased from 106,209 (39.8%) in 2006 to 121,464 (43.7%) in 2103.
And while household crowding had decreased in most parts of New Zealand since 1991, it had remained "persistently high" in Auckland, the report said.
It found that in 2013 there were 203,817 Aucklanders living in crowded housing, of which 63,155 were children.
In 1991 about a third (35.7) of crowded housing was in Auckland but by 2013 that proportion had increased to just under half (49.4%), the report said.
To read the full 109 page report, click on this link
---------------------------------------------------------------------------------------------------------------------------------------

Our new free Property email newsletter brings you all the stories about residential and commercial property and the forces that move these huge markets. Sign up here.
To subscribe to our Property newsletter, enter your email address here. It's free.
----------------------------------------------------------------------------------------------------------------------------------------