House sellers benefit further as inventory of homes for sale falls while asking prices remain high, says realestate.co.nz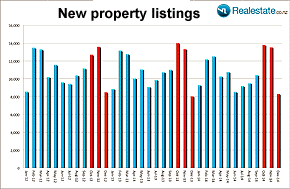 Content supplied by realestate.co.nz
The average asking price of houses for sale in December remained at high levels across the country, while inventory of available homes for sale declined reaching record low levels in Auckland.
Overall, the latest monthly data from Realestate.co.nz indicates that the NZ property market continues to favour sellers, and increasingly so.
While the national average asking price in December of $480,815 was slightly down on November, a fall of 3.9%, it was still 7% up on the same time a year ago.
Meanwhile in Auckland, the average asking price of $731,083 was only marginally below the all time record of $731,588 set in November.
The December average asking prices in Wellington and Canterbury were $462,511 and $450,919 respectively.
The more dramatic indice in December was the shrinking inventory of homes for sale across the country, which fell to its lowest level since November 2013.
Inventory is expressed as a theoretical measure of the number of weeks it would take to sell all unsold housing stock on the market at a given point in time. The long-term national average is 36 weeks, however in December inventory fell to just 24.5 weeks of stock, with 15 of 19 regions experiencing falls in available property levels.
Auckland drove the fall in inventory, registering an all time low of 10.8 weeks of stock in December, a 21% fall on November, and a 13% drop on the same month in 2013. Bay of Plenty also saw a new record low of 31 weeks.
The CEO of Realestate.co.nz Brendon Skipper says "the shortage in the number of homes for sale, especially in the three main centres, underlines the favorable environment house sellers enjoy as they seek to maximise the value of their homes on the property market. In total we now have just 37,537 homes for sale in New Zealand, which is the lowest since September 2013."
As per the seasonal trend, December was a quiet month for new listings with just 8,283 new homes coming on the market across the country, 39% down on November though slightly up, by 3.4%, on the same month in 2013.
The total of number of homes that were listed for sale in 2014 was 128,049, which was 2.8% down on 2013.
"The number of new listings tends to remain low through January, however we do expect to see a significant lift of homes coming on to the market in February and March this year, which will help to ease the current low levels of inventory that we are experiencing," says Mr Skipper.