Investors are being sought for a new property syndicate with close links to St Laurence's Kevin Podmore and Sandra Lee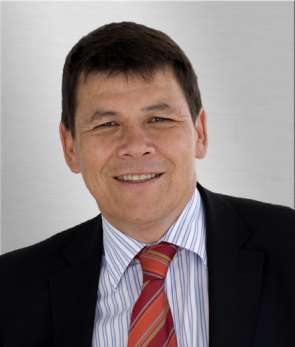 A new property syndicate being promoted to mum and dad investors has close links to two former directors of the failed St Laurence group of companies -  Kevin Podmore and Sandra Lee - although the ultimate ownership of the company promoting the syndicate is a mystery.
67 Courtenay St Ltd is a new syndicate being set up to acquire The Warehouse retail store on Courtenay St in New Plymouth, by offering shares in $25,000 parcels to the public. It's projecting an 8.5% return per annum.
The scheme is being promoted by New Zealand Syndication Group Ltd (NZSG), a company set up in May last year.
NZSG's website says the company was established to "utilise the collective experience and strengths of its owners to create and promote investment opportunities to sophisticated and retail investors."
But who the company's ultimate owners are is uncertain because of its unusual ownership structure.
NZSG lists its directors as:
Peter Hutchison (chairman), who is managing director of Fund Managers Otago Ltd, a privately owned company which operates two mortgage trusts.
Peter Waters, an Australian real estate agent and builder who according to NZSG's website "owns and manages a small industrial and residential property portfolio and has extensive consulting experience in property and finance," although it does not say which companies that has been with.
Mark French who is the managing director of Triumph Capital. Triumph is a property finance company set up in 2008 by several people associated with failed finance company Strategic Finance. Triumph lists its current owners as three family trusts, each of which is associated with one or other of the company's directors, who are French, Marc Lindale, a former executive director of Strategic and Brian Fitzgerald, a former Equiticorp executive who also had a close association with Strategic, which went into receivership in 2010, owing $368 million to around 10,000 secured debenture investors. Last year Strategic's receivers reached a settlement agreement with the company's directors and auditors for $22 million, under which the directors would not act as directors or promoters of any public issue for five years, or accept a position as chief executive or chief financial officer of of any public issuer, for five years, without the written approval of the Financial Markets Authority. The receivers estimate Strategic's secured debenture holders will eventually receive a payout of between 17% and 21% of the amount they are owed.
While NZSG has disclosed the identity of its directors, its ultimate ownership remains murky because ownership is via a holding company which is in turn owned by a nominee company operated by a Christchurch law firm.
Hutchison told interest.co.nz NZSG had six shareholders but said he could not name them without first seeking their permission, meaning potential investors in the new syndicate do not know who is ultimately standing behind the new investment offering.
However, although NZSG is the syndicate's promoter and will be paid a procurement fee of $230,000 for "arranging the acquisition of the property and undertaking due diligence investigations in respect of the property," it is unlikely to have much hands on involvement with the scheme, because it intends to contract out both the management of the syndicate itself and the underlying property management functions of The Warehouse property it will own, to Cambridge Asset Management.
St Laurence
Cambridge Asset Management was formerly known as St Laurence Assets Management.
Once part of the wider St Laurence group, it is now ultimately owned by the family trusts of Podmore (50%), Lee (25%) and James McArley (25%) a former St Laurence executive.
Podmore co-founded St Laurence and was a major shareholder in its parent company, while Lee was the senior manager in charge of finance at St Laurence's majority shareholder and later became an executive director at one of its major subsidiaries.
When St Laurence struck profound financial difficulties in 2008 it put a restructuring plan to its investors, and much was made at the time of a $20 million personal guarantee provided by Podmore.
The restructuring plan was subsequently approved, but in 2010 the company collapsed under the weight of its debts.
Shortly after St Laurence went into receivership, Podmore's family trust joined forces with the family trusts of Lee and McArley to acquire St Laurence Assets Management from the company's receivers, changing its name to Cambridge Asset Management.
However while Podmore's family trust was able to buy a 50% stake in St Laurence Assets Management, his personal finances were another matter and when St Laurence's corporate trustee called on him to honour his $20 million personal guarantee, he declared himself bankrupt and the guarantee was ultimately worthless.   
Although Podmore's family trust owns 50% of Cambridge, his bankruptcy prevented him from being a director of the company, however he has had an executive role in the business.
Formal warning
Last year the Financial Markets Authority issued a formal warning to St Laurence's directors, including Podmore and Lee, over potential breaches of the Securities Act in one version the company's prospectus.
Investors in St Laurence's secured debentures were owed around $223 million ($178 million plus accrued interest) and are likely to end up receiving less than 20 cents in the dollar, taking their losses to around $180 million.
Podmore was automatically discharged from bankruptcy last month, so it's now possible that he could take on a directorship in Cambridge at some stage. Podmore and Lee's background is disclosed in the 67 Courtenay St Ltd prospectus.
Cambridge manages a property portfolio worth around $100 million and one of the properties it manages is The Warehouse property On Courtenay St in New Plymouth, which is already in syndicated ownership.
Essentially the existing syndicate wants to cash up, so the property will be sold into a new syndicate of investors through NZSG, but  it will continue to be managed by Cambridge, which will continue to collect the syndicate and property management fees.
This new syndicate is being promoted to potential investors by Colliers International.
---------------------------------------------------------------------------------------------------------------------------------------

Our free Property email newsletter brings you all the stories about residential and commercial property and the forces that move these huge markets. Sign up here.
To subscribe to our Property newsletter, enter your email address here. It's free.
----------------------------------------------------------------------------------------------------------------------------------------