Investors who put at least $100,000 each into an Auckland property syndicate are likely to have lost the lot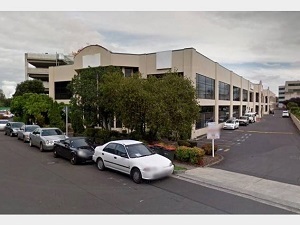 Investors in a substantial Auckland property syndicate associated with disgraced company directors Murray Rex Alcock and Allister Ronald Knight, appear to have lost all of the money they put into it.
The 656 Syndicate owned a substantial office building at 17 Sultan St in Ellerslie (pictured) and was one of several syndicates set up by Alcock and Knight's SPI group (previously Secure Property Investments) which have struck severe financial difficulties.
Alcock and Knight have each been fined $25,312 this week for breaches of the Financial Reporting Act during their time as directors of SPI Capital, after earlier giving the Financial Markets Authority enforceable undertakings to resign as directors of several SPI entities including the 656 syndicate, and to refrain from acting as a director, chief executive or chief financial officer of any company issuing securities to the public, for a period of five years.
But that may provide little comfort to investors in the 656 Syndicate, who have probably lost all of the money they put into the scheme.
The syndicate was set up by SPI in 2004 to acquire the Sultan Ave building, with mum and dad investors tipping in a minimum of $100,000 each.
The property was a substantial office building which had been redeveloped by prominent Auckland developers Mansons TCLM.
It was well located, adjacent to the Central Park office campus owned by Goodman Property Trust and had ANZ, which operated a call centre from the premises, as its anchor tenant.
But like several of the SPI syndicates, things did not go well and by 2013 the investors were facing the prospect of a forced sale of the property as they struggled to refinance its mortgage.
By that stage the building had lost some minor tenants and about 25% of its space was vacant.
Cash flow problems had led to maintenance being deferred which made it difficult to attract new, good quality tenants.
At that point Mansons came back into the picture and offered the syndicate a lifeline in the form of a mortgage provided by their property finance arm, New Zealand Mortgages & Securities (NZMS).
This was supposed to be sufficient to repay the existing mortgage (to NZ Guardian Trust which was exiting the mortgage market) and provide some additional cash to catch up on maintenance, which would make it easier to find tenants for the vacant space and lift the rental income.
But that did not happen.
As the financial situation of several SPI syndicates worsened and the FMA began investigating aspects of the group's operations, management of the Sultan Ave property was transferred from SPI Capital to Taurus Group, a Christchurch-based accounting firm with syndicate management experience.
Taurus director David Kitson said the company put forward a number of proposals to 656 investors to upgrade the property, including one which would have seen part of it redeveloped as a hotel.
But that would have required additional capital and the investors were unwilling to provide it and instead, voted to sell the property.
Although several conditional offers were received, none resulted in a sale.
Towards the end of last year the syndicate appears to have been facing severe cash flow problems once again.
Interest.co.nz understands that it owed Auckland Council around $220,000 in rates arrears and Watercare Services another $30,000 and NZMS had not been receiving interest payments on its loan, which was coming to the end of its term.
At that point Mansons made the syndicate an offer which may have been difficult to decline.
They offered to buy the property for $9.6 million, compared to its current rating valuation of $13.5 million, and the offer was accepted.
Kitson said the $9.6 million "was around the same amount" as the combined value of the mortgage on the property, the rates arrears, the unpaid water bill and the "very high penalty interest charges."
Which suggests the syndicate's mums and dads can kiss goodbye to the $100,000 minimum that each of them originally put into the scheme.
---------------------------------------------------------------------------------------------------------------------------------------

Our free Property email newsletter brings you all the stories about residential and commercial property and the forces that move these huge markets. Sign up here.
To subscribe to our Property newsletter, enter your email address here. It's free.
----------------------------------------------------------------------------------------------------------------------------------------