Commercial properties listed for sale can now be accessed through interest.co.nz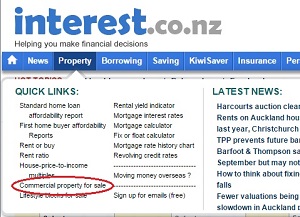 Readers of interest.co.nz can now access all of the commercial property listings carried by Realestate.co.nz, directly from this website.
All of the retail, office and industrial properties listed for sale on Realestate.co.nz can now be viewed on interest.co.nz.
To see the commercial property listings, readers simply need to click on the property tab in the subject bar at the top of interest.co.nz's home page, and then select "commercial property for sale" from the drop down menu.
Readers can then search for properties by location, type and price range.
Interest.co.nz's publisher David Chaston said the feature was introduced to make searching for commercial investment properties more convenient for the website's readers.
"With house prices being so high, many people who have traditionally been residential property investors are now starting to look at commercial property as an alternative," he said.
That is particularly the case for investors in Auckland, where residential rents haven't kept pace with the huge increase in house prices that has occurred over the last couple of years, which has had the effect of driving rental yields down below 4% on many newly purchased rental properties.
By comparison, many commercial properties are still providing rental returns of 6-8% and sometimes more, and they have the advantage that those returns are often net, because under most commercial leases the tenants usually pay the outgoings such as rates and insurance.
And they aren't just the domain of wealthy investors.
Smaller commercial properties can cost less than an average Auckland house, putting them well within reach of people with comparatively modest amounts to invest.
"Many commercial property investors already use interest.co.nz to keep track of changing interest rates and to see how properties fared at auctions, so providing them with direct access to the commercial properties listed on Realestate.co.nz was a logical extension of our services," Chaston said.
"It's just about making information more convenient for readers to access, by allowing them to get information from both websites through a single source." he said.