The median house price in the Waikato/BoP increases by more than $1000 a week from Sep '14 to Sep '15; house sale volumes nearly double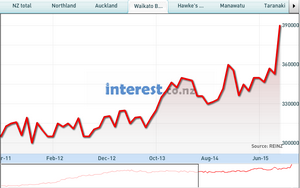 Auckland's housing crisis is seeing buyers move south, sending house prices and sales volumes sky-high in the Waikato and Bay of Plenty.
Real Estate Institute of New Zealand (REINZ) figures just released show sales volumes in Hamilton doubled in September, compared to September 2014, rising to 463.
Sales volumes across Waikato and the Bay of Plenty increased by a whopping 85% over this time to 1,619.
Meanwhile the median price across the region rose by 17% over the year, to $390,000.
Most notably, the median selling price in Mt Maunganui/Papamoa jumped 30% to $582,000; Taupo, 27% to $395,000; Tauranga, 26% to $472,500; and Hamilton 13% to $425,000.
In Mt Maunganui/Papamoa and Taupo, much of these increases occurred between August and September, with the median price surging 18% in this time.
Prices in Tauranga and Hamilton had already been trending up, as they only increased 1% and 2% over the month.
Rotorua and the Eastern Bay of Plenty experienced decent gains of 7% and 6% respectively between August and September, despite median prices in these areas dropping by similar amounts from September last year.
The number of days to sell in the Waikato/BoP was 33 days in September, which was 19 days less than in September 2014. Put in context, over the past 10 years the average number of days to sell during September for the region has been 47 days.
REINZ regional director Philip Searle says the influence of Auckland buyers is being keenly felt in Waikato and the Bay of Plenty.
"Both the numbers of first home buyers and investors are increasing. Although the number of listings has increased across the region, the volume of sales has meant that available listings remain very tight," he says. 
The median house price in the Auckland region rose a whopping 25% in September compared to September 2014, to $771,000.
The median selling price across the country was $484,650 in September, up 4.2% compared to August, and 15.4% compared to September last year.
Commenting on the Waikato and Bay of Plenty specifically, REINZ says, "The trend in median price is now steady, although the trend in sales volume is now rising. The days to sell trend is improving, with the overall trend for the region continue to improve."