It is increasingly common for less than half of the homes at auction to sell under the hammer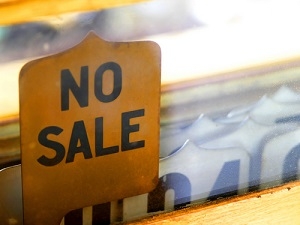 Residential property auctions in Auckland  may be losing some of their lustre with the success rate at many of the major auctions falling well below 50%.
The table below shows how many homes were sold at several major auctions conducted by Barfoot & Thompson and Harcourts throughout the Auckland region in the last two weeks.
Of the 10 auctions surveyed, only three had success rates above 50% and four had success rates below 40%.
Barfoot & Thompson managing director Peter Thompson warned in the company's October sales report that fewer properties were being sold under the hammer and vendors needed to be more realistic when setting reserve prices if they wanted to achieve a sale.
"Clearance at auctions has definitely slowed, but a significant number of sales are being concluded in post auction negotiations," Thompson said in the report.
"For vendors looking to sell quickly, auction remains the preferred method.
"However buyers are no longer under the same pressure to meet vendor price expectations and the properties that are selling are those with realistic reserves," he said.
And the slow down in auction sales is not confined to houses in the suburbs, it is also occurring in the Auckland apartment market, which tends to be more driven by investors.
Two main agencies dominate Auckland's apartment auction scene, City Sales and Ray White City Apartments.
At Ray White City Apartments' last auction on November 5, nine apartments were auctioned and none sold under the hammer and at the City Sales auction on October 28 all four properties offered for sale were passed in.
That was a complete turnaround from just a few weeks earlier when success rates above 70% were the norm.
Recent Sales Results From Major Auckland Residential Auctions

Agency
Venue
Date
Number Sold

Passed in,

withdrawn or postponed

Barfoot & Thompson
Bruce Mason Centre
North Shore
October 22
8 (24%)
26 (76%)
Barfoot & Thompson
Bruce Mason Centre
North Shore
November 5
13 (40%)
20 (60%)
Harcourts Cooper & Co
North Shore 
Week ending 1 November
14 (38%)
23 (62%)
Barfoot & Thompson
Manukau Sports Bowl
October 27
9 (28%)
23 (72%)
Barfoot & Thompson
Campbell Tyson Centre Pukekohe
October 28
1 (50%)
1 (50%)
Barfoot & Thompson
Bruce Mason Centre
North Shore
October 29
24 (60%)
16 (40%)
Barfoot & Thompson
Pukekohe Raceway
October 29
9 (48%)
10 (52%)
Barfoot & Thompson
Head Office Auction Room, Shortland St, CBD
October 30
10 (38%)
16 (62%)
Barfoot & Thompson
Head Office Auction Room, Shortland St, CBD
October 28
41 (56%)
33 (44%)
Barfoot & Thompson
Head Office Auction Room, Shortland St, CBD
October 29
7 (70%)
3 (30%)