Harcourts' average selling price drops for the 2nd straight month led by price falls in Auckland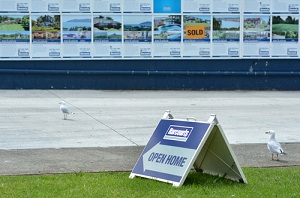 Harcourts average selling price dropped for the second month in a row in November, led mainly by declines in Auckland. 
The average price of all homes sold by the real estate agency last month was $505,738, compared with $514,632 in October and $539,961 in September.
In Auckland the average selling price was $815,438 in November compared to $822,604 in October and $841,502 in September, giving a decline of 3.1% over the last two months.
However the average Auckland selling price of $815,438 in November remained up $104,942, or 15%, on the average price in November 2014 when it was a comparatively modest $710,496.
Around the rest of the country prices appeared to be relatively stable in November.
Harcourts sold 2203 homes throughout the country in November, which was up 51, or 2.4%, on the 2152 it sold in October, and 95, or 4.5%, higher than the 2108 it sold in November last year.
In Auckland the company sold 582 homes in November, which was up on the 533 it sold in September but well down from the 676 it sold in November last year.
Harcourts chief executive Chris Kennedy said although the market had slowed towards the end of the year, particularly in Auckland, there was no cause for alarm.
"The new LVR rules for Auckland and the bright line test for investors have had an impact on the market, but I believe it will be short term," he said.
" It appears some buyers are taking an early summer break while they consider the impact of those new rules."
"And that only really applies to Auckland.
"In the rest of the country things are humming along nicely with good sales and prices across the board," he said.
See the table below for Harcourts' sales results from throughout the country:
Harcourts Residential Property Sales

 
November 2014
September 2015
October 2015
November  2015
Auckland/Northland
 
 
 
 
    Average price
$710,496
$841,502
$822,604
$815,438
    Number of sales
676
636
533
582
Central NI (incl. BoP & Waikato)
 
 
 
 
    Average price
$329,469
$363,586
$376,205
$372,792
    Number of sales
389
551
545
501
Wellington and Lower NI
 
 
 
 
    Average price
$387,566
$362,511
$385,756

$386,151

    Number of sales
346
332
335
355
Christchurch
 
 
 
 
    Average price
$488,515
$511,703
$516,168
$510,926
    Number of sales
445
459
463
473
Rest of SI (excl. Chch)
 
 
 
 
    Average price
$356,143
$318,631
$326,266
$323,607
    Number of sales
230
310
256
268
Total NZ
 
 
 
 
    Average price
$494,230
$539,961
$514,632
$505,738
    Number of sales
2108
2316
2152
2203