QV says average dwelling values in Auckland fell last month, but rose in most other parts of the country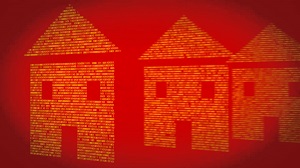 Average residential property values in Auckland dropped for the second month in row in February but increased in most other parts of the country, according to Quotable Value.
QV said the average value of Auckland homes was $925,656 in February, down from $928,921 in January and $933,264 in December. The Auckland market has increased 17.8% year-on-year, but dropped 0.7% over the last three months.
The slide in Auckland values was widespread, with average dwelling values declining in the North Shore, Waitakere, the Central Isthmus, Manukau and Papakura.
The only places to go against the trend were the two districts at Auckland's northern and southern boundaries, with Rodney and Franklin both posting increases in their average valuations.
Valuations also continued to rise in other main centres, with the average dwelling value in Wellington increasing from $482,716 in January to $485,424 in February (up 6.1% for the year) while average values in Christchurch increased from $484,118 in in January to $485,014 (up 2.5% for the year) over the same period.
Property values have also been rising strongly in Hamilton, where they increased from $447,921 in January to $455,966 in February (up 22% for the year) and in Tauranga, where they increased from $557,313 in January to $564,547 in February (up 22.3% for the year).
Double digit growth in average dwelling values in the year to February also occurred in Whangarei (14.6%), Hauraki (12%), Matamata/Piako (10.7%), Waipa (14.2%), Western BoP (13.4%), Rotorua (10.2%), Opotiki (11.7%), Central Hawkes Bay (10.5%), Stratford (10.5%), Central Otago (11%) and Queenstown-Lakes (13.7%).
The average value of all homes throughout the country was $556,306 in February, up 11.6% compared to a year earlier.
The only places to post annual declines in average values were the Buller (-6.2%) and Grey (-10.2%) districts on the West Coast.
To see the average dwelling values for all parts of the country and how much they have changed in the 12 months to February, click on the link below:.
QV House Price Index _29FEB2016-55ead1919a98cfac8797c1577e9661adbabe7596.xlsx