Colliers revenue up 30% last year on buoyant commercial property market - CBRE and JLL also achieved good growth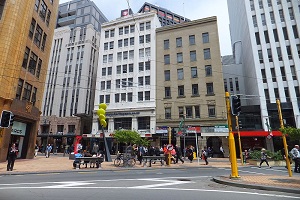 It is not just the residential property market that is booming, commercial real estate agencies are also posting some spectacular growth.
Colliers International, CBRE and JLL have all released their accounts for the year to December 2015 and all show substantial growth in revenue.
The three companies are the only significant players in the commercial real estate market to publish their accounts, a legal requirement because they have overseas owners.
But their results give a good insight into overall activity levels in the commercial property market.
The biggest of the three, Colliers International, which is probably also the biggest commercial agency in the country, posted a 30% increase in revenue last year to $68.7 million.
And in a commission driven industry it's payout to staff was $51.1 million compared to $38.8 million in 2014 (see table below).
However those figures exclude Colliers' franchised operations outside of Auckland which provided another $42.3 million of revenue last year, taking the group's total New Zealand revenue to $107.9 million.
Colliers chief executive Mark Synnott said growth had been particularly strong in the hotel sector on the back of the tourism boom, and also in its rural arm which was a new business unit for the company.
And the growth in revenue is not over yet.
Synnott said that since the beginning of this year, Colliers' revenue was running about 15% to 16% ahead of last year.
The other two large commercial agencies to release their accounts reported less spectacular but still healthy growth last year, with CBRE's revenue up 10% to $43.5 million and JLL's revenue up 13% to $26.7 million.
See below for a summary of the annual results of Colliers, CBRE and JLL:
 
Colliers International*
CBRE
JLL**
Year to December
2014
2015
2014
2015
2014
2015
Revenue
$52.7m
$68.7m
$39.6m
$43.5m
$23.6m
$26.7m
Employee benefits
$38.8m
$51.1m
$28.0m
$31.5m
$12.2m
$13.0m
Operating profit (Loss)
$5.9m
$8.4m
$3.1m
$2.4m
($0.7m)
$0.8 m
Tax
$1.6m
$2.5m
$0.6m
$0.8m
Nil
Nil
Net profit (Loss)
$4.2m
$5.9m
$2.4m
$1.5m
($1.4m)
$0.039m
*Excludes

 Colliers' franchised offices.  

**Excludes JLL Hotels 
You can receive all of our property articles automatically by subscribing to our free email Property Newsletter. This will deliver all of our property-related articles, including auction results and interest rate updates, directly to your in-box 3-5 times a week. We don't share your details with third parties and you can unsubscribe at any time. To subscribe just click on this link, scroll down to "Property email newsletter"and enter your email address.