$10,000 for a slice of Oyster PIE and a pre-tax return of at least 7%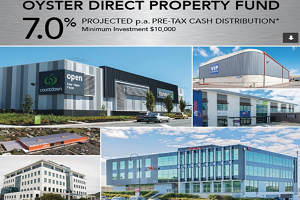 Property syndicator Oyster Group's new investment fund is offering a return that's slightly less than recent property syndicates but a bit more than the major NZX-listed property entities.
The Oyster Direct Property Fund is forecast to provide an initial  pre-tax cash return of 7% pa, with distributions to be paid monthly.
That's a tad less than most recent property syndicates, with Oyster's most recent syndicate - the Cider building in Auckland, offering an initial pre-tax return of 7.5%.
But it's also more than the income returns offered by the major NZX-listed property vehicles, which had gross dividend yields (at Tuesday's close) ranging from 4.9% (Precinct) to 6.3% (Stride).
The fund is unusual in that instead of investing directly in properties that it would own, its initial investments are property owning syndicates that are managed by Oyster.
The fund will take partial stakes in eight Oyster syndicates, which between them own nine commercial buildings, five of which are in Auckland.
The properties range from supermarkets to office and industrial buildings, giving the fund a spread of underlying investment properties by both type and location
The fund will receive its share of the monthly cash distributions that each syndicate pays out to its investors, and after deducting its own fees will make monthly distribution payments to its own investors.
It is being structured as a PIE scheme and the minimum investment is $10,000, which is substantially less than the minimum investment required by most syndicates.
The fund is not taking on any debt to buy into the syndicates, so its distributions should be relatively stable over the medium term and will reflect the returns provided by the underlying syndicates in which it invests.
But there are two other important factors potential investors should consider - how they cash up their units if they want to withdraw from the fund, and how the nature of the fund could change over time.
Investors wanting to cash up could sell their units in the fund privately, although that may prove difficult.
They will also be able to request the fund to buy back their units, which it will do, provided it has sufficient cash available.
The fund will continue indefinitely and it won't have the ability to cash up the syndicates it is investing in.
It will be able  to sell the individual shares it owns in syndicates but it may be difficult to find buyers for these, particularly if market conditions are unfavourable.
So, essentially, it will be holding illiquid assets, which will affect how much cash it has available for investors wanting to redeem units.
Oyster has devised a partial solution to that problem by requiring the Fund to hold cash equivalent to 0.5% of its net asset value, to be used for redemptions.
If the value of applications for redemptions exceeds that cash reserve, redemptions will be paid out on a pro-rata basis until the cash reserve is sufficient to redeem the balance.
Oyster will be able to suspend redemptions to prevent a run on the fund and no redemptions will be allowed in its first year.
Investors will buy into the fund at $1 per unit.
For redemption purposes, units will be valued at the fund's net asset value divided by the number of units issued.
The fund will have initial set up costs of $1,236,467, which is 7.2% of the $17.25 million being raised and this will be written off over five years, which will affect net asset value.
Investors should also consider how the nature of the fund could change over time.
Oyster intends to grow the fund over time by seeking more money from investors.
If  the cash inflows from investors taking up units are sufficient, the fund will likely become a partial investor in new syndicates Oyster puts together and it may also buy its own properties directly.
So eventually it could own a mix of shares in syndicates and a portfolio of its own properties.
Although it won't borrow money to invest into syndicates (each syndicate will almost certainly carry its own debt), it may use bank funding to purchase any properties its buys directly.
So over time the structure and performance of the Fund could change.
Click on the following link for the fund's Product Disclosure Statement:
OYSTER_DPF_Replacement_Product_Disclosure_Statement_18_May (1).pdf
You can receive all of our property articles automatically by subscribing to our free email Property Newsletter. This will deliver all of our property-related articles, including auction results and interest rate updates, directly to your in-box 3-5 times a week. We don't share your details with third parties and you can unsubscribe at any time. To subscribe just click on this link, scroll down to "Property email newsletter"and enter your email address.