Infometrics pinpoints where population growth is set to soar and reveals just how many people Kaikoura could lose due to the quakes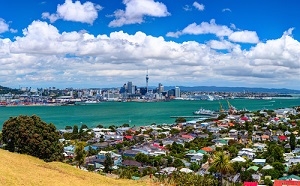 A data analytics firm says New Zealand can expect some of the fastest rates of population growth to come from the areas outside of our main centres' business districts.
Infometrics, in its 'Regional Hotspots 2016' report released on Thursday, projects Hobsonville will experience unprecedented population growth of 254% in the decade to 2023.
Meanwhile it expects southwest Christchurch's population growth to hit 105% and Papamoa's 74%.
Put in context, our national population grew by 2.1% over the past year - the fastest rates since the mid-1970s.
Infometrics' chief forecaster, Gareth Kiernan, says the growth he has highlighted in the report is by no means "run of the mill".
"In many cases, these locations are faced with rapid expansion because they are areas for development that have been targeted by local councils as planners try to facilitate urban growth to match their city or town's popularity," he says.
Infometrics has highlighted the following areas as key growth spots: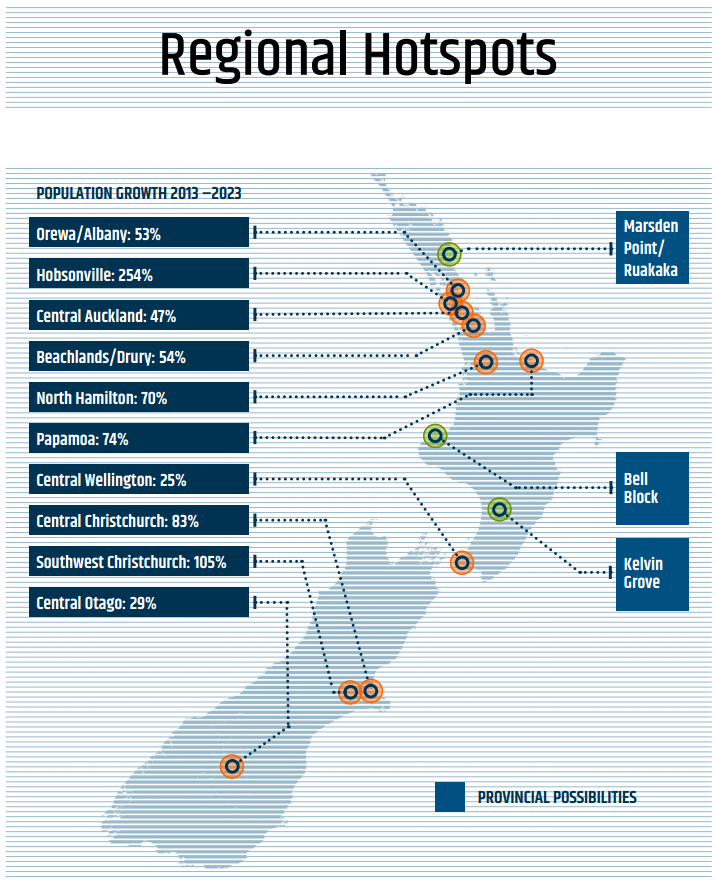 Kaikoura
On the flipside, Kiernan says we should brace ourselves for an 18% population drop in Kaikoura over the next 18 months, further to the earthquakes that are still rattling the region.
Citing large scale transport and infrastructure damage, he says it's likely to be more than two years before half of the required work is completed.
As a plus, he believes those in construction are starting to wrap things up in Christchurch, so may want to move to Kaikoura (as opposed to Auckland) for work.  
Furthermore, a lot of the infrastructure-intensive work to be done in Kaikoura is different to that of the residential building needed in Auckland, so the two regions may not have to compete too much for workers.
Yet Kiernan says the fact tourism makes up 12% of Kaikoura's economy, means the effect of the earthquake on the district's GDP will be greater than that suffered in Christchurch after the 2010/11 earthquakes, where tourism only makes up 3.3% of the economy.
"Given concerns over the transport linkages, a best-case scenario could mean that many firms would need financial assistance for almost a year, until the 2017/18 summer season gets underway, if jobs in the town are to be maintained," he says.
"A whopping 27% of employment in the Kaikoura district relies on tourism, so a downturn in tourism is likely to have negative flow-on effects for other industries."
Auckland
Explaining his projections for Hobsonville, Kiernan says: "Population growth has been relatively modest to date, but will accelerate as the area's supply of new housing expands. Almost 8,000 dwellings in the Hobsonville area are planned within Special Housing Areas, with about 7,400 of those dwellings falling within the Hobsonville Point development."
As for central Auckland, he says strong population growth is expected close to the waterfront, particularly in Wynyard Quarter, where developers are targeting the upper end of the market.
"Although a lot of attention has been focused on the development of town centres with higher-density residential components in suburban areas, these pockets of intensive (CBD) development pale by comparison with the expected growth in the central city's population over the next decade," he says.
"The deluge of central city apartment development during the first half of last decade saw the population of our Central Auckland hotspot more than double, from 24,100 people at the 2001 census, to 49,400 by the 2013 census."
Kiernan says an additional crossing over the Harbour Bridge planned for 2030 will make the area between Orewa and Albany increasingly attractive.
"The more expensive nature of coastal property means that the disposable incomes and spending power of the growing population in the northern reaches of Auckland are likely to be higher on average than across Auckland as a whole," he says.
As for Beachlands to Drury, Kiernan says: "The most difficult part about including part of south Auckland as a hotspot is that almost the entire southern and eastern third of the city could be highlighted in our report.
"Between the mix of infill housing, increasing densification around suburban hubs, major new areas of development including some large Special Housing Areas, and general expansion around the urban fringes, south Auckland encapsulates the growth pressures that the Auckland region is grappling with as its population continues to grow."
Waikato/BOP
Kiernan acknowledges the "halo effect" as people move out of Auckland to surrounding areas.
He says north Hamilton has been favoured by developers and property buyers due to developments such as The Base shopping mall, improved highways and its proximity to Auckland.
"The more affluent, younger age profile of people in the area indicates the area is set for strong business growth and development over the coming decade," he says.
As for the Bay of Plenty, Kiernan says Tauranga has transformed from a retirement destination to a "more broadly based growth city".
He expects growth in Papamoa to outperform that of southern Tauranga - with this helped along by the completion of the Tauranga Eastern Link last year, and Papamoa's proximity to the beach.
Wellington
Kiernan says: Since the Christchurch earthquakes in 2011, Wellington's office market has been going through another transitional phase, with strong demand for space in high-grade and seismically safe buildings, while lower-grade buildings have struggled to attract or retain tenants.
"The surplus of lower-grade space has become even greater throughout 2016 as government departments have continued their process of consolidation, moving into refurbished and upgraded premises.
"The returns that owners are able to generate from lower-grade office space are generally exceeded by the returns that can be made from apartments. As a result, for buildings that meet tenants' seismic strength requirements, we expect to see more apartment conversions taking place over the next five years…
"Central Wellington's population grew by 6.1% in the June 2016 year, suggesting the renewed wave of apartment conversions is already underway."
Canterbury
Kiernan says population growth in the city centre is expected to accelerate over the next five to 10 years, having fallen by 33% between the 2003 and 2013 census.
"The mix of residential and commercial buildings will change as less efficient commercial office space gives way to residential dwellings in the city centre," he says.
"Central government and large firms are returning to the city. Previous commercial occupants will be slower to return due to significantly higher rents."
As for southwest Christchurch, Kiernan says: "The drift in population since the Christchurch earthquakes in 2011 has been another contributor to population growth and residential development in Rolleston, Wigram, Prebbleton, Lincoln and around Halswell."
Otago
"Of all our hotspots, Central Otago has by far the lowest population density," Kiernan says.
He notes high growth areas in Queenstown are concentrated in the east and south with 700 residential sections at Jack's Point and 2,000 lots planned for Hanley's Farm.
However he expects Queenstown's high house prices to continue to push people towards Arrowtown, Wanaka and Cromwell.