Construction cost increases greatest at the top end of the market, QV says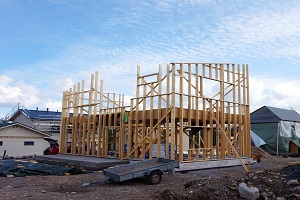 The average cost of building a home rose by 3.5% in the 12 months to May, according to QVcostbuilder, an online tool provided by Quotable Value which monitors building costs in Auckland, Wellington, Christchurch and Dunedin.
However the total costs of buying a new home may have risen by much more than that, because the costs monitored by QVcostbuilder exclude the cost of land and certain other costs associated with building a new home such as the demolition of any existing buildings, council and legal fees, and finishing work such as forming driveways and landscaping.
The figures also suggest that most of the new homes being built are likely to be towards the upper end of the market, because the rate of cost increase for more modest homes was below the 3.5% average.
These show that the cost of building a standard 140 square metre three bedroom/one bathroom house in Auckland was $272,000, which was up 2.3% compared to a year earlier. In Wellington it was $258,000 (+2.43%), in Christchurch it was $277,375 (+1.92%) and Dunedin it was $254,000 (2.12%).
The biggest increase in cost was in the large house category (200-600 square metres), which rose by 3.39% in the 12 months to May.
"it's important to remember the average cost of building a home will always be dependent on the level of finishes, internal layout and whether it has a single or double garage," QV spokesperson Andrea Rush said.