There wasn't a lot to choose from at the latest apartment auctions but half were sold under the hammer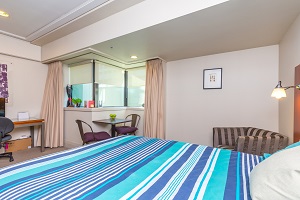 There wasn't a lot of action at the main Auckland apartment auction rooms this week, with just six apartments on offer and comparatively small turnouts by prospective bidders.
At Barfoot & Thompson's Shortland St auction rooms three apartments were on offer, one a larger more upmarket apartment in the Sugar Tree Prima building at the top of Union St, another in the Four Seasons building in Emily Place and the third in a building on Hobson St that requires remediation work to be done.
Things got off to a fine start with competitive bidding from several prospective buyers for the Sugar Tree apartment which sold under the hammer, but the remaining two were passed in without receiving a single bid.
Ray White City Apartments also had three apartments on offer at their regular Thursday auction (which will be postponed to Friday next week because of the welcome home parade for Emirates Team New Zealand and the America's Cup on Thursday).
There were multiple bidders for a leasehold studio unit in the Sebel Hotel on Customs St West and for a unit in the Princeton building on Symonds St and both sold under the hammer, but there were no bids for a studio in the Bankside Apartments building in Bankside St and it was passed in for sale by negotiation.
The full results with the prices achieved for the units that sold, are available on our Residential Auction Results page.
You can receive all of our property articles automatically by subscribing to our free email Property Newsletter. This will deliver all of our property-related articles, including auction results and interest rate updates, directly to your in-box 3-5 times a week. We don't share your details with third parties and you can unsubscribe at any time. To subscribe just click on this link, scroll down to "Property email newsletter"and enter your email address.