Court orders reveal Auckland property owners involved with notorious slumlord on the brink of having their properties seized by Westpac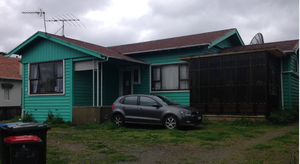 By Jenée Tibshraeny
A search is underway for the owners of two Auckland properties effectively turned into slums by the director of a company called 'Jesus (2016) Company Ltd'. 
Westpac is looking for Yingqiu (otherwise known as Annie) Zhang and Meijuan Chen, as they have defaulted on their mortgage repayments and haven't complied with Auckland Council building notices and Environment Court enforcement orders.
Westpac placed ads in the classified section of the NZ Herald calling for anyone who knows where the two women are to bring the notices to their attention.
The notices, pursuant to Auckland District Court orders dated August 31, demand Zhang coughs up $11,914 and Chen $36,667.
It says Zhang and Chen have until November 13 and 15 respectively to pay up and bring the properties back in line with environmental and building standards, before the bank possesses them.
Part of a bigger problem
An Environment Court decision issued on September 27 shows the properties in Paremoremo and Royal Oak are among six in breach of the Resource Management Act. The others are in Greenhithe, Waiwera, Swanson and Mount Roskill.
The houses have been divided into units and in some cases other structures have been brought on site to accommodate for more people. The dwellings, which Environment Court Judge Dwyer dubs "unsafe, overcrowded and unsanitary", have then been rented out.
The common denominator is that all the development work has been done by the person who manages the properties, Ee Kuoh (otherwise known as Augustine) Lau.
Lau, who works through his company Jesus (2016) Company Ltd, is no stranger to the authorities. A quick Google search brings up a string of media reports related to his property-related offending.
Judge has 'genuine concern' about respondents' lack of respect for the law
Dwyer says his prior experience with Lau indicates he has little regard for the law.
He says the response of Lau and his accomplices to court orders issued in a separate case in September, involving an Otahuhu property, was "evasive, recalcitrant and inadequate".
As for this case, Dwyer says: "The sustained and deliberate course of illegal building and other activity occasioned by the Respondents [Lau, Zhang, Chen and others] gives rise to a genuine concern as to their willingness to comply with any orders which the Court makes."
To make matters worse for Westpac, the Court has also struggled to locate Zhang.
Lau was the only respondent in the Environment Court case to actively participate in proceedings. And a March Environment Court decision related to Zhang's Paremoremo property, concluded she had to be emailed an interim enforcement order as authorities didn't know where she was.
The decision said she was believed to have resided at a property on Ormiston Road, Flat Bush, for a period before August 2016. However it appeared the property was being managed by Lau, who was bailed to it at the time.
Untreated sewerage discharged onto Zhang's property
Looking at Zhang's 436 Paremoremo Road property more closely, the Environment Court enforcement order says: "The original dwelling on this property (which was permitted) has been converted into three dwellings.
"The original garage has been converted into a further dwelling and an additional house relocated onto the property has been converted into five dwellings, giving a total of nine dwellings on the property.
"Additionally, the installation of a new but substandard wastewater system serving the dwellings has resulted in the discharge of untreated domestic waste to land."
The Court orders Zhang, Lau and Jesus (2016) Company to disestablish all but one dwelling at the site (by removing walls, kitchen and bathroom facilities for example), give written notice to any occupants of the unpermitted dwellings, and decommission the wastewater disposal system.
If they don't meet the orders within a four-month time frame, Auckland Council is authorised to step in and recover any costs for rectifying the situation.
This Barfoot and Thompson video shows the state of the property when it was on the market in February 2015.
This is what it looks like now:
The Westpac notice also points out Auckland Council issued Zhang Insanitary Building Notices on August 31 and September 18. The bank orders Zhang to comply with these notices.
Lau's other accomplices
The state of Chen's property at 676 Mount Albert Road, Royal Oak, isn't as bad as Zhang's.
The Environment Court ruling explains the original house has been converted into five dwellings and the garage into an additional two.
The Court orders Chen, Lau and Jesus (2016) Company to disestablish the illegal dwellings and give the tenants notice.
Westpac's notice also orders Chen to show she's complied with a Dangerous Building Notice issued by Auckland Council on November 3, 2016.
The other properties that have likewise been modified by Lau (without resource consents or building permits) and rented out, are at the following addresses, and are owned by the following individuals:
56 Albany Highway, Greenhithe. Owned by Yingyue Zhang.
32 Weranui Road, Waiwera. Owned by Quifen Lu.
41A Candia Road, Swanson. Owned by Quifen Lu.
13 Memorial Avenue, Mount Roskill. Owned by Liansen Mao.
Interest.co.nz believes Westpac is trying to find others who have defaulted on their mortgages, and who may have connections to Lau, Zhang or Chen. It doesn't have any knowledge of who these individuals are.
Westpac risks losing money on mortgagee sale as property value drops
The other notice Westpac has put in the Herald's classifieds this week is for a Shelly Beach property owner who hasn't met their mortgage repayments.
Westpac is ordering Jianhua Lu to remedy his defaults by paying $12,003 and "reducing the amount outstanding to the Mortgagee to $477,500 to ensure that outstanding amount secured against the Mortgaged Land meets the Mortgagee's lending guidelines, and the guidelines set out by the Reserve Bank of New Zealand".
The notice explains the property at 91 Shelly Beach Road was valued at a lesser amount in April, when Westpac got an evaluation done ($955,000), than the amount outstanding on Lu's mortgage in September ($1,154,749).
The notice says Lu has until November 10 to comply with the order, before Westpac can take possession of the property.
---
CORRECTION: The Shelly Beach Road property is north of Auckland, not on Shelly Beach Road in Herne Bay as Jenée Tibshraeny had previously written.