Phil Twyford progresses Nick Smith's plans to give central government the power cut through local planning rules to develop major urban housing projects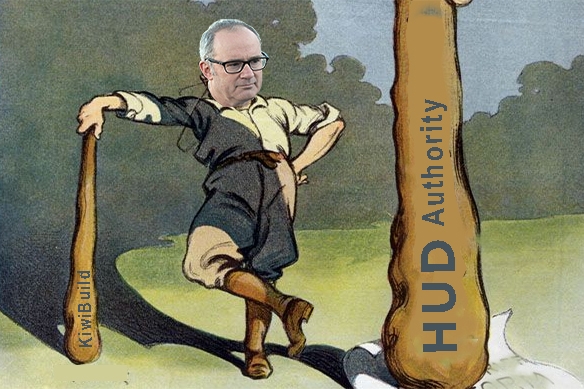 The Government has unveiled details of a proposal to create a Housing and Urban Development Authority to give central government the power to override local planning rules to build houses fast in designated areas.
The idea being put on the table is for the Authority to bring together three existing agencies – Housing New Zealand, its subsidiary HLC and the KiwiBuild Unit – to lead urban development projects and be a public landlord.
The controversial part of the proposal is that the Authority will have access to a wide range of statutory powers to do the following in project areas:
Override, add to, or suspend provisions in Resource Management Act (RMA) planning documents;
Issue resource consents;
Buy, sell and lease land and buildings;
Compulsorily buy private land;
Build, alter or remove any building or infrastructure;
Have the same powers as Auckland Transport in relation to land transport, and the same powers as territorial authorities in relation to waters and drainage infrastructure and services;
Seek approval from the Minister of Conservation and the Housing and Urban Development Minister to use government, local purpose, recreational, scenic and historic reserves (but not natural or scientific reserves) for development purposes;
Suspend, make or amend bylaws.
Housing and Urban Development Minister Phil Twyford expects the Authority to see development move from the concept to the building stage within a year, rather than taking around five years. 
His proposal builds on work championed by his predecessor Nick Smith.
However the 135-page long discussion document the Ministry of Business, Innovation and Employment (MBIE) released under Smith's leadership in February 2017 raised "significant concerns" for Auckland Council. 
In its submission, the Council said it wanted to make sure it had the power to veto specific development proposals.  
Twyford has confirmed that councils won't have veto rights, but says the Authority will have to "seek a local authority's agreement to undertake large-scale developments and may enter into agreements with local authorities concerning infrastructure and public amenities".
Furthermore: "Local authorities will have the right to appoint at least one representative to the Board of large-scale developments."
The Authority will also work with other agencies, iwi and private partners.
The powers Twyford would like to give it are similar to those the 2013 Housing Accord gave 'Special Housing Areas' where development could be streamlined. 
However the key difference between the Authority and Special Housing Areas, is that the former sees the Government take responsibility for building homes, while the latter leaves this to the free market.
Special Housing Areas were also only meant to be temporary fixes - pending RMA changes and the Unitary Plan becoming operative in Auckland's case. 
The Authority is expected to cost $100 million to set up. 
New legislation to establish a Housing and Urban Development Authority will be introduced to Parliament in 2019, with the first projects expected to be up and running in early 2020. These will be in Mangere, Mt Roskill and Porirua.
Twyford says: "Over the coming months, we will continue to communicate the progress we're making on our KiwiBuild and state home build programmes and further detail how the urban development authority will operate."
For more information, see this facts sheet.