Successive buyers have lost more than $200,000 each on a downtown Auckland apartment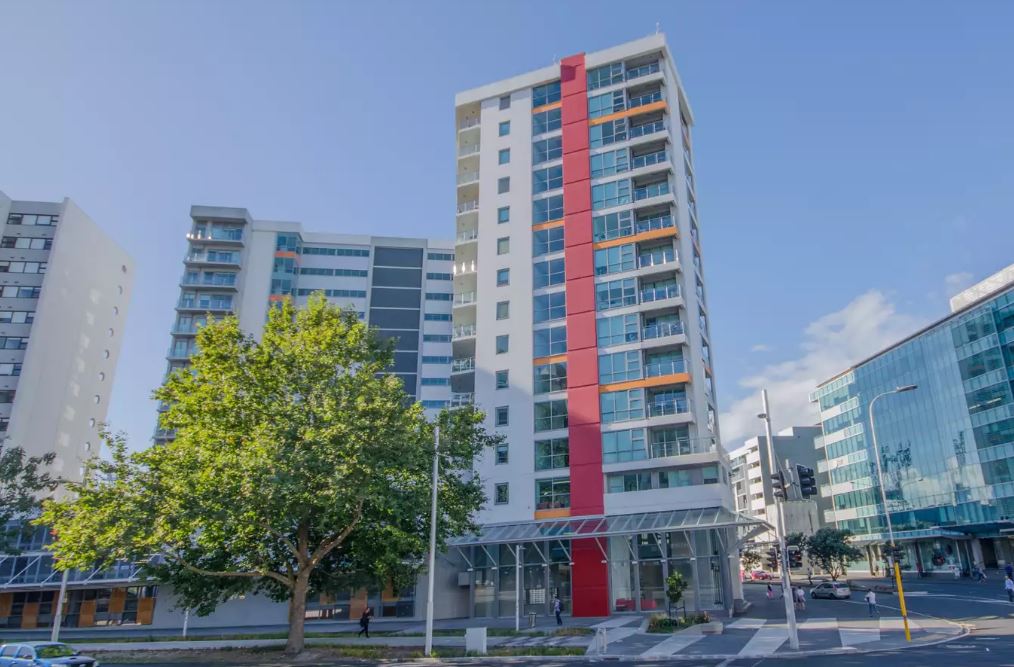 A two bedroom apartment with two car parks in downtown Auckland has sold at auction for $65,500 compared to its 2006 purchase price of $490,000.
The apartment is in the Scene Three building at 30 Beach Road adjacent to the Britomart precinct. It has a floor area of 80 square metres and comes with two bedrooms, a double (tandem) car park, a study and two balconies (see photos below).
Apartments in the Scene Three complex are considered to be of a high standard and the complex has facilities such as a tennis court and swimming pool for its residents' use, but many of the units have been financial disasters for their owners.
According to QV.co.nz the apartment that sold this week for $65,500 was originally purchased in 2006 for $490,000 and then resold for $280,000 in 2014.
That means the original buyer lost $210,000 on the unit and the second buyer lost $214,500, before allowing for selling costs such as agent's fees and legal expenses.
The unit has a current rating valuation of $740,000.
The dramatic loss in value appears to be due to the fact that the property is on a leasehold title which means the owners must pay ground rent on the unit, which is reviewed every seven years.
The ground rent for the unit that sold was $13,280 a year, on top of an annual complex management fee of $6666 and rates of $1962, taking total outgoings for the unit to $21,908 a year.
The ground rent is currently under review, and with property values in Auckland having skyrocketed over the last seven years, the increase could be substantial.
Interest.co.nz understands that uncertainty over the amount of the ground rent increase was the main reason for the property's dramatic slide in value.
When it was offered for auction at Ray White City Apartments this week the opening bid on the unit was just $1, which the auctioneer accepted, saying "It's not where we start that matters, it's where we finish that's important."
Although there were several experienced investors prepared to take a punt on the property, uncertainty over the size of the ground rent increase and the effect that could have on the unit's cash flow meant they were going to drive a hard bargain and the bidding was in painfully small increments.
After the opening bid of $1 the second bid was $101, followed by another for $201 and then $250. It took 30 bids for bidding to reach $57,500 at which point the auctioneer declared the property to be "on the market"  meaning it had met its reserve and would definitely be sold.
That was followed by another nine bids that took the highest bid to $65,500 at which point bidding stalled and it was sold under the hammer (see photos of the apartment below).
Full results from this and other major auctions from around the country, with details of the properties offered, are available on our Residential Auction Results page.
The comment stream on this story is now closed.
You can receive all of our property articles automatically by subscribing to our free email Property Newsletter. This will deliver all of our property-related articles, including auction results and interest rate updates, directly to your in-box 3-5 times a week. We don't share your details with third parties and you can unsubscribe at any time. To subscribe just click on this link, scroll down to "Property email newsletter" and enter your email address.