Public Policy
/
opinion
Prodded by the issues raised by Oded Galor in his new book 'The Journey of Humanity: The Origins of Wealth and Inequality', Tim Hazledine takes a broad look at why we are rich, and why it has all been triggered so relatively recently - and inconsistently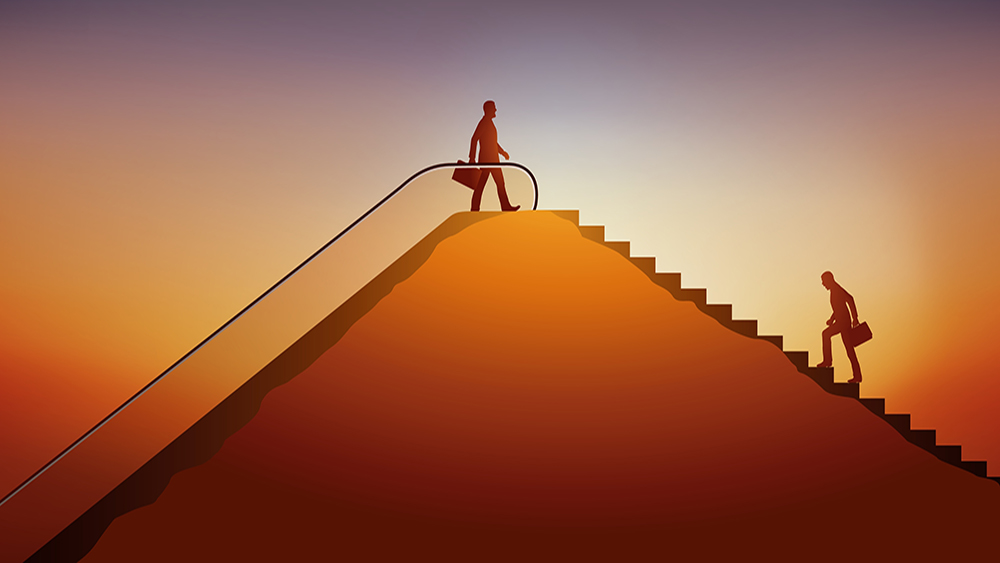 By Tim Hazledine*
One day in the early 1980s, the famous economist Robert E. Lucas sat at his desk in his University of Chicago office, looking out the window. He had a problem. In fact, he had two problems: his marriage was breaking up, and he didn't know what he was going to think about next, with respect to economic matters.
Along with his more flamboyant colleague Milton Friedman, Lucas had disposed of Keynesian macroeconomics, at least to his and Milton's satisfaction. Lucas himself had come up with one of the most fiendishly clever theorems in the history of economics – what became known as 'The Lucas Policy Critique'.
The gist of this can be expressed as the maxim; "You may look, but do not touch." That is, you can study how the economy works, but if you try to use what you find out to devise policies to make it work better – well, you are doomed to suffer a nasty shock: people will change their behaviour in order to subvert your well-meaning interventions.
Thus, the Chicago 'monetarists' believed that a quarter century of Keynesian policies aimed at keeping unemployment below its 'natural' rate for long periods of time, had had the unforeseen but inevitable side effect of pushing up inflation, as people lost their racial memory of price and wage increases always leading to corrective slumps and unemployment.
They had a point here, though monetarism itself has not fared well historically since the 1990s. Nevertheless, Bob Lucas's intellectual achievements were secure, and he can have had few worries about being awarded the Nobel Prize, as indeed he was, in 1995.
(A sidebar: Lucas and his wife agreed in their divorce settlement that, should he win the Prize within ten years from the settlement, then the money -- about a million dollars --would be split equally between them. If after ten years; Lucas could keep it all. 1995 was the last of the ten years. A reporter was crass enough to ask Lucas if he was sorry his Prize hadn't been delayed for one year. He just shrugged, and said: "A deal is a deal".)
Anyway, here was Bob Lucas, looking out the window at the Autumn leaves falling from the trees on the Chicago campus, still only in his forties, and wondering what new problem his formidable brain would next grapple with. And he had an epiphany. He suddenly realised that the battle between Keynesians and Monetarists was really just of second-order importance, compared with the amazing fact of the immense wealth of the US, and about twenty other developed economies; this in stark comparison with the impoverishment of the other two hundred or so nations on earth.
For example, per capita income levels in the United States in 1983 were about seventeen times their value in China, and 27 times the level in India. Robert Lucas was stunned. How? Why? He said: "The consequences for human welfare involved in questions like these are simply staggering. Once one starts to think about them, it is hard to think about anything else."
So Lucas did start to think about those striking differences in the Wealth of Nations, and the upshot was a 1988 paper; 'On the mechanics of economic development'.
It is fair to say, I think, that this paper is a huge disappointment. Lucas did produce a mathematical model which was broadly consistent (as are other models) with the bare facts of recent economic growth in an already rich country, the United States. But it could not answer, as he admitted, the really big questions: how did the US and a few other countries get rich in the first place (ie, during the 19th Century 'industrial revolution'), and why hadn't the secret of economic success been propagated more widely around the world in the 20th Century?
Rather sadly, Lucas admits, in acknowledging the people who came to his speeches and seminars, that it is a topic 'about which he obviously knows very little'. The paper is not mentioned in the citation for his Nobel Prize, and nor in his speech of acceptance.
This is discouraging. If a Big Brain like Robert Lucas, whom many economists -- including Keynesians such as me -- would rate as our smartest living economist (along with Joe Stiglitz and Bob Solow), can't unpick the development puzzle—well, what chance anyone else?
But there is indeed hope, coming from two quarters.
The first is the march of History itself. Has the world changed in the nearly forty years since Bob Lucas started to think about it? Of course it has; in particular with the astounding success of China, and to a lesser extent India. Even though per capita real incomes in the U.S, nearly doubled from 1983 to the last pre-Covid year, 2019, incomes in China and India grew much faster, such that the income differential ratio dropped to about nine for US/India, and to just 4.4, US/China.
Looking at it from a slightly different perspective, if we can believe these figures, per capita incomes in China by 2019 just about matched per capita incomes in New Zealand in 1960, when we were, indeed, a prosperous developed economy.
So can we say that the 'staggering' income differentials across countries that kept Lucas awake are by now well on the way to disappearing, even with no assistance from American economists (Monetarist or Keynesian)? Not quite: China may still get stuck in the 'middle income trap', from which no large country has escaped since Taiwan and South Korea in the 1980s. And swathes of whole continents (Africa, Latin America) are stagnating or even slipping back, economically.
Thus it is still worth trying to solve the puzzle of how countries like ours got so rich, and indeed how China itself has done so well, at, for example, pulling around 800 million of its people out of extreme poverty over the past forty years.
Well, this where the second source of hope comes in. Let's do some lateral thinking here. It's no use being really clever if your theory is utterly wrong. One of the cleverest people who ever lived -- cleverer than the cleverest economist – was Isaac Newton. Newton did great things for mathematics and physics, but then he wasted years in a fruitless quest for the 'philosopher's stone' – the formula that would turn lead into gold. He failed at this because he had the wrong theory; the wrong model of the composition of the elements.
Could Robert Lucas -- and mainstream American economists more generally -- simply have the wrong theory about how the economy develops and functions?
This is where Oded Galor and his book The Journey of Humanity: The Origins of Wealth and Inequality comes in. Galor, an Israeli who teaches at Brown University on Rhode Island, has himself impressive mathematical modelling chops. But here he chooses not to use them. He eschews austere algebraic formulae and goes to the other extreme , with an incredibly wide-ranging and detailed historical and even anthropological examination of the myriad factors that have brought success and failure to nations and peoples.
How detailed? We learn why human babies at birth are so backward compared with the babies of all other animals; why moths changed their colour from light to dark; why Fats Domino -- the late New Orleans piano player and vocalist – is important; and many, many other fascinating miscellanea.
But all the detail is in the service of dealing with those huge questions that dominate Western economic history, and which refused to yield to Robert Lucas's orthodox economic theories. There are actually four big questions: Why were we so poor for centuries? Why are we so rich now? And why was little England, with a population two hundred years ago not much larger than present day New Zealand's, the first country to make the leap from stagnation to prosperity, establishing the path that all other successful countries would follow? Oh, and the fourth question: what hope for today's laggards – does Galor have the secret sauce for success that eluded Robert Lucas?
So, first: why so poor for so long? Blame the Malthusian Trap: the inexorable pressure of growing population on what was then the only important fixed resource: land. Thomas Malthus (1766-1834), a country parson of kindly and cheerful disposition, yet earned economics the everlasting moniker of the 'dismal science' by spotting a relentless cycle: unrestrained population growth led to pressure on the land's ability to feed everyone, provoking cataclysm: war or pestilence or famine decimating the population, which took pressure off the land, which then again boosted fertility until the whole sorry saga repeated itself.
There are indeed many examples in history. The 'Black Death' bubonic pandemic from 1347 to 1352 killed about 40 percent of the population of Europe, but the survivors did very well out of it: wages doubled as the available land per person doubled. But then as a result of their improved living standards, birth rates rose and death rates from other sources (such as maternal deaths in childbirth) fell, and real wages got squeezed yet again.
So the world was stuck, for millennia, with no long-term improvement in material well-being. If anything, there was a decline. In the good old days of 'hunter/gatherer' societies -- that is, before population pressure forced humans to invent agriculture -- small, egalitarian tribes were able to source a rich, healthy diet from just a few hours exciting or pleasant 'work' each day, harvesting fauna and flora in the wild, and could spend the rest of their time singing songs and telling stories or whatever people did to amuse themselves before TV and the Internet.
Nowadays, only the very wealthy could afford such a life-style, and most of these choose not to, being workaholics. But, we most definitely have escaped the Malthusian Trap, and can easily answer the second big question – why are we (in New Zealand, etc) so rich now? – just by looking around us. We have learned to apply chemical and mechanical science to harness the productive potential of, first, coal, then oil and other sources of power and light. What is now called the Industrial Revolution took most of the nineteenth century to come to full fruition, but this is just a blink of an eye in our species' long history.
And something now called the 'demographic transition' finally broke the dreaded feedback link that had always seized any shred of material progress and turned it into more mouths to feed. The birth rate dropped in the second half of the nineteenth century as infant mortality rates finally declined and so the insurance motive for producing babies receded. And women chose to delay and reduce having children as their time became more valuable in other pursuits. Indeed, in most rich countries now fertility is, or will be, below the replacement rate – population will eventually decline, and not a moment too soon, from the perspective of environmental damage and climate change.
Of course, there is a lot more to be said about the Industrial Revolution than this, and Galor spends much of his book saying it, in the context of his own 'unified growth theory'. I thought it prudent to source other views, and found to my surprise that, as one leading scholar, Gregory Clark, puts it: "Explaining the Industrial Revolution is [still] the ultimate elusive prize in economic history", with particular controversy surrounding my third question: why England first?
To risk flippancy, it rather seems to me that the path to fame in this field of scholarship is to write a big book criticising the authors of all the other big books. Some claim England's plentiful cheap coal gave it primacy: others point out that it would take a full century before the steam engines powered by coal had their full impact on productivity. Some believe that lower wages in France than England meant less incentive to mechanise: others do their sums and pronounce the new technologies to be profitable even with very cheap labour. Galor himself seems to place reliance on 'human capital' -- investments in the literacy and numeracy of the workforce. But writing and arithmetic were around centuries before the Industrial Revolution – it was just a question of how widely they are disseminated. It seems at least reasonable to propose that literacy etc followed the Revolution rather than caused it.
Still, the human capital angle always has a lot of appeal (and to Robert Lucas, indeed). The essence of Oded Galor's theory is summed up by a charming illustration in his book: a 1921 advertisement for Case farm tractors, addressed to the farmer: 'Keep the boy in school,' rather than divert him to helping you bring in the harvest, with horses.
Keep the boy in school – and let a Case Kerosene Tractor take his place in the field. You'll never regret either investment.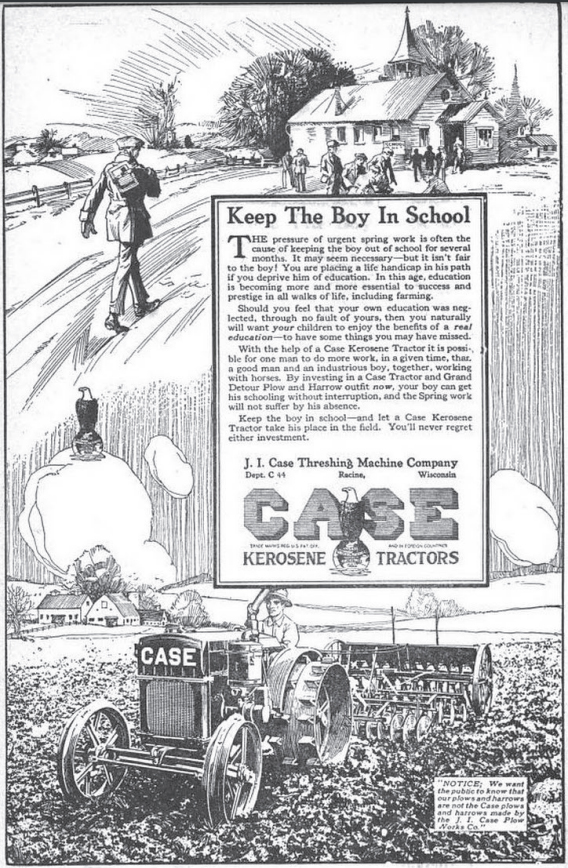 A big shock for me was the evident neglect throughout this literature of the great founder of Economics, Adam Smith (just one quick cite in Galor, for example). Smith (1723-90) actually predates – and didn't predict – the Industrial Revolution. His preferred engine of prosperity -- the division of labour -- requires a social, political and cultural, rather than technological revolution. The 'Enlightenment' of which Adam Smith was the main prophet would be a moral upheaval in the willingness of citizens to trust each other -- the essential requirement for realising the productive power of the division of labour into myriad tasks involving dealings between strangers.
The spirit, at least, of Smith is present in 'idealist' views of the genesis of the Industrial Revolution (Joel Mokyr; Deirdre McCloskey), which are well respected by Galor; in particular through the lens of Daron Acemoglu and James Robinson's emphasis on 'extractive' (bad for growth) and 'inclusive' (good for growth) political institutions. The latters' best-selling book Why Nations Fail: The origins of power, prosperity and poverty (2012) is a terrific read, and at least as approachable to the layperson as is Galor's own treatise.
Culture and formal and informal 'institutions' can explain a lot, including the fourth big puzzle: why so many countries struggle to develop economically (and why Robert Lucas, with his institution-free belief in the universality of American production technology, failed to understand this).
But, the bad news is that there may be not a lot that can be done about it, at least in a democratic society for which the forced industrialisation of China (and Singapore) is politically infeasible. Some of those key institutions for prosperity are deep-seated indeed: favourable climate; constitutional monarchy; common law system; being protestant Christian (or Jewish); even having a language which preserves the personal pronoun – apparently a mark of respect for individuals not found in collectivist religions and cultures. For sure, the neoliberal recipe of pro-monopoly laissez-faire doesn't get the job done.
Robert E. Lucas was right: it is hard to think of anything else – apart from Covid and climate change – when those vast international disparities are brought forward. So we need to carry on thinking, with Oded Galor's lively and learned book surely at least helpful in the quest.
---
Tim Hazledine is Emeritus Professor of Economics at the University of Auckland.