Public Policy
/
opinion
Ross Stitt is watching Australian governments incentivising financially struggling people into a housing market predicted to fall 15% to 20%. What could possibly go wrong?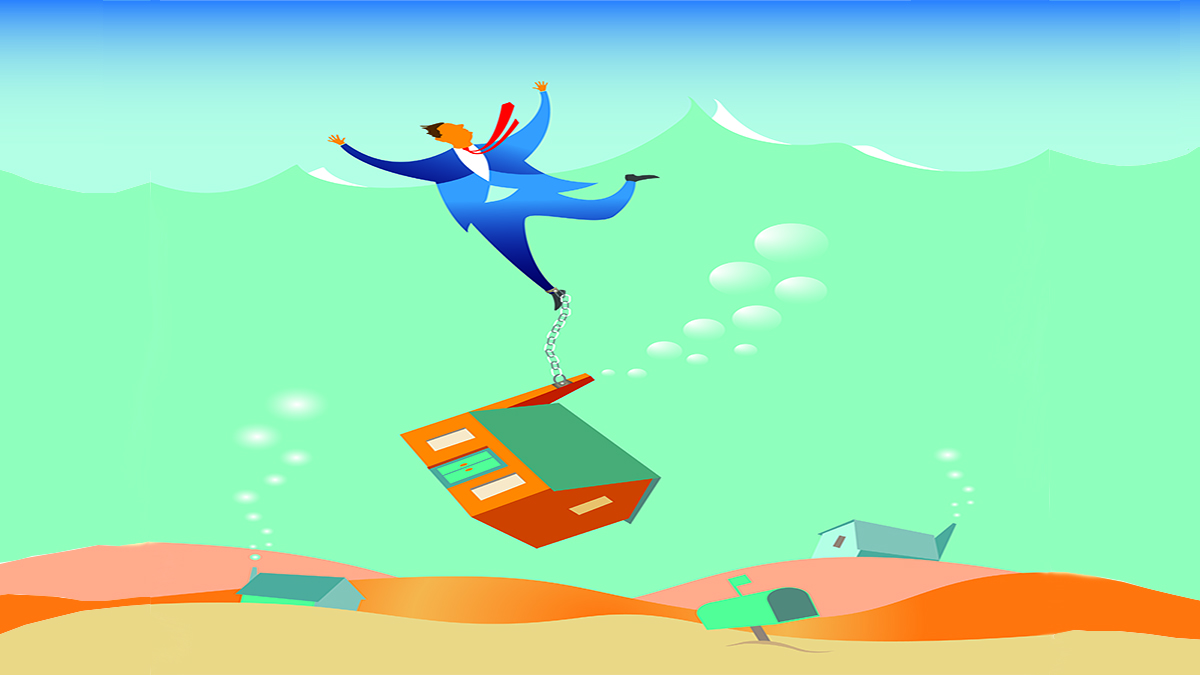 When the Covid-19 pandemic began back in March 2020, most people did not expect it to trigger a boom in Australian house prices. It's certainly not what the banks were predicting at the time.
But a boom there has been. By the start of this year, house prices were 25% above where they were when the pandemic struck. The total value of housing stock hit AU$10 trillion.
There are plenty of explanations – Australians offshore suddenly recognised the benefit of living in the lucky country and so bought a piece of it; Australians onshore couldn't spend their money on travel and so invested in real estate and, for many, 'working from home' brought a new perspective to housing.
Of course, the primary reason was that, in response to the pandemic, the Reserve Bank of Australia (RBA) quickly slashed the cash rate from 0.75% to just 0.10%. Significantly, the bank said that it did not expect to start raising rates until 2024. Mortgage rates hit historical lows and the housing market took off.
But like all booms, it had to end. And once again it's the RBA driving the action. May and June saw back-to-back rate hikes, first 0.25% then 0.50%. They were the first increases since 2010.
In a speech on Tuesday, RBA Governor Philip Lowe said that the bank "is committed to doing what is necessary to ensure that inflation returns to the 2 to 3 percent target range". Given that the most recent inflation figure was 5.1% and the RBA expects it to peak at 7% in December, more interest rate rises are a certainty.
Financial markets expect another 0.50% hike next month and a cash rate of 2.75% or more by the end of the year.
The upward trajectory of house prices started to look fragile at the beginning of the year as it became clear that interest rates would inevitably be heading up. According to data from Corelogic, back in February Sydney was the first market to start falling. It was soon followed by Melbourne, and then Canberra. Some locations are still rising but in most places the momentum is slowing.
Overall, Corelogic's national Home Value Index declined in May, the first decline in nearly two years. It was only 0.1% but more, and steeper, declines are now expected.
All the telltale signs of trouble in the housing market are emerging in the worst affected capital cities. Sales volumes are falling, and it is taking longer for houses to sell. Auction clearance rates are steadily dropping. According to Corelogic, last week's clearance rate of just 54.8% was the lowest since July 2020.
Mortgage lending is also in decline. The most recent figures from the Australian Bureau of Statistics show that new loan commitments for housing fell 6.4% in April.   
The buyer/seller dynamic has changed dramatically in just a few months. In many locations, buyers desperate to get into a rising market have been replaced by buyers cautious about paying too much.   
A great deal has been made of the plight of first home buyers during the housing boom. House prices were rising much faster than many could save for a deposit. So at least first home buyers looking now will benefit from the current downturn? Maybe not. According to Moody's Investors Service, the decline in house prices will not outweigh the increase in mortgage rates such that housing affordability will not improve this year.
Of course, the big losers are likely to be those who bought within the last 12 months, particularly once they are exposed to market interest rates. That exposure will occur as initial fixed interest rate periods expire, and floating interest rates kick in. This is ominously referred to as the 'fixed-rate mortgage cliff'.
According to RateCity, about 38% of home loans currently incur fixed interest rates. More than a hundred billion dollars of these will move to floating rates in the second half of 2023. The uplift will be significant.     
For many recent purchasers, the dream of home ownership will transform into the nightmare of negative equity.
How bad could it get?
There are plenty of predictions out there and as the months tick by many are becoming increasingly pessimistic.  
In May, ANZ Bank was forecasting a fall nationally of 3% in 2022 and 8% in 2023. A month later and the bank has revised that to a 5% fall this year and 10% next year. In Sydney, the total fall by the end of next year is predicted to be 20%.
CBA, Australia's biggest bank, also expects a fall nationally of 15% by the end of 2023.
National Australia Bank expects "prices to decline by around 15-20% as mortgage rates rise and affordability constraints become increasingly binding."
Investment Bank Jardens also puts its money on a decline of 15-20% nationally. However, Chief Economist Carlos Cacho is reported as saying that "falls in Sydney and Melbourne are likely to be larger and faster".
Larger than 20%. That could get ugly.
Is there any good news for house prices?
Unemployment is low and looks likely to remain that way given the chronic labour shortage that is afflicting many parts of the economy. That also means wages are going up.
With the nation's borders open again, immigrants and students are returning in numbers. That should boost demand for housing. Indeed, the rental market turned up earlier this year as Covid restrictions eased. Rents continue to rise. Corelogic's rental index increased 1% in May and 3% for the quarter. Corelogic says that "the annual change in rents is now tracking at 8.8% across the combined capital cities and 10.8% across the combined regions".
State and federal governments continue to do what they always do in the housing market – stoke demand. This is done by throwing incentives at first home buyers in the form of cash grants, stamp duty concessions, deposit support arrangements, and 'shared equity' schemes.
The new Labor government included a shared equity scheme in its bundle of election promises. Just this week, the New South Wales state government announced one to assist single parents, older singles, teachers, nurses, and police to purchase a first home. It enables a qualifying participant to purchase a house with a deposit as low as 2%.
Government incentivising financially struggling people into a housing market predicted to fall 15-20%. What could possibly go wrong?
---
Ross Stitt is a freelance writer and tax lawyer with a PhD in political science. He is a New Zealander based in Sydney. His articles are part of our 'Understanding Australia' series.