New Zealand's Vivier and Company comes under the spotlight of German regulator BaFin which warns Vivier is not allowed to conduct banking business in Germany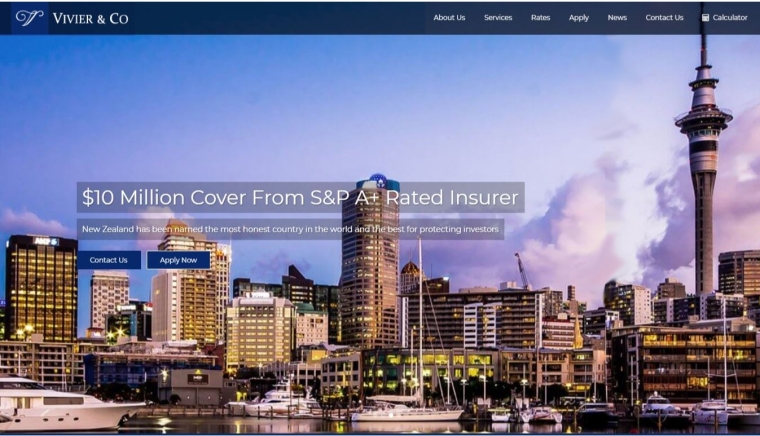 By Gareth Vaughan
Vivier and Company, a curious New Zealand company that offers banking-type services overseas, has courted the wrath of Germany's Federal Financial Supervisory Authority, BaFin.
In a warning issued late last year BaFin says Vivier is not an approved institution under the German Banking Act, and nor has BaFin given Vivier permission to conduct banking business in Germany. BaFin adds that Vivier advertises card services, online banking, international money transfers, escrow accounts and multi-currency investment accounts via its website, but has no address in Germany.
Asked by interest.co.nz to explain the reasons behind BaFin's warning, including if there have been complaints made to BaFin about Vivier from German investors, or potential investors, and if BaFin may take any further action against Vivier, a BaFin spokesman said; "I can only inform you that Vivier and Company Limited is not permitted to conduct banking business in accordance with Section 32 of the Banking Act (KWG). The company is not subject to supervision by BaFin."
Nor are Vivier's services regulated by any NZ authorities even though it promotes itself overseas as a NZ company. Vivier gives its address as a Regus business centre in downtown Auckland.
Vivier was kicked off New Zealand's Financial Service Providers' Register at the behest of the Financial Markets Authority in 2016 when a Court of Appeal judgment said Vivier's situation ought to ring alarm bells. However Vivier remains a NZ-registered company overseen by the Ministry of Business, Innovation & Employment's Companies Office. How this is possible is explained here.
The Court of Appeal judgment described Vivier's connections to NZ as "purely nominal." If a financial service provider like Vivier is not providing financial services in or from NZ, nor generating any associated financial activity in NZ, and can't demonstrate any intention of doing so, "alarm bells should sound," the judgment said. It also pointed out that Vivier refused to provide information about overseas regulatory compliance, which  "suggested non-compliance" and therefore risked reputational damage to NZ financial markets.
Vivier has been linked to Brit Ian Andrews who was jailed in 2008 for defrauding Britain's Inland Revenue out of more than £50 million. Interest.co.nz has written several articles about Vivier. Our most recent article highlights Andrews making requests and giving instructions in a series of Vivier related emails interest.co.nz was provided on an unsolicited basis, even though he's not listed as a Vivier director or shareholder. Late last year interest.co.nz put a series of questions to Andrews including asking whether he was Vivier's beneficial owner. Andrews declined to answer specific questions, simply saying; "Your information is incorrect."
Peddling its wares
Meanwhile in a pre-Christmas email Vivier offered customers "an exclusive Christmas bonus program."

"We know how much an interest bonus can mean to our valued clients. That's why we strive to offer the most competitive rates - and are currently proposing a special Christmas gift: anyone introducing new funds or adding to an existing deposit will earn an additional 0.5% interest on all their funds," Vivier said.
And in an email touting its services to a potential new customer this month Vivier spruiked a rolling notice account, fixed term deposits and monthly savings accounts.
 "We offer a 0.5% loyalty bonus after 12 months, provided the customer has not given a withdrawal notice. For instance, if a client opens a 36-month account for EUR 50,000 we will offer the following interest rate:
First year: 5.06%
Second year: 5.56% *
Third year: 5.56% *
 * The 0.5% loyalty bonus will be available to the customer until he gives notice of withdrawal," Vivier's email says.
BaFin's warning has been picked up and reiterated elsewhere in Germany including by a lawyer touting his services to Vivier customers, an organisation warning against investing with Vivier, and another from a whistleblower website.
The BaFin warning is below.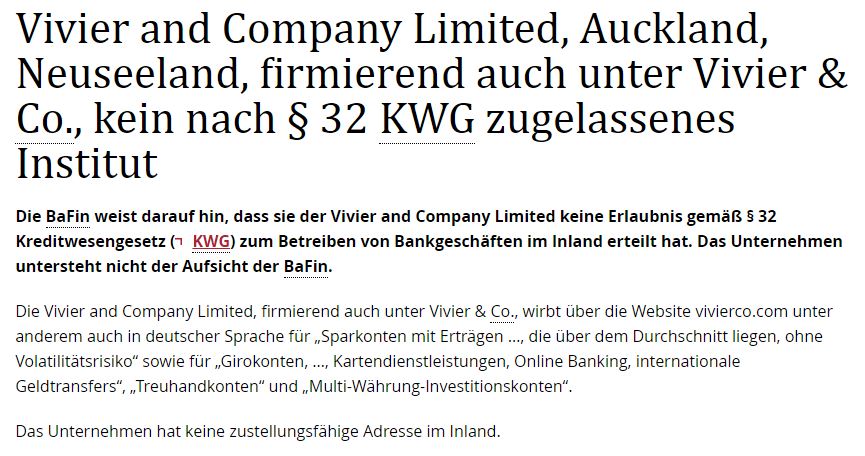 *This article was first published in our email for paying subscribers. See here for more details and how to subscribe.