An explainer of bank capital, how it is regulated and set, and how it has changed over recent years, especially the buffering freeboard levels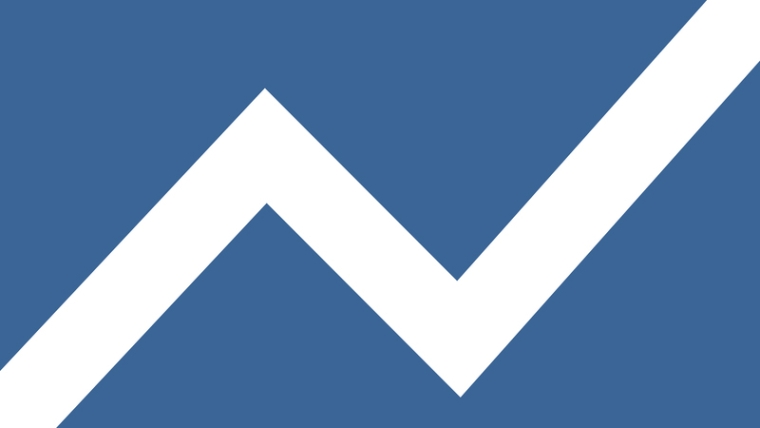 Banks and the Reserve Bank were tussling in 2019 over what is the appropriate level of capital required to make our banking system safe, or in Australian Prudential Regulation Authority (APRA) parlance, "unquestionably safe". That period of 'robust consultation' ended with the December 2019 Capital Review.
The RBNZ had concerns about capital levels and pre-pandemic it moved to require banks to hold more capital.
But it also acquiesced and allowed the transition to the higher capital levels to take rather a long time.
The pandemic has interrupted these plans. But the expectation is that when it passes, we will get back on track. 2022 is the current plan.
Also a very major influence is the Australian regulator, APRA. It has been concerned that higher capital requirements on the Aussie bank subsidiaries here could be at the expense of the home banks (i.e. their banks shift capital support to New Zealand in response to the RBNZ moves). As a consequence APRA has set limits on how Australian banks can support their New Zealand operations. Australia First, basically. And in turn that means Australian regulation covers how ANZ, ASB, BNZ and Westpac operate in New Zealand. These four need to comply in New Zealand with Australian rules, imposing extra-territoriality. Colonial, basically.
So it is appropriate to look at how New Zealand banks are capitalised, and how that capital support has changed over the years.
We built our own leverage monitoring and have run that since 2008.
But the RBNZ also monitors bank capital in a standard regulator way. And it imposes minimums - currently a Common Equity Tier 1 capital ratio of 4.5%; a Tier 1 capital ratio of 6%; and a total capital ratio of 8% - which no bank can fall below if they are to maintain their banking license. Over the years capital penalties have been imposed on banks for failures, and these operate by requiring higher capital levels.
The core RBNZ capital target is something called Tier 1 Common Equity, often referred to as CET1. Tier 1 equity is core equity, without the hybrids and other 'clever' instruments that are supposed to convert to equity if the bank gets in trouble. APRA tolerates such instruments (Tier 2), but the RBNZ is determined to move away from such 'cleverness'.
The CET1 amount is measured as a ratio to Risk Weighted Assets.
Here is how each bank has moved its CET1/RWA ratio (or CET1%) since the Dashboard data has been available, starting in March 2018, and quarterly since.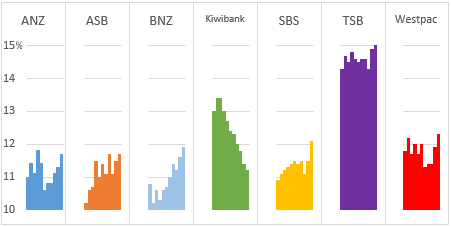 Neither ANZ nor ASB have yet really made any moves to raise their capital support in New Zealand. BNZ has, but that may be less about RBNZ policy than the fact that they were low to start with. Westpac is a lot higher than the other three, however this reflects that they had a capital penalty imposed on them (a "non-standard ratio requirement" of another 2%) for prior infractions, and they have decided to keep the extra levels even though the penalty period has now ended.
Kiwibank is unusual in that it seems more motivated to reduce its capital levels, probably as a way of raising their Return on Equity (ROE), given their profitability has been poor.
TSB stands out with much more capital support.
And here is how much freeboard each bank has, over an above the regulatory minimums. These buffers are an important measure of banking resilience. (Data for this next chart is the C4 Dashboard series.)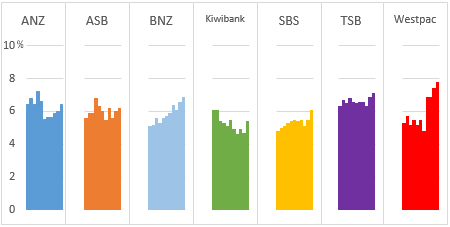 The RBNZ has constraints for this buffering freeboard as well, which restrain bank dividend levels if buffers are not high enough.
In terms of freeboard, almost all banks operate with a ~6% buffer, which seems to have been settled on by bank boards as the appropriate way to respond to regulation.
Unless the RBNZ imposes tougher restrictions, banks themselves can't be relied on to improve resilience on their own. In fact, left to themselves they may in fact reduce the capital supporting their businesses to juice up their ROEs for shareholders. As part of Basel II, the big banks were given self-regulation authority over risk assessment of their mortgage portfolio and they promptly all decided that they needed far less capital supporting home loans. This was an instructive event that showed banks won't set a high-enough bar for safety without active regulation, or in anticipation of a financial shock.