Aussie Royal Commission says bad conduct driven by pursuit of short-term profit at expense of basic standards of honesty. Bank shares rise despite 'day of shame'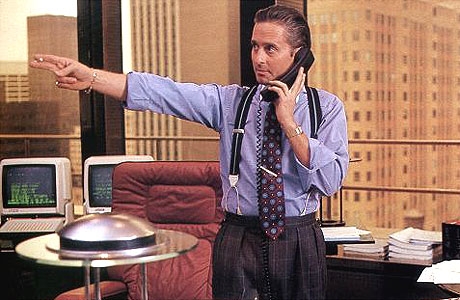 The highly anticipated interim report from Australia's Royal Commission into Misconduct in the Banking, Superannuation and Financial Services Industry criticised the industry for a culture of greed, but didn't recommend any penalties, which saw bank shares rally.
Commissioner Kenneth Hayne's report said the reason for bad conduct often appears to be greed through the pursuit of short term profit at the expense of basic standards of honesty. On top of this regulators rarely took the big banks to court, and infringement notices imposed immaterial penalties.
The Australian Bankers' Association said the release of the report marked a day of shame for Australia's banks.
"There are no excuses for the behaviour that has been exposed by the Royal Commission. Banks accept responsibility for their failures and right now they are working day and night to make things right for their customers," ABA CEO Anna Bligh said.
Treasurer Josh Frydenberg said the interim report and the Royal Commission's hearings show some financial institutions have fallen far short of treating Australians honestly and fairly.
"There is clearly more work to be done and the Government looks forward to receiving the Royal Commission's final report, which is due by 1 February 2019, and acting on its recommendations," Frydenberg said.
The Australian Securities and Investments Commission said it will continue to assist the Royal Commission and to work with the Government, the Parliament and other regulators to build a stronger legislative, enforcement and regulatory framework with tougher penalties. 
The Bloomberg chart below shows how shares in Australia's major financial services providers rose after the report's release failed to recommend penalties.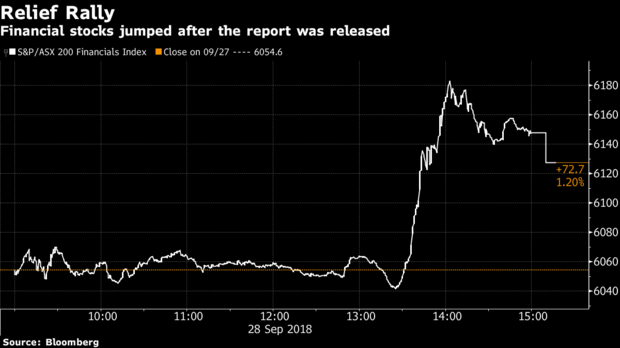 Below is the report's executive summary in full.
The Commission's work, so far, has shown conduct by financial services entities that has brought public attention and condemnation. Some conduct was already known to regulators and the public generally; some was not.

Why did it happen? What can be done to avoid it happening again? These are now the key questions.

In this Interim Report these questions – 'why' and 'what now' – are asked with particular reference to banks, loan intermediaries and financial advice, with a view to provoking informed debate about both questions.

Why did it happen?

Too often, the answer seems to be greed – the pursuit of short term profit at the expense of basic standards of honesty. How else is charging continuing advice fees to the dead to be explained? But it is necessary then to go behind the particular events and ask how and why they came about.

Banks, and all financial services entities recognised that they sold services and products. Selling became their focus of attention. Too often it became the sole focus of attention. Products and services multiplied. Banks searched for their 'share of the customer's wallet'. From the executive suite to the front line, staff were measured and rewarded by reference to profit and sales.

When misconduct was revealed, it either went unpunished or the consequences did not meet the seriousness of what had been done. The conduct regulator, ASIC, rarely went to court to seek public denunciation of and punishment for misconduct. The prudential regulator, APRA, never went to court. Much more often than not, when misconduct was revealed, little happened beyond apology from the entity, a drawn out remediation program and protracted negotiation with ASIC of a media release, an infringement notice, or an enforceable undertaking that acknowledged no more than that ASIC had reasonable 'concerns' about the entity's conduct. Infringement notices imposed penalties that were immaterial for the large banks. Enforceable undertakings might require a 'community benefit payment', but the amount was far less than the penalty that ASIC could properly have asked a court to impose.

What can be done to prevent the conduct happening again?

As the Commission's work has gone on, entities and regulators have increasingly sought to anticipate what will come out, or respond to what has been revealed, with a range of announcements. These include announcements about new programs for refunds to and remediation for consumers affected by the entity's conduct, about the abandonment of products or practices, about the sale of whole divisions of the business, about new and more intense regulatory focus on particular activities, and even about the institution of enforcement proceedings of a kind seldom previously brought. There have been changes in industry structure and industry remuneration.

The law already requires entities to 'do all things necessary to ensure' that the services they are licensed to provide are provided 'efficiently, honestly and fairly'. Much more often than not, the conduct now condemned was contrary to law. Passing some new law to say, again, 'Do not do that', would add an extra layer of legal complexity to an already complex regulatory regime. What would that gain?

Should the existing law be administered or enforced differently? Is different enforcement what is needed to have entities apply basic standards of fairness and honesty: by obeying the law; not misleading or deceiving; acting fairly; providing services that are fit for purpose; delivering services with reasonable care and skill; and, when acting for another, acting in the best interests of that other? The basic ideas are very simple. Should the law be simplified to reflect those ideas better?

This Interim Report seeks to identify, and gather together in Chapter 10, the questions that have come out of the Commission's work so far. There will be a further round of public hearings to consider these and other questions that must be dealt with in the Commission's Final Report.   
The three volumes to the interim report can be found here.
And here's a statement from the Australian Bankers' Association;
Today's release of the interim report of the Royal Commission into Financial Services, Insurance and Superannuation, marks a day of shame for Australia's banks.

There are no excuses for the behaviour that has been exposed by the Royal Commission.

Banks accept responsibility for their failures and right now they are working day and night to make things right for their customers.

We will fix these problems and make them right without delay, to earn back the trust of the Australian public.

We will build a banking industry which acts with integrity and is once again respected by our customers and the Australian community. 

The industry will respond to the specific findings in the Interim Report through a submission in the coming weeks.