Harmoney looking to raise $25 mln of new equity this year, founder Neil Roberts says, as the peer-to-peer lender eyes continuing growth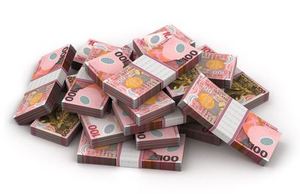 Licensed peer-to-peer (P2P) lender Harmoney is looking to raise $25 million of fresh equity this year, says founder and joint CEO Neil Roberts.
"We'd be looking to raise $25 million this year in equity. We might do that in two hits. Certainly a $25 million cheque we could make instant use of," Roberts told interest.co.nz.
"Our current view is that although we would expect support from our existing shareholders, we're really looking for a new cornerstone investor if we can get one."
Asked whether Harmoney is talking to any such potential investors, Roberts said not that he can share publicly.
"But we are openly looking for capital, absolutely," said Roberts.
Harmoney's major shareholders include the Neil Roberts Trustee Company Ltd with 39.75%, Trade Me with 15.14%, Heartland Bank with 13.34%, and the London-based P2P Global Investments PLC with 7.81%.
"Certainly we think we've proven our model [and] we're growing rapidly. We believe that we would be great custodians of more capital so that we can do more of the same and do it quicker," said Roberts.
He said Harmoney was considering all avenues to capital including perhaps an initial public offering (IPO) at some point, but an IPO "wouldn't appear to be the natural next step."
Licensed by the Financial Markets Authority under the Financial Markets Conduct Act to operate an online P2P lending platform that matches borrowers with investors, Harmoney went live in September 2014 as New Zealand's first licensed P2P lender. Harmoney also launched in Australia in 2017 where it's licensed by the Australian Securities & Investments Commission.
Harmoney, which Roberts says rejects 57% of loan applications, has facilitated more than $1 billion of unsecured consumer lending, paid about $146 million in interest to investors, and has 110 staff in NZ, Australia and Fiji. For its March 2018 financial year Harmoney lost $1.9 million down from $6.5 million the previous year, and revenue rose to $26.2 million from $14 million. In its first three years of operation Harmoney says it raised $32 million of working capital.
*This article was first published in our email for paying subscribers early on Thursday morning. See here for more details and how to subscribe.