BusinessDesk: KiwiRail the main beneficiary of Future Investment Fund proceeds from MightyRiverPower sell-down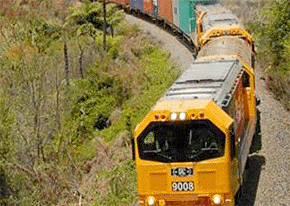 By Pattrick Smellie
The single largest beneficiary of the asset sales programme this year will be the loss-making state-owned railway, with $250 million of the approximately $600 million proceeds from the part-sale of MightyRiverPower earmarked for KiwiRail.
The Budget forecasts $558.8 million will be available to spend in the so-called Future Investment Fund - the money-pot to be set aside from asset sales to invest in new capital infrastructure - in the 2012/13 fiscal year, almost half of which will help fund KiwiRail's massive network upgrade project.
Finance Minister Bill English also confirmed that asset sales proceeds would be the source of any new capital for KiwiBank, which the Budget documents identify as a new, unquantified fiscal risk. The subsidiary of the increasingly unprofitable NZ Post state-owned enterprise does not expect to be able to tap its parent for necessary new capital.
Elsewhere, the most significant uses of the Future Investment Fund are $88.1 million for hospital redevelopment and $76.1 million to underwrite the expansion of the government's high-tech manufacturing science capability by turning the Industrial Research crown research institute into a multi-campus Advanced Technology Institute.
The ATI also scores a big chunk of new operational funding, worth $90 million over the next four years, along with a $100 million increase in the Performance Based Research Fund to spur tertiary sector science and innovation, and another $60 million to fund National Science Challenges.
However, two "ambiguous" Ministry of Economic Development schemes intended to spur new business growth have been axed, saving $26.1 million over four years. Both Enterprising Partnerships Fund and the Transformational Initiatives Fund were introduced by the last Labour-led government.
The Budget documents also show KiwiRail will want another $90 million in new capital next year to complete its reinvestment, and also identifies a new, unquantified risk to the government's accounts from the fact that KiwiRail will need to write down the value of its assets, despite the reinvestment programme.
"Any writedown will impact on the Crown's net worth, initially through a reduction in the revaluation reserve and secondly, if the revaluation reserve is insufficient to cover the write-down, through the operating balance," the Budget documents say.
Transport Minister Gerry Brownlee said KiwiRail was funding most of its reinvestment programme from its own balance sheet, and that most of the government funding would be spent on freight service and network improvements." He made no mention of the current push to keep open the Napier to Gisborne network, recently washed out in extreme weather.
The government expects to raise between $5 billion and $7 billion from asset sales over a five year period, with the half-sale of MRP expected to raise in the order of $600 million. The share float is expected in September or October, with details to be announced after legislation allowing the part-sales to proceed is passed in coming weeks.
(BusinessDesk)