ANZ and BNZ are the banks holding the bulk of the troubled Kaipara District Council's debt as ratepayers revolt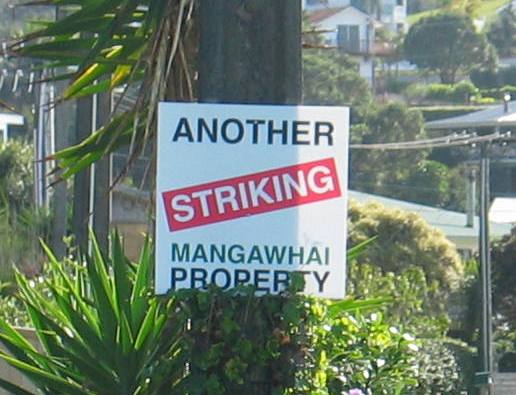 By Gareth Vaughan
ANZ New Zealand, operator of the ANZ and National banks, and BNZ, combined, hold the lion's share, or around NZ$76 million, of the troubled Kaipara District Council's debt.

The council, under investigation from the Auditor General even though its affiliate Audit New Zealand is under fire for its role as the council's auditor, and had its councillors replaced last week by government appointed commissioners. It's facing a rates revolt, having tried to push through huge rate rises after a cost blow-out in a debt-funded, botched sewage and wastewater scheme in the east coast town of Mangawhai, and the council has acknowledged legal advice from Simpson Grierson pointing out it collected NZ$17.3 million of rates illegally.
The council's long awaited, just released annual report for the year to June 30, 2011 shows total debt of just under NZ$82.9 million. Of this NZ$75.9 million is through bank loans. A council spokeswoman told interest.co.nz ANZ holds about NZ$52 million to NZ$53 million of this, with the balance - NZ$22 million to NZ$23 million - with BNZ.
The rest of the council's debt comprises NZ$6.6 million of local government stock and NZ$360,000 attributed to forestry loans.
Of the council's debt, NZ$58 million stems from the wastewater scheme. The council lists NZ$9.3 million of its debt as current, which means it was due for repayment within 12 months, but says all of this was expected to be fully refinanced on maturity dates - that were before June 30 this year.
Another NZ$73.6 million of debt - the rest - was listed as maturing between 2013 and 2017 and had interest rates ranging from 3.28% to 8.59%. The weighted average effective interest rate on all borrowings was put at 4.23% at June 30, 2011, down from 4.35% a year earlier.
The annual report says the interest rate on the wastewater scheme is set monthly, being the bank bill rate plus a margin of 55 basis points.
"All term liabilities, including a NZ$5 million bank committed cash advance facility in respect of Mangawhai wastewater, are secured by either rates levied by council, property rentals or future harvesting of trees from council's forests."
'A number of financial challenges; Bank support needed'
The annual report notes the council has a number of financial challenges and risks primarily because of its high level of debt. Nonetheless, it says the council has "reasonable expectation" that Kaipara District Council has adequate resources to continue operations for the foreseeable future.
The annual report also makes an estimate on the potential impact of the rates strike, which was launched after ratepayers received proposals of estimated 31%, on average, increases for the 2012-13 year, earlier this year. The council has since revised this down to 19%.
"A simple comparison of the number of properties with (rates) arrears exceeding NZ$50 as at June 30, 2012, as compared with June 30, 2011, suggests that there may be in the order of 900 ratepayers participating in the rates strike. If there were 900 rates strikers and they withheld rates for a year then that would equate to approximately NZ$1.8 million in rates being outstanding each year," the annual report says.
It says the council's 10 year plan forecasts its external debt dropping from NZ$79.6 million to NZ$60.6 million over the decade.
"Given its level of debt council is reliant upon the ongoing support of its bankers and having access to sources of external borrowing. In its long term plan council has indicated that it will seek to borrow from the Local Government Funding Agency as a guaranteeing local authority."
'Don't pay rates'
In an email sent to ratepayers yesterday the Mangawhai Ratepayers and Residents Association advised them not to pay any rates to Kaipara District Council.
"Keep the money aside. It may eventually have to be paid, but DO NOT GIVE IT TO THE COUNCIL UNTIL THE STRIKE IS OVER- WE'LL TELL YOU WHEN," the email reads.
"You no longer have an elected council. The Kaipara District Council has been replaced by a commission of four government appointees. They will be there until 2015."
"The council was forced to resign by the government because of debt. The debt level is roughly NZ$100 million dollars, or more. The figure of NZ$80 million is used, but that includes NZ$20 million that was taken from you in illegal rates and is being called revenue (asset), when it should be called expense (debt). This district is the most indebted per capita in New Zealand, and it has one of the lowest income levels per person."
The email goes on to say that the debt was illegally incurred, and we (ratepayers) weren't consulted.
"We reject the former council's proposition, echoed by the government, that 'the debt is the debt, and it must be repaid'."
The email suggests there are about 12,000 separate rateable properties in the district, giving an average debt of NZ$8,400 per property.
"If the council goes belly up and can't pay, the lenders will go after as much as they can get from every property until they are repaid," says the email.
It adds that the debt was incurred without ratepayers' knowledge or consent, and is with ratepayers and their descendants, indefinitely.
"You cannot pay it back, cancel it, or reduce it. You wear it; because that is the way the law in this country is written. Regrettably, nothing prevents the council or the commission from increasing this debt by as much as they choose. The only way you could get rid of it is if you elected a council who took the necessary steps to eliminate it."
'Starve them'
The only option now open to ratepayers was to "starve" the council of money.
"Some people will say; 'But you have to pay rates, it's the law" 'That was true when those setting the rates were playing their part and obeying the law, but it ceases to apply when the authorities cease to show any respect for the law they are sworn to uphold. There is no legal basis for the rates, because the rates resolution was passed in relation to an illegal Long Term Plan. DO NOT pay any KDC rates demand. The interim one sent out due on 20th September is illegal because it is based on earlier ones acknowledged to be illegal. The next one you receive will also be illegal because it will be based on an illegally adopted long term plan. Until all of these illegalities have been corrected you should NOT pay rates to this council Take no notice of their threats. It is all bluster."
The email concludes saying Kaipara residents will start paying their rates when the legality of the debt is sorted, the illegal rates are sorted and refunds made and that a new legal and consulted long-term plan -is developed and passed on June 30, 2013.
"A new plan must be based on adequate notice, community consultation, and an opportunity for hearings so commissioners listen to the community's views."
This article was first published in our email for paid subscribers this morning. See here for more details and to subscribe.