Asian central banks supporting NZ govt bond market, hence low yields, high NZ$, Finance Minister English says; 'Sense they'll stick around'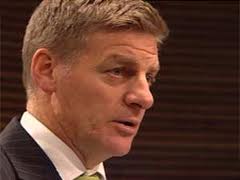 By Alex Tarrant
The New Zealand Debt Management Office, the government's debt manager, reckons the New Zealand government bond market is being supported by Asian central bank buying, contributing to low yields and the high currency, Finance Minister Bill English says.
And it seems like that demand will stick around, he says.
English visited Hong Kong at the end of August to talk New Zealand's economic story with government bond investors, including the Hong Kong Monetary Authority.
The visit was part of a wider trip overseas which included a meeting of APEC finance ministers in Moscow, and a meeting with credit ratings agencies in New York.
English told interest.co.nz the investors he met in Hong Kong held positive views about the New Zealand story.
"That's reflected in the low interest rates [for government bonds] and the high exchange rate," English said.
"The Debt Management Office view is that a number of those Asian central banks are supporting our bond market," he said.
"While the market's going through this risk on-risk off cycle pretty frequently, the central banks take a long time to decide whether to buy; Then you get the sense that they'll stick around."
English said that part of the overview he presented was that government debt here would stop rising in the next two to three years, which would change the nature of the NZ government debt market.
You can follow NZ government bond yields in our Bonds section here.