BNZ to sponsor the Maori All Blacks, with name on jersey on upcoming tour, as it eyes 'managing and growing iwi and Maori wealth'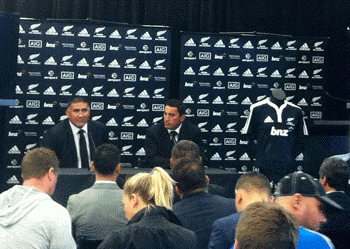 BNZ, which last month renewed its role as principal sponsor of the five New Zealand Super 15 teams for three seasons, has added another rugby sponsorship deal, announcing a three year deal with the Maori All Blacks.
The deal will see the BNZ logo on the team's jersey during November's three game tour of Britain. However, from next year the AIG name will feature on jerseys after the insurer's recent deal with the New Zealand Rugby Union.
The Maori All Blacks sponsorship comes after BNZ last year appointed Pierre Tohe to a newly created position - head of Maori business - as it, and other banks, eye the about NZ$37 billion worth of "Maori economy" assets following Treaty of Waitangi claim settlements.
In a statement BNZ CEO Andrew Thorburn said BNZ had a long history of working alongside Maori entrepreneurs and iwi groups who had "forged ahead" in tourism, hospitality, construction, forestry, agriculture and a wide range of other industries.
"Maori history and culture is a valuable point of difference and provides a unique perspective. When combined with sound business principles this can result in significant opportunities for Maori and Maori business," said Thorburn.
"We also understand that managing and growing iwi and Maori wealth is vital for the long-term strength of New Zealand's economy," Thorburn added.
BNZ has been "banking partner" to Ngai Tahu Holdings Corporation since 2001 and was sole lead arranger of a NZ$200 million syndicated loan for it last year.
BNZ's other Maori sponsorship deals include the BNZ Ahuwhenua Maori Excellence in Farming Awards, Aotearoa New Zealand Maori Business Leaders Awards, and the Atamira Maori in the City Festival.
Last month BNZ announced the renewal of its sponsorship of the New Zealand Super 15 teams until the end of the 2015 season. Although the bank won't disclose the value of its individual sponsorship deals, it says the Super 15 one, alongside its sponsorship of Plunket, is one of its bigger ones. In rugby, BNZ also sponsors the national secondary school rugby sevens competition.
Of the Maori All Blacks upcoming tour, a BNZ spokeswoman said Sky TV will be televising some of the matches and other New Zealand media will follow the tour, including Maori media, which all provides "valuable" exposure for BNZ.