Finance Minister says Government has already bailed out Solid Energy twice; not clear it's viable long term; tough discussions underway with banks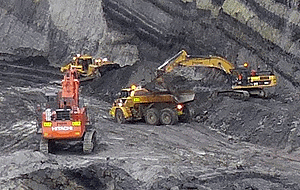 By Bernard Hickey
Finance Minister Bill English has ruled out a third bailout for state-owned coal miner Solid Energy, saying it was unclear whether it had a viable long term future and its board was now in some difficult discussions with its bankers, who are owed more than NZ$300 million.
English told reporters before the ruling National Government's Parliamentary caucus meeting that there was little or no Government equity left in the business and the company now had to work with its banks to take actions to secure its future viability.
Asked if he could rule out another bailout, English said: "We have ruled that out, yes."
English said he did not want to jeopardise the ongoing discussions with the banks, "but Solid Energy's been in a pretty difficult situation for a couple of years. We are doing everything we can to test whether there's a viable company there, and that process is continuing."
"Solid Energy has done a lot of work to right size itself, but the coal price has kept falling away in front of them, and that's made it a continuing challenge. Whatever measures they've taken, they then find they need to take more, and that, of course, is a discussion that involves the banks because there's NZ$300 million of debt," English said.
"The Crown has been pretty keen to make sure it is not in the position of off-setting the risk the banks took. The banks took a risk lending the money and they have to deal with the consequences of those decisions."
'Little Crown equity left to protect'
English was then asked if this meant there would be no more cash, loans or guarantees for Solid Energy.
"We've said that for some time. We've done two rounds of support for the company and, in the end you have to work out whether there is a viable company there or not and we are in that process. So we are doing everything we can to secure the continuity of the company," he said.
Asked if the Government would let Solid Energy go bust, he said. "We are in a negotiating process right now. The government has had two rounds of support for the company against a background of a coal price that hasn't improved and is probably dropping a bit. We do have to test the core of the company's viability."
"From the Crown's point of view, we have very little value in the company, if any. The banks have NZ$300 million at stake so you can imagine they have got a fair bit of interest in ensuring there is some continuity in the company if that can be secured."
Asked if this meant Solid Energy was now controlled by its banks and whether they decided whether it would live or die, he said:"Well, they have the biggest stake in it, but this has been an intensive but constructive process and everyone has been working hard for a long time. There's no kind of stand-off. People are just trying to find a solution. It's not so much a matter of who is in control. At different stages banks and the government have had a lot at stake. So at the moment there's probably a fair bit at stake for the banks because the government value in it is pretty much gone."
Solid Energy's annual report last year showed NZ$160.9 million of equity, which included NZ$60.9 million of ordinary shares and NZ$100 million of redeemable preference shares (RPS). Of the latter NZ$75 million worth is held by the lenders, and NZ$25 million by the Government.
On top of the NZ$25 million of RPS taken by the Government, Solid Energy has a working capital facility of up to NZ$50 million from the Crown, a secured term loan facility of up to "approximately" NZ$50 million, and a secured stand-by facility of up to NZ$30 million.
As of Solid Energy's June 30 balance date last year, all three of these taxpayer backed facilities were undrawn.
Bank exposures
Last month TSB Bank wrote off all of its NZ$53.9 million in loans to Solid Energy. Solid Energy owes another NZ$250 million to Commonwealth Bank, BNZ, ANZ, Westpac and Bank of Tokyo Mitsubishi.  Earlier, Solid Energy's board announced it had deferred finalising its accounts because of uncertainty about its outlook. Its chair Pip Dunphy was replaced earlier in the week and the exporter of coking coal has had to be bailed out twice in the last two years because of a slump in prices linked to slowing Chinese demand.
The Government has already bailed out the miner twice, including a contribution of up to NZ$155 million in October 2013 and an agreement in September 2014 to cover Solid Energy's obligations to remediate old mines to the value of NZ$103 million.
Opposition reaction
Labour SOE spokesman Clayton Cosgrove said the Government appeared to be asleep at the wheel on Solid Energy.
National must get to grips with the state of Solid Energy and tell New Zealanders whether they have driven the former export-award winning SOE into insolvency, says Labour's SOEs spokesperson Clayton Cosgrove.
"Bill English has today made a stunning admission – he doesn't know if Solid Energy is a viable company any longer," Cosgrove said.
"He should have been running an iron rule over the books. Instead it appears he has repeated the same mistake over and over again. Yet again he was asleep at the wheel," he said.
"As shareholding ministers he and the SOEs minister must get to the bottom of the state of the company's finances. There are hundreds of employees who are, once more, waiting in limbo to find out if they work for a viable company."
Solid Energy has over 680 staff working in the Waikato, the West Coast of the South Island and at its head office in Christchurch.
(Updated with reaction from Clayton Cosgrove)