Treasury reports Budget back in deficit for 8 months to Feb, but NZ$343 mln lower than forecast on higher taxes and lower spending than expected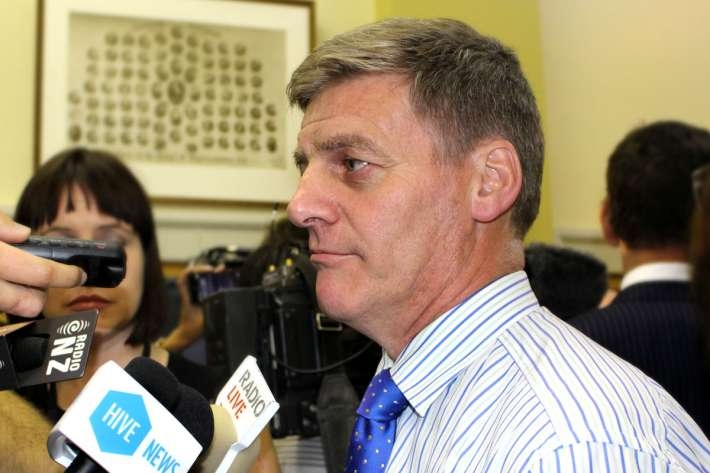 By Bernard Hickey
Finance Minister Bill English has finally conceded that the Government is less likely to achieve its four-year-old target of returning the Budget to surplus in the current 2014/15 year.
English made the comments after Treasury reported the Government's operating balance before gains and losses (OBEGAL) has returned to a deficit in the eight months to February, having briefly blipped back into surplus in January for the first time in six years.
"We're continuing to manage the books carefully but lower inflation, while good for consumers, is making it less likely that the final accounts in October will show a surplus for the whole year," English said in a statement after the release of the Crown Accounts.
"Nevertheless, the fact that we're a bit over one month, and a bit under the next, shows just how far we have come since 2010/11 when we had an NZ$18.4 billion deficit," English said.
"Next month's Budget will produce new forecasts that I expect will take in to account further reductions in the inflation outlook," he said.
Since the December Half Year Economic and Fiscal Update (HYEFU) English has stuck to the prediction that the Budget would be in OBEGAL surplus by the time the accounts were finalised in October. However, last week English told Interest.co.nz he would not commit to achieving the surplus.
English said revenue from some tax sources have remained higher than forecast in February, but not as far ahead as they were in January.
"Other individuals" tax is NZ$217 million ahead of forecast, and corporate tax $91 million higher, indicating a pleasing lift in profitability for some businesses. However, the February accounts show GST being $261 million lower than forecast. About NZ$150 million of that is attributed to earthquake-related refunds to insurers. The rest of the GST shortfall is related to very low inflation leading to lower-than-expected spending on consumption," English said.
English said the Government continued to control its own spending.
"Taken over the year, core Crown expenditure for 2014/15 is forecast to be NZ$4.1 billion lower than forecast in Budget 2011 when the Government  first set the target of returning to surplus in 2014/15," he said.
Treasury details deficit
Treasury reported the deficit was lower than expected because stronger income and corporate taxes more than offset weaker than forecast GST receipts and the accounts were helped by lower than expected spending and delayed capital investments.
Treasury reported an OBEGAL deficit of NZ$269 million for the eight months to February 28, which was NZ$343 million lower than forecast.
"Core Crown tax revenue, at NZ$42.4 billion, was 0.4% or $162 million above forecast.  This variance was mainly due to higher‐than‐expected other individuals tax (NZ$217 million) and corporate tax (NZ$91 million)," Treasury reported.
"Partially offsetting these, GST was NZ$261 million lower than forecast primarily due to higher‐than‐forecast earthquake‐related refunds and weaker‐than‐forecast growth in nominal consumption. Core Crown expenses, at NZ$47.2 billion, were $312 million lower than forecast," it said.
Opposition reacts
Labour Finance Spokesman Grant Robertson said the public's trust in the Government would disappear as it broke its surplus promise.
"New Zealanders have already begun to lose patience with John Key's constant promise that we are 'on the cusp of something special'. You only have to ask regional New Zealanders about that," said Robertson.
"If the Government can't get the books back in the black after seven years there is something seriously wrong with their economic management," he said.
"The reason the Government has failed to reach surplus is they haven't been able to get the productive economy humming to generate revenue. National doesn't just have a deficit of money, it has a deficit of ideas."
Green Party Associate Finance spokeswoman Julie Anne Genter said the Government must be deeply embarrassed by not hitting its surplus target.
"Bill English has staked his job and his reputation on being able to return the Government books to surplus, but he keeps failing," Genter said.
"Bill English is now on track to equal the humiliating record for the most number of consecutive Budget deficits under the same administration – seven – set by the National Government from 1966 to 1972," she said.
"National's reputation as a responsible economic manager is in tatters. National has presided over an unending string of deficits, growing inequality, and a two-track economy that only benefits a small number of people."
(Updated with English comments, chart, opposition reaction)
No chart with that title exists.