David Mahon calls on New Zealand to act in its own best interests and do its best to avoid the US-China strategic rivalry. Among the growing uncertainties, there are opportunities for us, he says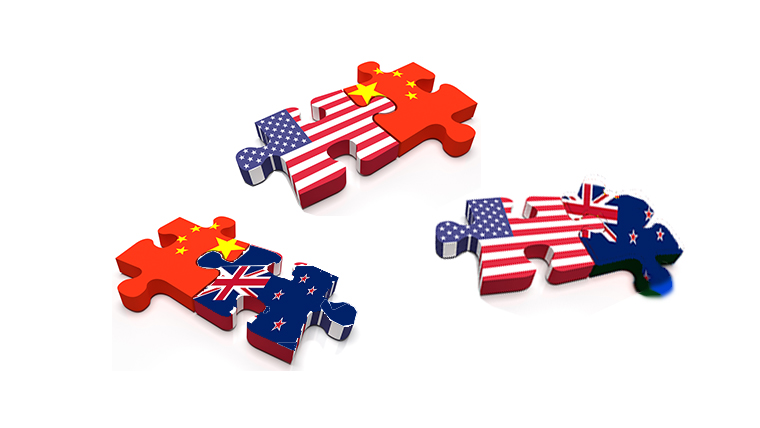 By David Mahon*
Some commentators argue that China and the United States are moving to the brink of a cold war.
The US is manoeuvring somewhat blindly, placing tariffs on Chinese goods, embargoes on US technology companies supplying Chinese firms, restrictions on US Government pension funds investing in Chinese stocks, trying to reduce US businesses' presence in Hong Kong, and firing salvos of intemperate presidential tweets.
But the United States and China are far from a cold war.
The US and USSR shared little economic interdependence, and while direct military conflict was mostly avoided, the sides often displayed the means and will to destroy each other. China lacks the conventional military means to fight the United States, yet possesses the ballistic nuclear capability to engage in mutual annihilation. But China does not want a commercial conflict, and even less a military one.
Within six months of a presidential election, the Republican Party is stoking the fires of nationalism, keen to shift blame to China for its ravaged healthcare system under the onslaught of COVID-19, tens of thousands of avoidable deaths from the virus, soaring unemployment, and stumbling economy. The nationalism and demonising of China will increase leading up to November and then likely abate in outward intensity, while continuing in substance, regardless of which party wins the election.
In the face of US belligerence, China's best strategy is non-action. China has not always followed this strategy, but been well-served when it has managed not to react. Not reacting will continue to benefit China over the next few years, possibly giving the United States time to step back from the brink and see that its actions hurt the US economy while not damaging China substantially. Beijing is undertaking many economic reforms the US mistakenly accuses it of resisting. In March, Beijing issued a licence to US stressed-assets manager Oaktree to purchase and trade highly sensitive and largely state owned non-performing bank loans. Chinese banks are now open to foreign buyers, and foreign life insurers, futures, mutual fund companies and securities firms are free to take controlling stakes in their Chinese counterparts.
Beijing now understands that Washington is determined to damage and curtail its economy by almost any means, and carry out previous threats to decouple, not just from China but from longstanding trading partners, allies, and international forums. China and the world are watching the US pull out of, or otherwise damage one international body after another, and place over 30 countries under economic sanctions.
Empires usually fail from within long before they are overtaken from without. The American Empire, still so wealthy and powerful, is faltering internally. Its democratic processes are broken, both political parties are captive to corporate interests, and that key instrument of a transparent and functioning political system, the rule of law, has become an ideological tug of partisan political interests as Republicans and Democrats struggle to stack and coerce the Supreme Court.  Absent schadenfreude in some quarters in China, the leadership perceives America's demise as a risk to global economic stability and prosperity.   
You're either with us or against us
Smaller nations cannot always expect to walk a line between the US and China deftly, taking neutral stances while relying on the understanding and trust of both sides. Neutrality confers a degree of political irrelevance on a country, something geographically isolated New Zealand cannot afford.
Most Asian economies, while relying on China, depend on the United States to maintain the balance of power in the region. Singapore, Malaysia and Indonesia have all criticised China's territorial claims at some point in recent years, but with the exception of Vietnam, avoided damaging their relationships with Beijing. One of their shared strengths is that they are not bound to an alliance of the Western elite through the 'Five Eyes' intelligence sharing network.
Unless New Zealand is firm in measuring its participation in the Five Eyes club, it will erode the independence it has so long striven to maintain.
Canberra's China policies are but echoes of Washington's. New Zealand needs to question whether it wants to be associated with a US foreign policy that is increasingly belligerent, bereft of any cogent strategies, and recklessly anti-Chinese. New Zealand's choice at the end of May not to join the other Five Eyes nations in condemning the Hong Kong security law is a positive indication of Wellington's determination not to take sides in a complex situation that China sees as an internal matter.
If New Zealand fails to include Huawei without justifications as it builds the national 5G network, its relationship with China may suffer, including possibly from Chinese non-tariff trade barriers. The US has still been unable to demonstrate security or technical reasons to reject Huawei, something Britain deduced in January before bowing later to pressure from Washington.
New Zealand's interests would be better served stepping back from the Western anti-China herd and finding its own position, hard to do when one of the government's coalition partners is working to take New Zealand back to the 1970s, when in a real cold war New Zealand supported many of the United States' foreign policy positions.
In disputes between the US and China, New Zealand has thus far managed to act in its own economic interests, and in accordance with the tenets of international law it deems fair. New Zealand will not always get it right, and at times will need to criticise China's actions. But for now New Zealand's political integrity and economic relations with China appear to be in reasonable balance.
Recovery and growth
The recovery of the Chinese economy has gathered momentum in the last months and will be the main engine of global recovery in the years to come. More than ever, China's trading partners (of which 127 trade more with China than the US) should look to their own common wealth and economic stability, and not be influenced by the fulminations of a rudderless United States.
China has the potential to lend crucial support to the global economy through the force of its domestic demand. For eight years, consumption and services have been China's main economic drivers, rather than domestic investment and exports. COVID-19 seems to have been constrained and controlled in China to the degree that over 100 million people travelled for leisure during the country's five-day May holiday. No spike in coronavirus infections has been reported. Auto sales were down 79.1% year-on-year in February, but up 4.5% in April, the first monthly increase in auto sales growth since mid 2018. Smartphone shipments fell 54.7% YoY in February, then rose 17.2% in April, 6.5% higher than the previous April growth rate. Nominal retail sales grew 8%.
Opportunities for New Zealand
New Zealand has an opportunity to consolidate its position in the produce and protein sectors of China. A number of industries could apply the Zespri 'free market co-operative model', a collaboration that is not a formal co-operative like Fonterra, but the expression of the unity and clear commercial aims of a single sector. Zespri enjoys the support of 98% of New Zealand kiwifruit growers. This model may be adapted to the meat, seafood, forestry and manuka honey sectors, to name a few.
New Zealand's government announced a NZD 50 billion fund to support economic recovery and alleviate suffering as a result of COVID-19. It would be prudent to allocate NZD 10 billion to a national 'value' fund that invested in good businesses, increasing their scale to take on global markets, and in doing so increasing tax revenues and employment. It could be managed by the best commercial and strategic minds in the country, regardless of political affiliation (a true team of rivals), generating dividends to New Zealand taxpayers and the means of its own expansion as a permanent resource for a country often starved of domestic investment capital.
Such a fund would soon attract the interests of global investors, both sovereign and private, seeking the security, value and transparency of the New Zealand economy. The fund could not only look at the primary sector but innovative technology in such areas as food safety, health care, computer games, and film and television. With more companies of scale, New Zealand would be in a better position to establish strong commercial platforms and establish brands, not just in China but in growth markets such as Indonesia, India and Vietnam. There are over 600 million consumers in ASEAN's ten member states alone.
New Zealand is well considered in China and respected for its history of tenacious independence. New Zealand's free trade agreement with China has given it unique advantages, helping it avoid the worst aspects of the Global Financial Crises, as it may mitigate the worst effects of the global economic slump caused by COVID-19. All major economies will be competing for Chinese customers to revive their beleaguered, debt-laden economies, and so New Zealand needs to approach China in a new way, with greater unity and well considered and resourced commercial strategies.
---
*David Mahon is the Executive Chairman of Beijing-based Mahon China Investment Management Limited, which was founded in 1985.