Robertson: Businesses need to have suffered 40% revenue drop to qualify for new wage subsidy; Leave Support scheme simplified; New PREFU date set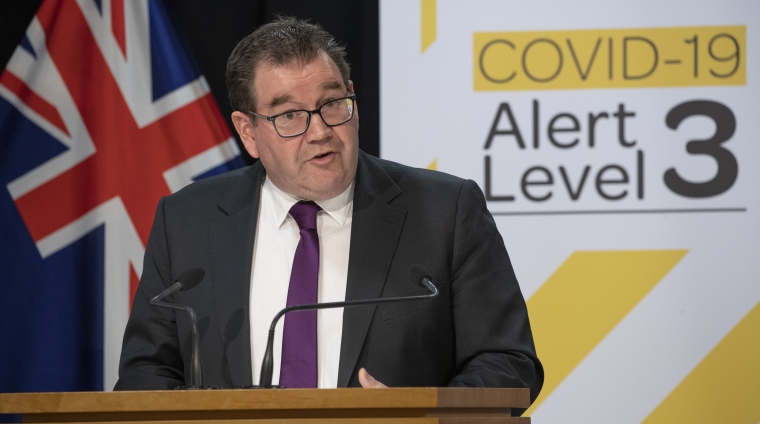 Finance Minister Grant Robertson has announced businesses could be eligible for a two-week wage subsidy if Covid-19 has seen their revenue fall by 40%.
This 40% threshold is the same as the eight-week wage subsidy businesses have been able to apply for from June. The revenue decline for the first iteration of the wage subsidy was 30%.
Under the newest subsidy, the revenue drop needs to have occurred for at least 14 days between August 12 and September 10 compared to last year.
The rate of the subsidy will remain the same - $585.80 for full-timers and $350 for part-timers working less than 20 hours a week.
The subsidy is available nation-wide.
It's worth noting that businesses still have until September 1 to apply for the eight-week subsidy launched in June. 
Treasury expects Auckland's move to Level 3 and the rest of the country's move to Level 2 to see an additional 460,000 workers be supported by this subsidy at a cost of $1.1 billion. 
As for the new subsidy, this is expected to support 470,000 workers at a cost of $510 million.
The cost of the new subsidy will be covered by un-spent funding set aside for the eight-week subsidy. This means the Government won't need to dip into the $14 billion recently ring-fenced to cover any future Covid-19 expenses.
Around $13 billion in wage subsidies have been paid out to date.
Robertson confirmed businesses can't receive the new subsidy while they are still receiving the eight-week one.
The Ministry of Social Development will start receiving applications for the new subsidy from Friday.
See the Work and Income website for more. 
More support for businesses granting workers sick leave
Separately, Robertson removed the revenue-drop and 'negatively impacted' tests for the Covid-19 Leave Support Scheme.
This means businesses with workers who have been told by health officials or their medical practitioner to self-isolate will receive the equivalent of the wage subsidy to help cover that person's wages for the time they cannot be at work.
"Our focus is on doing everything we can to support our strong public health response. That means removing barriers to a person getting tested, including fears that a positive result would put their employment at risk or that they wouldn't receive income while they couldn't work because they had used up their sick leave," Robertson said.
New PREFU date set
Finally, and separately again, Robertson said Treasury's Pre-Election Economic and Fiscal Update (PREFU) will be published on September 16. It was due to be published on Thursday before the election date changed.
Wage subsidy sustainability considered
Coming back to the wage subsidy, Robertson said he made the new subsidy available nationwide, rather than just in Auckland, because Auckland is an integral part of the economy.
Tourism operators that had been expecting visitors from Auckland, companies that supply and trade with Auckland businesses, and hospitality and retail businesses around the country are all affected by the move up alert levels.
Robertson said it was also administratively difficult to confine the subsidy to Auckland while paying it out quickly.
Asked by media whether a subsidy could be targeted to a region in the future, Robertson said it was a "horses for courses" situation. He's asked officials to look into this. 
Officials are also considering how the suite of government support packages available - the Business Finance Guarantee Scheme, the Small Business Cashflow Loan Scheme and the Covid Income Relief Payment - could potentially be tweaked to "ensure support continues to be adaptable and flexible for alert level movements".
Robertson said he wasn't considering broadening the Small Business Cashflow Loan Scheme to enable medium-sized businesses to get interest-free unsecured loans from the Crown.
Nor was he considering getting involved in a "Funding for Lending Programme" term lending facility for banks, which the Reserve Bank is designing to encourage banks to lend to keep inflation and employment buoyed. 
Reaction
National supported the introduction of the new two-week wage subsidy, but took the opportunity to again highlight the Government's failure to keep Covid-19 out of New Zealand.
"Ongoing subsidies can't hide the heavy price Kiwis are paying for the Government's border failures," its finance spokesperson Paul Goldsmith said.
ACT leader David Seymour supported the subsidy, but simultaneously said: "What we can't have is the Government creating a false economy by endlessly propping up businesses and having the threat of lockdowns looming over us."
Seymour, who is campaigning on major public sector spending cuts, also said investing in public health measures to keep the virus out of the community would've been "cheaper" than this latest round of wage subsidies.