Ross Stitt updates the NSW experience with Omicron, a fast-moving set of issues that local leaders are hoping will pass quickly. But the locals aren't so sure just yet with significant self-lockdown behaviour having big economic effects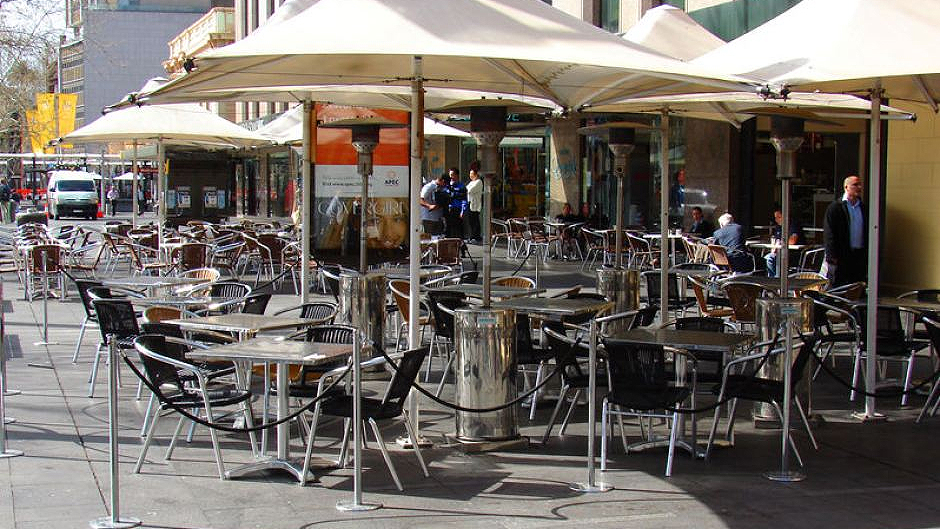 "The recession that Australia had to have". That was how then Prime Minister Paul Keating described Australia's severe economic recession of 1990. The argument was that the government had to get inflation under control and that meant triggering a recession.
The country may yet look back on the current surge in Omicron cases as "the Covid-19 outbreak Australia had to have". Perhaps it is the circuit breaker required to trigger a return to some kind of normality.   
As 2022 commenced, the situation looked dire. Case numbers were growing exponentially in Australia and some of the projections for the health system and the economy were apocalyptic. Uncertainty reigned.
Less than a month later and the outlook has changed dramatically.
The most remarkable feature of Omicron has been the speed at which it spreads, and then, seemingly, the speed at which it peaks. In a few short weeks Australia moved from a handful of cases a day to tens of thousands. However, barely a month after the variant's takeoff in NSW, the number of cases appears to have peaked and gone into decline. The pattern looks similar in other Australian states (and in many other countries).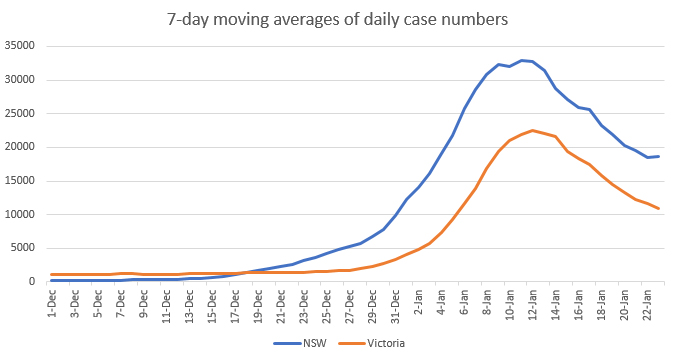 Source: Professor Adrian Esterman
Dr Kerry Chant, the NSW Chief Health Officer, confirms that "our assessment indicates that the spread of Covid virus is slowing, our situation is stabilising". There may be an "uptick" in case numbers when children return to school but that is not expected to reverse the downward trend. On Monday, Dr Chant went so far as to declare "I'm incredibly optimistic". 
Hospitalisations lag reported cases but here too the numbers have stabilised in NSW. At the beginning of December there were around 150 patients in NSW hospitals with Covid-19, about 25 of them in ICU. There was a steep rise from there but the number in hospital has now plateaued around 2,800. The number in ICU peaked at 217 on 19 January and has been declining since then.
It is important to recognise that many of the people in hospital with Covid-19 are not there because they have the virus. They are there for the usual reasons like heart attacks and accidents, but they also happen to have Covid-19. That is inevitable when there are hundreds of thousands of people in the community with the virus. It is unclear to what extent this factor also applies to the number of reported 'Covid deaths'.
The jump in Covid-19 patients has placed considerable strain on the NSW hospital system, and medical staff in many areas have been working for weeks under significant pressure. However, the outbreak has not come close to overwhelming the system. Hospital admissions have been well short of the various scenarios modelled by NSW Health.
According to the NSW Premier, Dominic Perrottet, the state is "tracking better than our best-case scenario".
Other states are at earlier stages of the Omicron outbreak than NSW. However, they appear to be following similar trajectories. Those trajectories have been heavily influenced by two factors – high rates of vaccination and the absence of lockdowns or other major restrictions. (Western Australia had been an outlier. By shutting itself off from the rest of Australia and the world, it had avoided Omicron. But the variant now looks to be spreading in that state too.)   
While Australia's Omicron outbreak may prove to be shorter and less severe than initially feared, its impact should not be understated. In NSW alone, the death toll since the outbreak began is now around 600 and it will rise further.
The economy is also taking a significant hit. This is primarily the result of two things – the 'voluntary lockdown' and the large numbers of self-isolating workers.
The voluntary lockdown refers to the fact that many people frightened of catching Omicron have altered their behaviour. They have eaten out less, shopped less, and avoided gyms, cinemas, theatres, and sporting venues. The hospitality and retail sectors have been badly hit as a result.
According to the ANZ Bank, there was a 27% decline in spending in the first half of January compared to the first half of December. The Australian Retailers Association has described trading conditions as "dire".    
The weekly ANZ-Roy Morgan Consumer Confidence Rating dropped a massive 8.1 points in the second week of January.
The other major economic problem has been the shortage of workers created by people self-isolating when they catch Covid-19 or they are a close contact of someone with the virus. Given the rapid spread of Omicron and the high number of cases, this has played havoc with supply chains and service delivery. Some sectors such as meat processing have seen temporary losses of up to a third of their workforce. Self-isolating medical staff have compounded the strain on the health system.
Governments have eased the problem by shortening certain self-isolation periods, but they have exacerbated it by failing to ensure an adequate supply of rapid antigen tests.
It is not all doom and gloom. The speed with which Omicron is spreading and peaking in Australia may have its advantages.
While hospitals are currently under intense pressure, the duration of that pressure may be relatively short. Most indications are that the disruption will last for weeks not months. That is important given the adverse impact that dealing with Covid-19 has on the provision of other health services and treatments.
For example, non-urgent elective surgery is currently suspended in NSW to ensure medical resources are available to cope with the Omicron outbreak. That is a serious step. Fortunately, that suspension is expected to be lifted in three weeks. The briefer the outbreak, the better. 
A quick outbreak also means that Omicron should be passed its peak in all of Australia well before winter arrives. International experience shows that Covid-19 is more problematic in the colder months both because it spreads more then, and because hospitals are dealing in those months with many other respiratory conditions.
The short, sharp nature of the Omicron outbreak should also limit its economic cost. Many businesses, particularly in hospitality, have struggled over the last six months. Many could not survive an extended outbreak.
Australian economic activity picked up quickly after the Delta lockdowns. No doubt it will do so again when the worst danger of Omicron passes, and rising consumer confidence triggers a return to old habits.
Looking forward, the great unknown is whether the high level of Covid-19 infection wrought by Omicron, combined with high vaccination rates, will give Australia meaningful protection against the next variant that turns up.
There is some reason for hope. Last Sunday, the Europe Director of the World Health Organisation suggested that Europe's Omicron experience may mean it is now moving towards "a kind of pandemic endgame". Two years into Covid-19, that's what everyone is looking for.
---
Ross Stitt is a freelance writer and tax lawyer with a PhD in political science. He is a New Zealander based in Sydney. His articles are part of our 'Understanding Australia' series.