Small NZ gourmet food exporter taking on the US; How it's managing the high NZ$, its plans to grow, and when the PM came for afternoon tea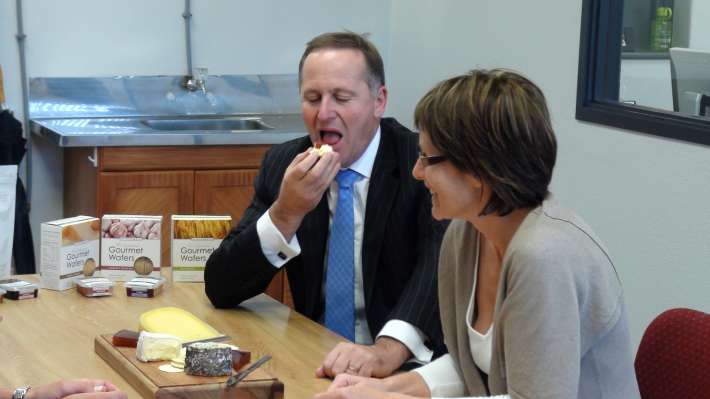 By Alex Tarrant
Rutherford and Meyer, a small gourmet food producer based in Wellington, exports 70% of what it makes. Having built the business up from a tiny fruit pâté maker in a golf course kitchen on the back roads of Canterbury, its owners are now planning to grow their presence in the United States.  
On Thursday I talked to Jan Meyer about how her company was handling the high New Zealand dollar, how hard it was to crack the US market, and what its future plans were, after Prime Minister John Key had popped in for a tour and some afternoon tea.
Jan was showing the Prime Minister her new Seaview premises (in between Petone and Eastbourne) as he came to check out how her little Kiwi company was earning a living from the rest of the world.
I was the only journalist who went to the PM's third and final event of a day of 'meet and greets' around Lower Hutt, as a primary school and WINZ visit was followed by a trip to one of the businesses tipped by New Zealand Trade and Enterprise to contribute to New Zealand's long-awaited-for export-led recovery.
Having arrived early, I caught Jan's husband Russell Coventry rushing around making up a goodie bag the PM could take back to Bronagh that night. It was decided Key's bodyguards should also each get a taster of the fruit paste, gourmet wafers, and snack wafer-bites Rutherford and Meyer produces in the factory out back, employing 20 workers to do so.
That's their business - cheese accompaniments. All made from natural ingredients, and targeted at the luxury consumer. A drive to educate the global masses that they can put other little tid-bits on their cheese boards with their brie and crackers is underway from down-under. And these guys want to lead it.
Rutherford and Meyer (R&M) exports 70% of what it makes into Australia, North America, South East Asia and Europe. Current annual revenue of NZ$3 million is set to double this financial year if a major drive further into the US market pays off.
Jan's mother Alison began making fruit pâté in the golf club kitchen of Canterbury town Hawarden with friend Gay Rutherford in 1996. They sold to Jan and Russell in 2001, who began to immediately chase opportunities to expand R&M's product range.
But the minute they bought the company, Air New Zealand, to which R&M supplied in-flight snacks, hit the rocks. After a NZ$900 million government bailout, contracts like theirs were cut by the airline.
Luckily, export opportunities to Australia were just opening up. A lucky break with Aussie food giant National Foods saw R&M exporting their fruit paste across the ditch.
"We decided we needed to export. Somebody had said to me I really needed to ring this person at National Foods in Australia. I had no idea who National Foods were and how big they were. This guy said to me they had to be able to put the product under their own brand. I said, that's ok, I don't have a problem with that," Jan said.
"He came back and said our price was too high. I said that's the price, take it or leave it. And he said they were going to leave it.
"But then he came back and said they can't find anybody big enough to be able to make the quince paste for us. Well if they'd known how small we were, and that everybody was standing around a table in the board room packing all the boxes, they would have absolutely died.
"It was a very good naive Kiwi story."
R&M began to work closer with National Foods until the Australian company was bought out a few years later, and R&M was subsequently dropped. That kicked Jan and Russell into marketing their own brand in Australia. Following that, they moved into the US market – about three years after buying the business.
Grants from New Zealand Trade and Enterprise for market research helped. It wasn't easy entering the US market as distributors over there operated differently from what they had experienced here.
"When you've got a small pot of money – we don't have a massive marketing budget that the US companies have – you've got to do lots of demos. It's not been easy," Jan said.
"You look at America and say, this country's massive. Look at all these millions of people who live here, I must be able to make it work'. It's not that easy."
So what helped?
"Sheer tenacity."
Jan heads over the US a handful of times a year to meet with everyone involved in selling R&M's products there.
"I know a lot of the buyers up there now. I know a lot of distributors and they know me. They know I'm in it for the long haul."
In 2007 Jan and Russell decided to move up to Wellington, where a third party was producing their products for them. They bought that company out of its factory and began running the whole operation themselves. A recent factory upgrade has now found them further around Wellington's harbour, in Seaview. A perfect starting block to ramp up production for their push further into the US.
As it was such a hot topic, I was itching to ask how the high currency had affected R&M.
The high exchange rate was certainly hurting their bottom line as it squeezed margins, Jan said. But it was what it was, and they were learning how to deal with it as they couldn't just keep hiking prices.
R&M entered the US market when the exchange rate was about 65 US cents to the dollar, and had put an extra margin on top of that to operate at.
"So it hasn't been as difficult as it would have been if we'd come in when it was 50/55 US cents. But certainly the margins aren't there," she said.
"For us, the way we have to make our margin up is we have to be a whole lot more productive in what we're doing."
Automating production
She had just been telling the Prime Minister that R&M was looking at mechanising its production line further, and would fully automate sometime down the track. It was also getting economies of scale by moving to a larger premises and, as the company produced more, it got better buying power over ingredient suppliers.
"That's how we have to work around the currency."
All ingredients, by the way, are natural, which adds to the cost - they could save money by using artificial flavours, "but that's not our brand".
So where to from here? Jan and Russell want R&M to become a well-known brand in the US that can reckon with domestic competition there.
"If we do it right, we don't have any competitors in that market space. So ultimately the plan's to try and attract a bigger company to snap up distribution. We've got a long way to go before it gets to that point, but if we start making a dint with US sales then absolutely they'll look at it. That's where we're heading for," Jan said.
Annual revenue was currently about NZ$3 million. If current negotiations in the US worked out, that could well be NZ$6 million by the end of this financial year.
"That's where we need to grow. That's why we moved to this facility – so we could do that."