Kiwi Pacific Fibre cable project sunk by US fears about Chinese investment, espionage; 'It was made clear US authorities would not allow Chinese investment,' Pacific Fibre's Drury says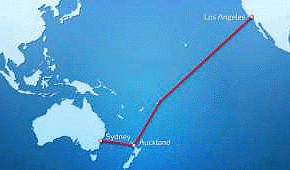 By Alex Tarrant
A Kiwi project to lay another undersea internet cable between New Zealand, Australia and the United States was scuppered by American concerns about Chinese investment in the venture and fears that might allow for Chinese espionage.
Pacific Fibre director Rod Drury told interest.co.nz it was made "very clear" by American authorities they would not permit significant Chinese investment in the US$400 million 13,000 km fibre-optic cable linking Auckland, Sydney and Los Angeles.
The next logical step after allowing a Chinese stake in the venture was demands for the use of Chinese equipment and technology in the cable, which would not have been allowed by the US government.
The project had been on track "several times" but ultimately fell through. Pacific Fibre had been caught in the middle of "real political issues" between the US and China, Drury said.
The team had this week sent someone over to China to talk face-to-face with the potential investors to tell them why the project was not going ahead. Pacific Fibre did not want the result to harm New Zealand's reputation in any way, something the potential investors were appreciative of, he said.
Timeline
Pacific Fibre announced on Wednesday afternoon it had ceased operations after failing to raise the US$400 million needed to build the trans-Tasman and trans-Pacific cable, which would have competed with the 50% Telecom-owned Southern Cross cable and cut internet prices in New Zealand significantly.
It had planned to announce the details of the project in June this year. That had been extended until the decision this week to cancel the venture.
An initial year-long search from March 2010 for local investment had proved fruitless. The New Zealand Super Fund had carried out extensive due diligence on the project, but ultimately decided it was too risky to invest in.
In July 2011, Pacific Fibre announced it had signed a deal with US company TE Subcom to build the cable. Almost a year later, when it was revealed in March 2012 that the Australian government had banned Chinese telecoms company Huawei from participating in its national broadband roll-out due to espionage concerns, Pacific Fibre said this highlighted fears held by Australian and US authorities.
"The United States has previously expressed concerns about Huawei and other Chinese submarine cable suppliers fearing security breaches (e.g. interception of sensitive data)," CEO Mark Rushworth said in a media statement in March 2012.
"The issues raised by the US and Australian authorities' concerns with Chinese suppliers further validate our decision last year to appoint TE SubCom, a US company and industry pioneer in undersea communications technology, to build the sub-sea portion of the Pacific Fibre cable," Rushworth said.
After failing to attract local capital, a subsequent hunt for potential overseas investors was boosted by support from the likes of New Zealand Trade Minister Tim Groser, who had done an "outstanding job" hustling for potential investors, particularly in China, Drury told interest.co.nz on Wednesday evening.
In August 2011, the NZ Herald reported Groser had introduced Pacific Fibre to a large Chinese investor, "talking serious money." Pacific Fibre CEO Mark Rushworth said at the time that discussions with Chinese equity investors had been "very successful." 
However, following those talks, as Pacific Fibre kept US authorities informed about the potential stake holders, it was made clear "we couldn't have had significant Chinese funding on the project," Drury said.
US vendor helped, Chinese investment didn't
Pacific Fibre always knew there would be issues if it secured a Chinese company to build the cable, hence it was happy to have secured TE Subcom, which had offered it the best deal, Drury said.
"That had been our first big thing. It had been made very clear from those who look at national infrastructure that there would be potential issues if it was a Chinese vendor connecting to the US," he said.
But as it became clear local investors would not back the project, and as sticking points rose with Australian super funds and other sovereign wealth funds, it became clear China was where the money was.
"And they love investing in infrastructure, especially strategic infrastructure like this," Drury said.
"Then as we just tested that with some of the US connections, it was made clear that that may be a problem," he said.
The sticking point with US authorities was that having Chinese investors in the project meant they would likely require the use of Chinese equipment for use in the cable: "Potentially that was the next issue," Drury said.
Drury would not comment on whether he thought there was any strength to the American claims.
"It's a world I've never had any real experience with. Certainly the concerns they had seemed to be pretty real [to them], and they turned out to be a real problem – we couldn't have had significant Chinese funding on the project," he said.
Pacific Fibre had been caught between "real political issues" between the US and China.
"It was made very clear. These are cables connecting whole countries. These are very political things," Drury said.
The project had been on track "several times." Due to the progress being made, the initial investors, including Drury, Sam Morgan, Stephen Tindall, David Kirk and Peter Thiel, had kept putting more of their money in to keep the project going – to the tune of about NZ$6 million.
Spying fears
The development comes after Chinese telecommunication equipment companies Huawei and ZTE were placed under investigation by the US House Intellegence Committee in 2011 due to concerns their expansion and technology posed a threat to US security. Read the latest on that investigation here at Reuters.
In March this year it was revealed that Huawei had been banned by the Australian government from its national broadband network roll-out due to national security concerns held by the Australian government. 
While New Zealand's Communications and Information Technology Minister Amy Adams would not comment directly on individual companies, she did say in March that security concerns had been raised with the government regarding its roll-out of ultra-fast broadband through the country.
Huawei is involved in contracts to help roll out the New Zealand government's ultra-fast broadband package in parts of New Zealand.
The government was confident New Zealand authorities used the "full range of associations and collaborative relationships that we have," when it came to security concerns, Adams said.
Read Huawei's reaction to the Australian allegations here.
Aussie super funds, sovereign wealth funds
Drury said Pacific Fibre had also been in discussion with Australian superannuation funds and sovereign wealth funds who were interested in the venture.
The Aussie super funds required a big incumbent like Telstra or Optus to come on board as well. However, those incumbents were not keen on allowing a new competitor to set up shop.
It was a very "murky and political world" when it came to undersea cables.
"Someone had to stump up and do the big thing. We were very disappointed," Drury said.
"If we'd had a sovereign wealth fund at the beginning for the first hundred [million], you could do something around building it. We had quite a few interested in the ten to thirty million range," he said.
"It was going to take quite a few of those to get there; You had to have a big foundation fund to come in and then everyone follows on. It's pretty binary: You get one, you get them all, and if you don't get one, you don't get anything."
Future hope?
Asked whether he thought there was a possibility of the plan coming alive again, Drury said:
"I think it's worse than that. We were very conscious of this because we had Vodafone and Reannz stepping up to the plate. That's a big risk for them, and I think they'd be pretty unlikely to do that again.
"I think the best we can hope for now is probably somebody gets a trans-Tasman cable away, which is hardly transformational. It's a real disappointment. We knew that if we didn't get this away, it would be a real problem for anyone else," he said.