Author Michael Parker says feasibility study coming on his concept of a world class university on Auckland's waterfront to drive an innovation economy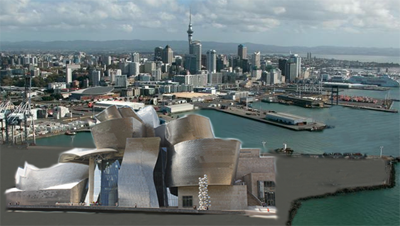 By Michael Parker*
What is the Auckland waterfront going to look like in 20 years? And how is Auckland going to become - in Mayor Len Brown's formulation - the world's most liveable city?
There are a lot of different answers to these questions, but they all share one common theme: Auckland's waterfront is not going to become the envy of every other Pacific city, and Auckland is not going to become the world's most liveable city, by accident.
We need a plan.
Two years ago I wrote and published "The Pine Tree Paradox". The intention of the book was to set out such a plan.
The book suggests that the New Zealand economy would grow faster, and we would be able to stop our 50-year slide down the OECD's GDP per capita rankings, if we pivot the economy from one based primarily on agriculture to one based primarily on innovation.
I made the argument that rich countries in the 21st century do not get richer through services, agriculture or manufacturing. They get richer by turning great ideas into innovative, successful companies.
What does that have to do with Auckland's waterfront and "live-ability"? Well, lots.
If we want New Zealand to be an innovation economy, we need to compete globally for talented engineers and mathematicians and scientists. We need to offer exciting careers and a terrific lifestyle. That means more than just the beautiful beaches, islands, lakes and mountains that make New Zealand unique. And it means more than the skiing, sailing and vineyards that makes the New Zealand lifestyle as attractive as any the world over. It also requires a great city.
An innovation and technology quarter
So here is one way the Auckland waterfront could evolve over the next 20 years. What if, rather than focusing the waterfront largely on retail, tourism, hospitality and the wharves, we turn the waterfront into an innovation and technology quarter?
What if the area from Wynyard Quarter east housed innovative New Zealand companies that were global leaders in their fields, offering high-quality and well-paid jobs to New Zealanders and attracting talented people from all around the world who wanted to live in New Zealand and work in a challenging and financially rewarding environment?
What if there were not just one or two companies like this, but dozens? Some of those companies would employ hundreds or maybe thousands of people. This cluster of companies would be tremendously competitive with each other and - through this intense competition - would effectively ensure that, to compete in the field, you had to be in New Zealand. And it would all be driven by Kiwi ingenuity - with a healthy dose of Australian, English, Norwegian and Chinese ingenuity too.
The area around the waterfront would buzz with activity. These companies would need - among other things - advertising agencies, lawyers, consultants and investors. Employees from these companies would - in some instances - splinter off into start-ups. Some of these start-ups would succeed too. The employees of these companies would support their share of restaurants, bars, art galleries, clothing designers and furniture shops. Much of this would be on the waterfront too.
Setting aside urban design considerations, these companies would be profitable, wildly profitable. And they would pay taxes. New Zealand would run budget surpluses. We could expand services to the elderly and the sick. We could improve education at the primary, secondary and tertiary levels. We could increase the police force to make the country safer. We could improve housing and roads and infrastructure. We could increase our funding of development programmes in the rest of the world. We could do all those things that we dream about New Zealand doing, and be all those things we dream about being, but can't currently because we don't have the money.
What would these innovative companies actually do? Well, it's tempting in mid-2012 to suggest that they would be involved in social networking or renewable energy or – given it is New Zealand we are talking about – agricultural innovations. However, it is tremendously difficult to predict with any certainty where demand for innovation is going to come from one or five or 20 years out, what form innovative ideas are going to take and when they will strike.
As a consequence, the best that we can do is attract the smartest, most innovative thinkers that we can to New Zealand and wait for the ideas to start flying. And that is where the core proposal in my book comes from: we need a great research university in Auckland, preferably on the waterfront. That university will attract the first wave of innovators and will become the first step in the innovation cluster I outline in the book. Everything I outline above follows from the great, research university.
Two Years On …
I have been thrilled by the support I have received since "The Pine Tree Paradox" was first published. Of course, New Zealanders are not unique in looking at a new idea, disregarding the 98% of it with which they agree and gravitating towards entrenched positions in relation to the 2% of the idea to which they object. There has been plenty of that too.
However, the common thread I hear when discussing the book is that we all wish we were more competitive in high value-added, innovative sectors; we wish there were more opportunities for Kiwi ex-pats to return home; and we wish we could reverse our 50-year decline in our economic standing.
My proposal is the simplest way I can imagine of making that happen.
I have been delighted that "The Pine Tree Paradox", and no doubt a number of other recent events, has resulted in the establishment of The Education and Innovation Foundation. The Foundation shares my concerns as to New Zealand's economic prognosis and is seeking to inform and promote debate around available options, including the way forward that I proposed in the book.
Funded by a small group of supporters, the Foundation is in the process of commissioning a feasibility study to put some hard, independent analysis around some of the assertions in the book. I understand that the Foundation is hopeful it will have something to share publicly by the end of this year.
My prescription two years ago was that New Zealand needs to develop a cluster of world-class innovative companies. The decline in our living standards and wealth relative to the rest of the OECD has been a function of our reliance on agriculture at a time when rich economies get richer by developing ideas, not by growing trees or making wine. Accordingly, we do not need to abandon agriculture, but agriculture will not return us to the top of the OECD league tables in terms of GDP per capita.
For that, something else is required; specifically, innovation and an ecosystem to support and foster it. At the heart of this ecosystem of innovation sits a world-class research university. The criticisms that I have received over the last two years have largely fallen into three categories.
Why a new university is needed
First, why is an entirely new university necessary when Auckland already has a perfectly good university? When I say New Zealand needs a "world class research university", I mean a university that sits in the top 10 rankings alongside Stanford and Harvard and MIT.
The path to get there is a long one but the first step is ambition.
Currently, there are plenty of universities in New Zealand but none of those universities has stated a long-term ambition on anything close to the scale I am advocating. It will not happen by accident.
I have presented the proposals in "The Pine Tree Paradox" to various members of University of Auckland's leadership including the Vice Chancellor. The sub-text of these meetings has been clear: take the ideas in the book and run with them, make them your own. To date, they haven't. Therefore, I am persevering. The University of Auckland may change its position and adopt the ambitious goals that I am outlining. It may seek to become a world-class research university but, until it is clear that this is happening, I will continue to progress my initiative.
The second most common response to the book is: we already have a robust innovation sector. My response is: not yet, we don't. I am not talking about smart people doing interesting things and making a few bucks as a consequence. I am talking about an entire sector of the economy that regularly throws off successful start-ups that are embraced globally and become wildly profitable and that - by employing ever-increasing numbers of people and paying taxes - drive New Zealand's standard of living higher.
The third most common response I get to the ideas in the book is: could we actually do it? Are New Zealanders hard-working enough, innovative enough, industrious enough and intrepid enough to make this work? Do we embrace new ideas and new challenges with sufficient abandon to build a world-beating innovation hub on the Auckland waterfront? I believe so. But I really don't know.
We can't blame previous generations anymore
Successfully hosting and winning the Rugby World Cup last year demonstrated that we enjoy the sensation of the world seeing us - even if only for a moment - as our better selves. It is intoxicating. I know we can do that more often, and with loftier and more ambitious goals. I believe this is such a goal. I also know that the challenge of first funding and building a great research university on the waterfront is a perfect leading indicator.
If we can get around our fear that it might not work and get over petty arguments about whether modern cities need functioning ports smack in the centre of town (name another large, dynamic city that does) or whether universities are elitist (maybe they are; but higher tax revenues that fund neo-natal health care and lower infant mortality are most certainly not), we can build a great, research university.
Whether the university is an offshoot of the University of Auckland, a green-field private institution or something else is perhaps the least important detail in all of this. The most important detail is that it happens. And if it does happen, the rest - developing these globally competitive innovative New Zealand companies - will be comparatively easy.
Since I published the book, I turned 40. Now, after two decades as an adult watching New Zealand's continuing economic slide versus the rest of the OECD and - among other things - our deteriorating health metrics, I have to acknowledge that all this is no longer Arnold Nordmeyer's fault, or Robert Muldoon's fault or Roger Douglas' fault, or my parents' fault. It's my fault. And it's your fault too.
Lamenting lost opportunities is - obviously - a waste of time. But there is nothing wrong with wishing that things were different. Wishing that things were different is the first step to achieving change. The second step is coming up with a plan.
----------------------------------------------------
This is an update and epilogue following the serialisation of Parker's book, The Pine Tree Paradox, by interest.co.nz.
The Introduction is here »
Chapter 1 is here »
Chapter 2 is here »
Chapter 3 is here »
Chapter 4 is here »
Chapter 5 is here »
Chapter 6 is here »
Chapter 7 is here »
Chapter 8 is here »
Chapter 9 is here »
Also see a Double Shot interview with Parker here.
If you would like to buy a copy of the full book, you can do so by credit card here » (Visa or Mastercard only.)
----------------------------------------------------
Michael Parker is an equity analyst living in Hong Kong. Originally from Wellington, he has spent the last decade in San Francisco, New York and - on good days - Waiheke. He has a law degree and bachelor of commerce from the University of Otago and an MBA from NYU. You can contact him here »
This article was first published in our email for paid subscribers this morning. See here for more details and to subscribe.