Mark Stephen says that if you value your time you should seek out technology solutions to 'cut complexity, not corners'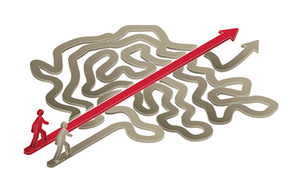 By Mark Stephen*

For many of us, it's not hard to think back to the days when business technology meant beepers, loud fax machines and dial up modems. While these gadgets were top notch in their time, technology has advanced considerably since dot matrix printers were the be-all and end-all.
Currently we are in the midst of what some experts are calling a 'digital revolution'.
Using smart devices such as iPhones and tablets, the businesspeople of today are becoming experts in multitasking. A recent report by Gartner predicted that 40 per cent of the global workforce will be mobile by 2016.
It would take ages to list all of the savvy technology that can help your business, but I have learnt one thing in my experience of technology in business - if you want to improve overall performance and productivity, then you've got the day to day things that take up your time.
Look at the tasks that you perform on a daily basis.
Depending on your business, this could be anything from making efficiencies in sending emails and making phone calls to manning the cash register and logging data. There is technology available to help you save time and money on just about any mundane daily activity, be it accessing emails on your smartphone or scheduling appointments in an online calendar.
I want to talk about banking technology - and more specifically, how internet banking and cashflow management technology can help you manage your business.
If your business cash-flow is tight, taking out finance is one solution, but not always the right answer.
Often successful money management comes down to - you guessed it - the small details. Not enough emphasis can be placed on the importance of managing your time and money in a way that increases to productivity and profitability.
One of the best places to start is to look at how you are managing your inwards and outwards payments.
Value your time
Excuse the cliche, but time is money. This concept is important to grasp if you are running your own business.
While you may not work to a strict nine to five schedule, it's a good discipline to learn to value your time. Ask yourself regularly - what is this time worth to the business? Am I seeing returns? Is it sustainable? Look at ways that you can cut complexity not corners.
Thanks to modern banking technology, the time it takes to conduct tasks is getting shorter.
This is where internet banking comes in. For all those Kiwi business owners who fill the shoes of chief executive, financial controller, marketing manager, operations manager and whatever other role is necessary, you need to employ technology that is dynamic, intuitive and easy to use.
For example; with Kiwibank Internet Banking for Business you can save some time by making payments in batches rather than one at a time. You can also access your business, personal and trust accounts from a single login, and easily switch between them. Internet Banking for Business also integrates directly with accounting packages such as Xero, so that you don't need to export and load data.
Taking advantage of the shortcuts and saving opportunities that modern banking technology offers means you're able to spend less time focussed on doing your banking and more time focussed on your business.
Take control of your cashflow
Many business owners live week to week wondering if payments from clients are going to come in on time, so that they can pay suppliers and staff on time. This can create a pretty nasty cycle of stress and anxiety, where all of your energy is funnelled into a black hole of uncertainty.
Banking technology can help you get back into the driver's seat and regain control of your payments. For example, Kiwibank recently developed Fetch, a recurring payments solution that allows businesses of all shapes and sizes to collect and manage direct debit payments from customers via a secure online tool. The Direct Debit payment collection method has traditionally been only available to larger organisations; due to the controls required to protect the underlying account holder. Technology has allowed Kiwibank to adapt these controls into a process that works for smaller businesses, whilst protecting the account holder. Fetch can provide your customers with a lot more flexibility about how they set up their payments. It also provides you with more cash flow certainty. Instead of waiting for customers to pay you, you'll know how much money is coming in and when.
This simple, cost-effective solution gives you better control over your inward payments and the ability to identify customer credit issues quickly, while simultaneously saving you time and money. Fetch is just one example of how technology can help you perfect one business process.
Technology can help you sort out the day to day details, and once those are fine-tuned, you will have more time to focus on the bigger picture, on your customers, and on what you do best.
------------------------------------------------------
Mark Stephen is the group manager of business banking at Kiwibank