KPMG says bankers are poised to get tougher on 'zombie' SMEs struggling to repay debt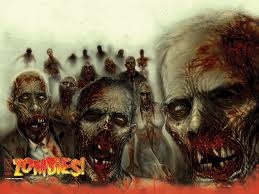 By Gareth Vaughan
Financial advisory and auditing firm KPMG is picking the onset of a toughening attitude from lenders towards businesses struggling to repay debt.
KPMG transactions and restructuring partner Shaun Adams says a survey by his firm of about 200 New Zealand bankers shows businesses that generate little profit or are losing money and therefore not able to generate enough cash to repay loans, are keeping some bankers awake at night. Adams says "zombie companies" are haunting a significant number of lenders.
"All the evidence points to a hardening approach going forward," Adams says. "it is likely that as banks become less busy dealing with the immediate fallout from the Global Financial Crisis, there will be less tolerance of businesses that are simply treading water."
According to Adams, there's recognition within the banking community that they themselves need to be more aggressive in encouraging customers to seek specialist restructuring advice early.
"If businesses continue to ignore the symptoms they could find themselves increasingly at risk of being corralled into processes and losing control of their own destiny," says Adams.
Zombie businesses are living a hand to mouth existence, generating enough cash to carry on trading and paying their bills, but not enough to also repay borrowings. Generally speaking, a zombie is a business in intensive care, needing ongoing financial support and unproductive management time from lenders and investors in order to continue trading.
Trapped in a cycle of dependence
Adams says in many cases it's hard to see how zombies can work their way out of the tight corner they're in. They're waiting for an uplift in business, which they'll struggle without.
"Taking a macro perspective, you could view zombies as sucking the life out of healthy businesses as they often compete by undercutting competitors," says Adams.
"From the perspective of lenders, the primary risk is that zombie businesses will remain trapped in a cycle of dependence. Lenders questioned for the survey were concerned by the lack of profitability and working capital in these under performing businesses and with consumer demand in many sectors still slack, there is nothing on the radar screen to suggest that the situation will improve."
Asked how many zombie companies might be out there, a KPMG spokesman said this was hard to quantify because it wasn't a question KPMG had asked the bankers.
"Our analysis of the information was based on percentages of bank portfolios that showed zombies as a significant problem but the banks didn't indicate numbers. (But) our analysis would suggest lots," the spokesman said.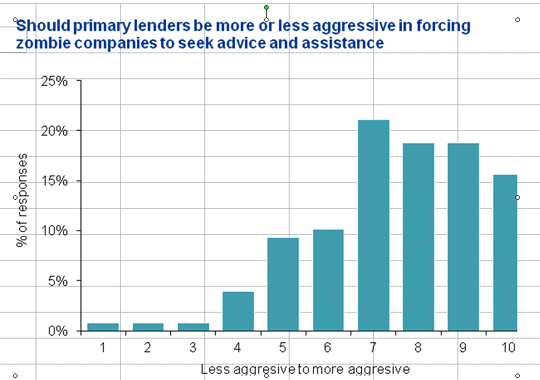 Chart above taken from the KMPG survey.
Construction, retail and financial services sectors the hardest hit
Adams says zombie businesses are mostly of the small and medium enterprise (SME) category with more than half having turnover of between NZ$3 million and NZ$20 million. The sectors hit by the highest proportion of formal insolvency procedures are construction, retail and financial services. In sectors such as agriculture, healthcare, professional services and infrastructure, zombies tend to be sold through a solvent transaction, Adams says. Other sectors such as hospitality, travel and technology, are expected to be subject to mixed fortunes.
"The survey highlights that zombies are more likely to go through turnaround situations, voluntary sales and refinancing which are already the most common 'exit route' for lenders. However, in a cautionary note receiverships, liquidations and even administrations are also expected to increase compared with 12 months ago," says Adams. "Receiverships are expected to be the biggest overall growth area as an exit route for lenders."
And, according to the bankers, management issues are the single biggest reason for a zombie company being placed into a formal insolvency procedure, followed by losses and running out of cash.
The survey quotes an anonymous banker saying that although many clients are good at their primary activity, they're financially unsophisticated and often poor at business management.
"Their businesses have frequently been successful in the early stages, but outgrown their ability to manage, often with poor debt structures accumulated along the way. It is this early success that all too often blinds the business owner to the need to change or to accept advice early enough for the business to remain viable," the unnamed banker adds.
Another unnamed banker tells KPMG the main way zombie companies are surviving is by running down stock and/or selling other assets.
"This obviously can only be done for a certain amount of time, so time is running out for a lot of businesses," the second banker says.
Interest rate increase the biggest threat
According to surveyed bankers, Adams says the biggest three threats to the survival of zombie companies are an increase in interest rates, negative economic factors, and an increase in working capital needs.
Two years ago a zombie borrower would typically sit in a bank's "work out" department for between one and two years, but Adams says this has now dropped to 12 to 18 months.
"Two years ago these units ('work out departments') were not untypically holding cases for over 24 months. However, there has been a marked shift towards six to 18 months becoming much more the norm as lenders take a more active approach to handling zombie cases," says Adams.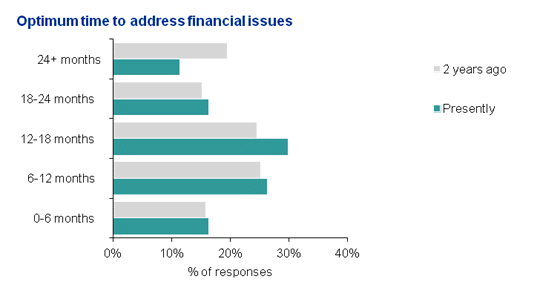 Chart above taken from the KMPG survey.
KPMG is auditor for ANZ, HSBC, SBS Bank, TSB Bank, and bank wannabe Heartland NZ.
This article was first published in our email for paid subscribers this morning. See here for more details and to subscribe.