Westpac NZ unveils $15 mln internet banking revamp that provides full access through any internet enabled device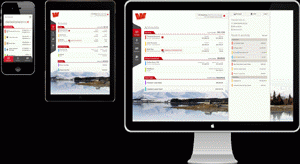 By Gareth Vaughan
In what it's touting as an Australasian banking first, Westpac NZ has unveiled a new "device agnostic" mobile banking platform that will give customers access to full online banking services via any internet enabled device.
The bank yesterday said it was in the middle of spending $15 million over about 18 months in a move that aims to provide up to 95% of its products and services via whatever device a customer chooses to use be it desktop computer, laptop, tablet or smartphone. About half the $15 million has been spent so far with the rest to be spent over the next 12 months, Simon Pomeroy Westpac's head of digital banking and customer experience, told interest.co.nz.
About 60 staff are working on the project, with the service recently rolled out to all Westpac staff. It'll next be made available to private bank customers, progressing to all Westpac customers early next year.
Pomeroy said the idea was quite simple.
"You start thinking about your own experience. That you're using different devices during the day (and) it seems kind of antiquated, or an old fashioned concept, that full (online banking) functionality sits in desktop yet most customers are using mobile and tablet more alongside desktop," Pomeroy said.

"So the idea of actually having one platform was quite a simple strategy and felt very customer centric."
Westpac had looked at what travel companies and retailers do, Pomeroy, who joined the bank last year after previously working for Air New Zealand including as head of loyalty, said. The bank's strategy is based on a view customers are mobile and  the device they're using is an enabler.
"We are essentially a retailer and so have been looking at retailers."
Westpac's current desktop centric internet banking service features about 100 services. These plus about another 50 would ultimately be available on the new central platform.
"And they are things like being able to have service functionality like you see in a branch today or a call centre on the central platform," Pomeroy said. "So the ability to apply or originate 90 to 95% of the actual products and services we offer as a bank, the ability to think about things like advanced payment capability, changing payments, being able to pay peers by mobile or by email, right through to budget and cashflow management and accounting provider integration."
Westpac plans to add new features every six to eight weeks for the next 18 months.
"We've spent about $3.5 million creating the omni-channel around personalising communications across all channels, and about $4 million on the development of the central platform. That's about $7.5 million to date. And we'll spend about another $7.5 million completing the project over the next 12 months," added Pomeroy.
Aside from regular retail customers, Westpac is also developing the service for small and medium sized businesses and is talking to Xero and MYOB.
"One of the key things that small businesses are looking to do is have better integration of their accounting software into banking because there's a lot of duplication of processes. So what we're trying to do is take away that duplication. A good example will be giving customers the ability to be able to set up and manage the set up of payments in their accounting software and then be able to push that to the new central platform for that customer to be able to just go in and send go and for that payment to be made," he said.
One thing Westpac wanted to avoid was continuously rolling out new applications, Pomeroy said, which he compared to cards piling up in a customers' wallet.
"So where we feel it's actually appropriate to have a separate application, which might be mobile wallet, a payments tool for small businesses, that's fine. But when it's actually about the services you could have in a central platform we'll drive them through a central platform."
"Banking is very functional and has been very functional for a long time. Now we're starting to think about how do we drive an experience that meets an individual's needs," added Pomeroy.
This article was first published in our email for paid subscribers. See here for more details and to subscribe.