Heartland Bank plans to buy reverse equity mortgage businesses Sentinel in NZ and Australian Seniors Finance for NZ$87 mln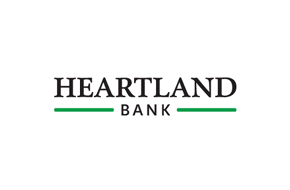 Heartland Bank says it has struck a deal to buy New Zealand and Australian reverse equity mortgage, or home equity release, businesses from Seniors Money International Ltd, being Sentinel and Australian Seniors Finance, for NZ$87 million.
The deal will be partially funded through the issue of $38.7 million of Heartland shares to Seniors Money International, giving the Quadrant Private Equity controlled business about a 9% stake in Heartland. The Takapuna-based Seniors Money International was founded by Ian Hendry and Chris Coon in 2003 after the sale of another company they founded, insurer Sovereign, to Commonwealth Bank of Australia (CBA). It's chaired by ex-prime minister Jenny Shipley.
The deal for Heartland will see it target asset rich but cashflow poor retirees, of which it says about 82% own their own homes, with some 92% of these mortgage free. However, an Auckland District Law Society paper - issued in 2007- concluced that unless the borrower is over 70 years old and intends to borrow only a small proportion of their equity, they should be very circumspect about entering into such a mortgage.
Heartland says a sale and purchase agreement is subject to a number of conditions being satisfied prior to settlement on April 1, including the acquisition and related arrangements not being adverse to Heartland's "status as a registered bank" (Reserve Bank approval), and that the deal not having a negative impact on Heartland's BBB- credit ratings from Standard & Poor's and Fitch.
Heartland says it plans to raise $20 million to partially fund the acquisition through a $15 million equity placement and a $5 million share purchase plan. It'll also use $28.3 million of cash, and issue $38.7 million worth of shares to Seniors Money International at 90 cents each. The shares were at 89c this morning, after rising as high as 92c earlier in the week. Seniors Money International's stake will be subject to a minimum 12 month lock-up escrow arrangement.
"Under the share purchase plan (underwritten by First NZ Capital), each Heartland shareholder with an address in New Zealand on the register at 5pm on 27 February 2014 will be eligible to invest up to $15,000 in new Heartland shares," the bank says.
In terms of the $15 million placement, Heartland says it has received commitments from both existing and new "institutional and habitual" investors with just over 17 million new shares to be issued at 88c each. The shares were up 1c at 90c after the announcement.
Heartland also says CBA, ASB's parent which is Senior's Money International's primary banker, has agreed to continue to provide committed loan facilities to Sentinel and Australian Seniors Finance to fund the portfolios for five and a half years on "similar terms" to those in place now.
"The CBA facility will fund growth in Australia as Sentinel home equity release loans are migrated to Heartland Bank."
Profit on track to meet forecast; Total assets up 28%
Heartland also says in its half-year financial results, due on February 25, its net profit after tax is expected to be around $16.5 million, in line with its forecast full year profit of $34 million to $37 million.
"Heartland's forecast for (financial year) 2015 is yet to be finalised and more detailed financials will be available sometime following settlement of the acquisition. Taking all relevant factors into consideration including acquisition and integration costs expected to be incurred in 2015, the underlying business, together with the contribution from the acquisition, is likely to produce a full year result for 2015 of between $42 million to $44 million of net profit after tax."
Heartland says it will acquire the Sentinel and Australian Seniors Finance businesses, including their respective mortgage portfolios with an aggregate asset value of approximately NZ$760 million, plus their operational infrastructure and funding arrangements. It plans to hold the Australian business separately outside Heartland Bank but the New Zealand business will be migrated into Heartland Bank "over time."
The NZ$760 million is split NZ$340 million in New Zealand and A$380 million in Australia. The deal lifts Heartland's total assets by about 28% to $3.2 billion.
"Heartland has been researching the home equity release product over the last 12 months and has visited and studied the markets in USA, Canada, UK and Australia. Heartland has gained an understanding of the home equity release product and has rigorously tested its fit with Heartland's strategy. The home equity release product offers significant growth opportunities supported by demographic and population fundamentals," Heartland says.

"The chance to purchase Seniors Money International's New Zealand and Australian businesses arose during Heartland's strategic evaluation of the home equity release product, giving Heartland the opportunity to fast-track entry into strong and established market positions. Following due diligence it was confirmed that Seniors Money International's processes and underwriting standards are consistent with best practice."
"Key staff, both in New Zealand and Australia, (with experience in the home equity release market since 2003) will be retained. In addition, prior to this announcement, Heartland has approved risk parameters for the home equity release product and the training of a dedicated distribution team has commenced," says Heartland.
Heartland was formed through the merger of Marac Finance, CBS Canterbury and Southern Cross Building Society in January 2011 and granted banking registration by the Reserve Bank in December 2012. It focuses on small and medium sized businesses, the rural sector and the retail and consumer sectors, offering customers Kiwibank residential mortgages.
Its intention, Heartland says, is to confine its activities to New Zealand with its Australian business held outside Heartland Bank and funded exclusively by CBA. Sentinel will report to Heartland's head of retail, Chris Flood. Heartland's chairman Geoff Ricketts will also chair the wholly owned subsidiary that will oversee Australian Seniors Finance. In New Zealand, Heartland will promote reverse equity mortgages and sell directly though it own distribution channels. In Australia a combination of existing Seniors Money International relationships, building societies and small banks will be used.
The chart below comes from Heartland's presentation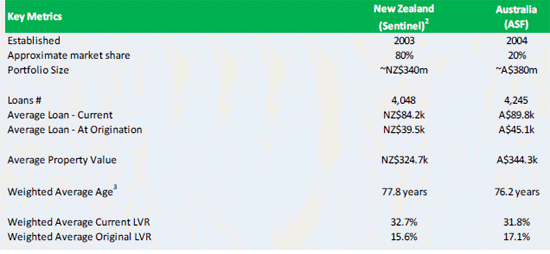 See the full release from Heartland here and its investor presentation here.