ANZ unveils new look 'gimmick free' Queen Street branch, putting emphasis on expert bankers and technology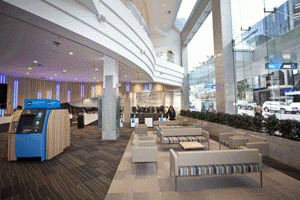 By Gareth Vaughan
ANZ has opened a refurbished Queen Street branch in downtown Auckland, where a National Bank branch used to be, saying it's a pointer to the future for its entire branch network.
And in a dig at rival Westpac, ANZ says you won't find Lego helicopters or Mochaccino machines in its new look branch. In late 2012 Westpac unveiled a community centre-style flagship Auckland branch, which features cheap coffee and a Lego replica rescue helicopter big enough for two people to sit in.
Fred Ohlsson, ANZ's managing director of both retail and business banking, says the new ANZ branch has more banking specialists on site than any other New Zealand branch.
"This new branch shows the way forward for our entire banking branch network," Ohlsson says.

"The banking preferences of our customers are changing fast. Increasingly they manage day-to-day transactions online or on their smart phones. However, when it comes to more complex banking advice, customers want to come to a branch and see someone who really knows what they're talking about. They don't want gimmicks or hard-sell; they just want the very best specialist banking advice available, and that's what they'll find here," Ohlsson  says.
The 205 Queen Street branch has staff who specialise on home, business, Asian (including Korean) banking and investments.

"The branch will also feature more technology options, including intelligent ATMs that accept deposits, internet banking kiosks and Wi-Fi for customers to use. Internet banking and mobile phone banking experts are on site to help customers get set up to do their day-to-day banking quickly and easily," says Ohlsson.