We introduce Professor Ang who will explore the key questions for New Zealand as China enters the world stage and our sphere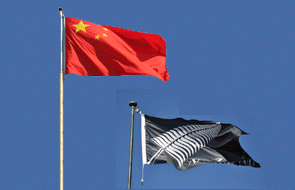 We have invited Professor Siah Hwee Ang to write a regular column about New Zealand's trade and economic relationship with China.
It is a relationship that offers great opportunity but also holds significant risk because it is an unequal one between a very large and a very small country, where there are also major social and civil society differences.
Understanding these differences intelligently will be crucial for all New Zealanders.
Professor Ang will regularly comment on the key issues. Here is is introductory column:

In 2013, New Zealand joined the large group of countries that has China as their largest trading partner. 
We could not really say we did not see that coming, the question has always been when it will happen as opposed to whether it will happen.
After all, New Zealand was the first developed country to have a free trade agreement (FTA) with China back in 2008.
This year, the New Zealand dollar has become only the sixth currency to be able to directly trade with the renminbi or yuan and only the fourth currency to be granted 'market maker' status which allows trade on China's forex system.
This currency deal allows the direct convertibility between the New Zealand dollar and renminbi, which cuts out the requirement and additional cost of converting via the US dollar for exporters and importers.
At the same time, China is one of the largest international consumers of key products and services of New Zealand, such as dairy, meat, logs, tourism and education.
While there are debates on how far New Zealand should rely on trade with China and how we can hedge our bets and risks, the ongoing activities themselves warrant our attention on the New Zealand-China relationship.
This understanding is more imperative given that China is also the largest trading partner for two of New Zealand's key trading partners - Australia and Japan and also one of the two largest trading partners for the United States, another key trading partner of New Zealand.
Therefore, directly or indirectly, the Chinese market and the behaviours of Chinese organisations will impact New Zealand and its organisations, making it imperative to understand them.
It is in this spirit that this column is incepted.
China, officially the People's Republic of China (PRC), is a sovereign state located in East Asia. It is the most populous country in the world, with a population of about 1.35 billion people. It is also currently the second largest economy in the world and also is the second largest in terms of land area.
The country is governed by a single state party - the Communist Party. China became a member of the World Trade Organization (WTO) in 2001. By 2013, China had also become the largest trading country in the world. Together with Brazil, India and Russia, these emerging markets are collectively labelled as the "BRIC".
China has a significant trade surplus with the United States. It has also established a strong presence in Africa since the 1970s, has strong ties with Brazil and Argentina in South America, and in talks with the Association of Southeast Asia Nations (ASEAN) to engage in further links with the ten ASEAN countries.
In recent years, it is evident that China has marched onto the world stage, and inevitably entered into New Zealand's sphere.
The need to understand China becomes ever more prominent.
How much do we know about the China market?
How is the relationship and trade between China and other nations going to impact New Zealand?
Will China continue to play an important role in the consumption of our key products and services?
What are the game plans for our key industries and players?
With Chinese organisations expanding abroad at a blistering pace and also into New Zealand, how should New Zealand and its organisations react and potentially embrace the opportunities?
Once again, we are confronted with such questions, which while not new have been left unanswered previously.
I hope this column will provide another avenue to spread more knowledge out there to help New Zealanders and organisations alike as they encounter China.
---------------------------------------------
Professor Siah Hwee Ang holds the BNZ Chair in Business in Asia at Victoria University. He will be writing a regular column here focused on understanding the challenges and opportunities for New Zealand in our trade with China. You can contact him here