Jason Young says we should channel Chinese investment into areas that benefit local development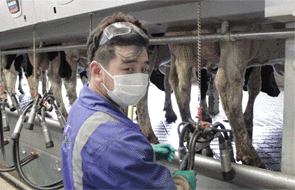 By Jason Young*

The debate in New Zealand on our agricultural investment relationship with China is understandably focused on Chinese investment in arable New Zealand land and food processing facilities.
Most recently, Federated Farmers raised concerns that Chinese interests may be seeking to build vertically integrated companies to service the Chinese market.
Shanghai Pengxin's purchase of Crafar Farms and potential purchase of Lochinver Station has been the catalyst for two public debates on foreign ownership, both close to national elections.
Leading Chinese agricultural companies such as Bright Dairy, Yili and Mengniu have made large investments in dairy processing facilities here.
On the other side of the coin, the largest and most ambitious New Zealand investment in Chinese agriculture has been led by Fonterra, a top global producer of dairy product and New Zealand's largest company.
Fonterra recently finished construction of their first hub of five farms in Hebei Province. They have secured the rights to build their second hub of farms in Shanxi Province with the goal of producing 1 billion litres of milk in China by 2018. This is an ambitious goal considering their current collection of 22 billion litres of milk annually.
Last month Fonterra also announced the signing of a deal with US-based Abbott to develop their third dairy hub in China. At that time Fonterra's chief executive, Theo Spierings stated 'Farming hubs are a key part of our strategy to be a more integrated dairy business in Greater China'.
Fonterra is obviously an important part of the New Zealand economy and the opportunity to expand in China is good news for the long-term development of the company.
Sustainable growth in the New Zealand dairy industry is limited due to environmental constraints and the need for economic diversity in the New Zealand economy.
Investing in production in the developing China market is one way, therefore, to build on New Zealand's expertise in the dairy industry. This is the case even though this has required some changes in Fonterra's operations, such as moving to feedlot farming due to cold winter conditions and managing farms, which are traditionally managed by shareholder farmers in New Zealand.
Just as investment in New Zealand's agricultural sector is a privilege granted by the state on the basis of overall benefit to the New Zealand economy, investment in China's dairy sector is guided by a desire to stimulate development in that sector, to improve food safety compliance and to develop a technologically advanced industry.
In China, hundreds of millions of rural people still rely on agriculture for at least part of their household income through crop sales or labouring and farming is predominantly still in small lots.
Fonterra are part of a larger move toward commercial, larger-scale and professionally managed farming systems in China.
As would be expected, there is no shortage of debate about foreign investment in China's rural sector, about the bundling of household leases into long-term commercial subleases for investors, or about the role of foreign investors in local development.
However, the knee jerk reaction that has driven some of the public debate in New Zealand has not driven Chinese central or local government policy, nor has it created local opposition to Fonterra's activities.
During my own time in Hebei last year I found a willingness on the part of locals to view Fonterra's investment as an opportunity to develop the local economy and a desire for more economic cooperation with New Zealand agribusinesses.
People remained open to economic engagement with New Zealand with one important proviso, that investment was in their long-term development interests and that local farmers had a role in the broader economic activities.
The opening of China and other markets has created major export opportunities for our agricultural producers. Fonterra and other New Zealand agribusinesses have expanded their operations significantly by investing in Chinese farming.
Attempts to bar Chinese companies from investing strategically in New Zealand agriculture for their economic benefit and security of supply, do not sit comfortably on this other side of the coin.
Instead, like the Chinese approach to foreign investment, we should aim to channel investment into areas that benefit local development and to view investment as part of the broader agribusiness relationship.
As Mencius noted more than two millennia ago 'one cannot take both the fish and the bear paw at the same time' (鱼与熊掌不可兼得).
By attempting to take both, or to have it both ways, we run the risk of gaining neither.
----------------------------------------------------------
Jason Young is a Lecturer in Political Science and International Relations and a Research Fellow at the New Zealand Contemporary China Research Centre in Victoria University of Wellington.