Westpac teams up with NY-based downloadable bank account provider Moven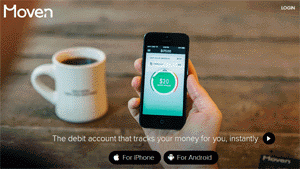 Westpac NZ has confirmed a four-year exclusive New Zealand partnership with New York-based "downloadable bank" Moven.
Moven's founder and CEO is Australian Brett King, who has also written four books on banking in the digital era, and hosts a show on Voice America internet radio called Breaking Banks.
Westpac says the Moven partnership will lead to a series of  new mobile initiatives over the next two years. Initially Moven's mobile money management tool will be integrated into Westpac's internet banking platform in October. Westpac says it'll help customers manage their money day-to-day on their smartphone, tablet, or desktop computer.
Confirmation of the Westpac-Moven deal comes after interest.co.nz's subscriber newsletter reported on July 11 that Westpac had been talking to Moven with the New York-based company targeting a New Zealand launch through a partnership under a licencing arrangement. Westpac will pay a licencing fee for using Moven's intellectual property, with revenue agreements also linked to the number of active users obtained.
Founded in 2011, Moven's commercial launch occurred just last year. The firm recently secured US$8 million of funding to expand into new markets, with Westpac NZ its first partner outside the United States where it works with the Kansas-based CBW Bank.
Westpac says updates via the Moven deal next year will provide customers with real-time spending alerts and feedback, plus tools to help them decide if they can afford to make a purchase.Westpac's chief digital officer, Simon Pomeroy, suggested up to half Westpac's active online users could quickly adopt the Moven services, which will effectively be a white label product for Westpac.
"Like so many other sectors, banking is changing rapidly because of consumer uptake of new technology. Partnering with Moven to provide our customers access to new tools and features for managing their money is another step toward our goal of being the number one digital bank in New Zealand," Pomeroy said.
"While these tools were developed originally as a mobile app, we are integrating them into our fully responsive internet banking platform meaning customers will be able to use the features from any smartphone and tablet as well as desktop. They also complement other features we will be releasing on our new internet banking platform later this year," said Pomeroy.
'Great bank partners' required
King said the New Zealand market appeals for Moven because of its high smartphone penetration, and growing mobile payment acceptance at the point of sale through contactless technology.
"Our objective is to get as many people as possible around the world using our tools everyday. When you are talking about providing banking services, however, that also requires great bank partners in those markets where we launch," King said.
He said Moven had been approached by two other major New Zealand banks but Westpac, which initiated discussions with Moven, had got in first. He aims to get Moven into 10 million phones over the next few years.
Westpac and Moven say they want to enable customers to be able to automatically categorise transactions and drill into any group for more detail such as where, on what and when purchases were made. Customers will receive a mobile receipt within seconds of a purchase being made, with the purchase automatically categorised to provide real time insights into the implications of their spending.
"In addition they will be able to see their average spend versus their actual spend for a month via a graph. The graph will utilise a traffic light colour system - red, yellow, green - to reinforce the state of their current spending against their average spend," said Pomeroy.
"The key to this set of features is the ease of use," he added. "It is developed with the digital age and the mobile consumer in mind. There is very little manual set up, it comes preloaded with 12 categories and other features and the way graphs are displayed delivers quick and effective budget and money management information in real time."
Pomeroy also suggested Moven's receipt functionality was a security boost.