Supermarket chain Countdown enters personal insurance market in partnership with Cigna, Southern Cross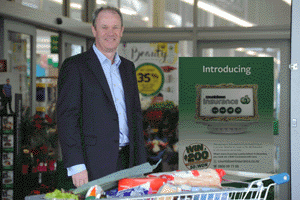 By Gareth Vaughan
Supermarket chain Countdown is today launching a personal insurance range in partnership with Cigna and Southern Cross that its CEO says will be priced in the "bottom quartile."
Countdown is offering bill protection, pet, travel, accidental death insurance and life insurance. All bar pet insurance will be underwritten by Cigna, with pet insurance underwritten by Southern Cross Benefits Limited. The insurance push extends Countdown's foray into financial services after it launched a Visa credit card through an alliance with finance company GE Capital last year.
CEO Dave Chambers told interest.co.nz Countdown had surveyed some of its customers to look at how it could extend its product and service offering to the about 2.7 million customers who pass through Countdown stores weekly. It saw an opportunity in the range of insurance it's beginning to offer. He said he wouldn't rule anything in or out in terms of future expansion in insurance or financial services more broadly.
"We think it (insurance) is a really nice fit with New Zealanders everyday needs with the business that we operate," said Chambers.
"We're aiming to be in the bottom quartile of pricing in each of the product groups with some unique offers. So for example with the life insurance, it'll be free life insurance for new parents until the baby turns one (with) $10,000 cover," Chambers said.
He declined to say how many customers Countdown's credit card has amassed to date. In July GE Capital's New Zealand managing director Angela Hunter told interest.co.nz the Countdown OneCard Visa credit card had about 10,000 customers.. At the time Countdown launched the credit card the company pointed to its Australian parent Woolworths and British supermarket group Tesco as examples of what supermarket chains can do in financial services.
In Australia Woolworths offers car, home, pet, travel and life insurance. Its life insurance is underwritten by Swiss Re Life & Health, with all other insurance underwritten by the Hollard Insurance Company.
Countdown said its insurance products can be applied for online or over the phone.
And in terms of the opportunity seen, Countdown said research it commissioned showed that despite professing that family, friends and their health are what matters most, New Zealanders are almost twice as likely to insure their possessions than themselves or their loved ones.
"While 89% of those surveyed have car, house or contents insurance, just 46% have personal insurance. The main barriers for not securing any form of cover were that people felt insurance was expensive, they were too busy or would never use it," Countdown said.