Building society General Equity says it's being bought by Malaysian group and is reviewing legal options after FMA warning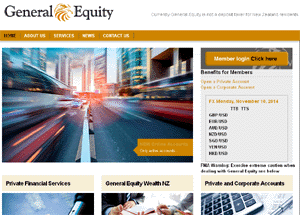 By Gareth Vaughan
Controversial New Zealand registered building society General Equity says it's reviewing its legal options after the Financial Markets Authority issued a warning about General Equity which the building society must run on its own website.
General Equity also says it's in the process of being taken over by "successful Malaysian registered fund" IBB, with contracts signed just over a week after the FMA warning was issued.
General Equity says its directors and senior managers were surprised that after extensive correspondence with the FMA over its concerns, "overwhelmingly relating to past events and the activities of other entities or persons," the FMA issued a warning and ordered General Equity to publish it.
"The powers of the FMA are new and largely untested. General Equity is reviewing its legal options and has engaged legal advisers who are in communication with the FMA. The only avenue for response is by way of legal review which is costly and lengthy," General Equity says.
In September the FMA said the New Zealand public should be extremely cautious if dealing with General Equity, formerly General Equity Building Society.
"FMA considers that General Equity has engaged in misleading and deceptive conduct, including the way it has represented how it is regulated in New Zealand," the FMA said.
"Although General Equity is registered as a building society, it does not carry on business as a deposit taker in NZ, and is not subject to Reserve Bank or trustee oversight. General Equity has not issued shares to the public. Most of General Equity's business is conducted off-shore. The FMA is not aware that any New Zealanders have suffered a loss at this time. However, given General Equity's past conduct, we consider that anyone dealing with General Equity should exercise extreme caution."
The FMA's warning came after General Equity featured in several interest.co.nz stories, some more than a year earlier. One story, in August last year, was based on an interview with Mark Bayoud, General Equity's director of international business, and Murray Greer, its chairman. Among things to come out of the interview was Bayoud's claim General Equity was "comprehensively" regulated by the FMA, something the FMA refuted at the time.
Fund purportedly holding US$6.2b in mining assets owned by 'small group of Asian businessmen'
And, Bayoud said, a fund managed by General Equity that purportedly held US$6.2 billion in mining assets was owned by a small group of Asian businessmen with the assets held predominantly in Thailand and Indonesia. According to the FMA's warning this fund; "does not hold the assets General Equity claims it holds and was used by General Equity to give a misleading impression of adequate asset backing to support the issuance of letters of credit by General Equity."  
Greer is a former ANZ director of property and construction finance and was managing director of Rifleman Finance between 2006-08.
General Equity claims "extensive correspondence" with the FMA actually suggests the FMA doesn't believe it has made misleading and deceptive statements.
"The FMA has not been able to show a single person who has been either been deceived or who made a legitimate complaint," General Equity says.
"The FMA also gave an opinion that the assets of the ABF Fund 1 were not as stated. General Equity was the trustee of The ABF Fund 1 and has never claimed to hold the assets of the Fund beneficially or in its own right. The ABF Fund 1 underwrote some of the instruments issued by General Equity. The FMA has not found any fault with any of General Equity's instruments."
"During the time it was trustee of the Fund, General Equity required the Fund's accounts to be audited. The auditors were a well-respected Malaysian firm experienced in auditing financial institutions, banks and government bodies. These audits were relied upon by General Equity and the mangers of ABF Fund 1. The sources of the assets have been rated by the internationally respected rating company, Dunn & Bradstreet," General Equity adds.
"The FMA, however, has not undertaken any audit of either the assets nor the accounts of the Fund. General Equity, the present trustee, and the managers of the ABF Fund 1 all strongly disagree with the view expressed by the FMA in its warning. None of this is mentioned by the FMA in giving their view."
Meanwhile, General Equity says it has "for some time" been in negotiation with IBB.
"On the 8th of October 2014 contracts were signed to finalise a buyout of the major shareholders of General Equity, subject to shareholder consent."
"After the shareholder buyout there will be a new board of directors appointed and new managers will take over the operations of General Equity. Also there will new and substantial assets injected into General Equity from IBB which will back the continuing operations of General Equity. Under IBB management General Equity will continue its trade finance operations and continue to establish arrangements and deal with other institutions, corporate clients and larger sophisticated investors," General Equity says.
This story was first published in our email for paying subscribers early on Tuesday morning. See here for more details and how to subscribe.