NZ registered building society the FMA advised giving a wide berth to, looking to sell its Auckland office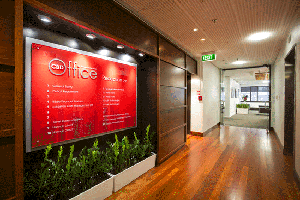 By Gareth Vaughan
General Equity, the New Zealand registered building society the Financial Markets Authority says people should "exercise extreme caution" towards, is trying to sell its Auckland headquarters.
In a tender being run by Barfoot & Thompson that closes today, General Equity's "717m² of quality office space" on the fourth floor of 17 Albert Street is on the block. General Equity has had naming rights on the building, which is next door to the ANZ Tower and has been known as General Equity House. General Equity was formerly known as General Equity Building Society.
Property records show General Equity Services (NZ) Ltd registered a caveat on the premises on December 8, 2009, with the property sold for $1.5 million on December 7, 2011, and transferred to General Equity Ltd on February 3, 2012, the same day a BNZ mortgage was registered over the property.
The General Equity owned premises are listed by Barfoot & Thompson under the heading; "Owner/occupier why pay rent?" It's described as being "attractive to owner occupiers and investors."
Signage for CBD Office Ltd features prominently on the fourth floor of number 17 Albert Street (see picture). CBD Office offers casual office, executive boardroom and meeting room hire. Its shareholders and directors are the Malaysian based Mark Bayoud and John Kortum, who are both also General Equity directors.
The FMA says its recent warning was based on clear evidence of misconduct by General Equity, which the FMA says has engaged in misleading and deceptive conduct, including the way it has represented how it is regulated in New Zealand. Subsequent to the FMA warning, which General Equity must run on its website, General Equity has said it's in the process of being taken over by "successful Malaysian registered fund IBB." General Equity also said it's "reviewing its legal options" after the FMA issued its 'surprising" warning.
The FMA also raised concerns about a fund managed by General Equity that purportedly held US$6.2 billion in mining assets. Bayoud told interest.co.nz last year this fund was owned by a small group of Asian businessmen with the assets held predominantly in Thailand and Indonesia. But according to the FMA's warning this fund; "Does not hold the assets General Equity claims it holds and was used by General Equity to give a misleading impression of adequate asset backing to support the issuance of letters of credit by General Equity."
Interest.co.nz stories dating back to April 2012 have highlighted the strange situation of New Zealand registered building societies - including General Equity - that largely operate overseas. In the interview with interest.co.nz in August last year Bayoud, an Australian described as General Equity's director of international business, said New Zealand was a "well regulated, quality jurisdiction" where operating costs were up to 40% cheaper than Australia.
He also claimed General Equity was "comprehensively" regulated by the FMA, something the FMA strongly refuted at the time.
The Reserve Bank has issued a clarification on building societies including General Equity that are registered in New Zealand but operate overseas. This says the Reserve Bank is "not in a position to monitor transactions undertaken by New Zealand registered building societies that operate in overseas markets."
General Equity has, however, had a New Zealand financial services presence through Keith Hayes, its general manager of wealth. Hayes is described as being "responsible for the overall strategic management and profitability of a New Zealand Wealth management business with an insurance and risk management advisory service, KiwiSaver and an investment planning offering."
General Equity's chairman is Murray Greer, formerly ANZ director of property and construction finance, and the managing director of Rifleman Finance between 2006-08.
This story was first published in our email for paying subscribers early on Friday morning. See here for more details and how to subscribe.