Professor Ang and Yuri Seo highlight the important points for NZ in both the AU-China and NZ-Korea FTAs signed in Brisbane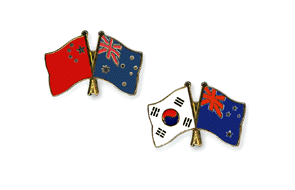 By Siah Hwee Ang and Yuri Seo*


The Australia 2014 G20 summit, the ninth meeting of the G20 heads of government, was held last week in Brisbane, the capital city of Queensland.
Beyond the usual agenda for this meeting, several free trade agreements (FTAs) came tumbling out of the discussions. Two of which are worth highlighting in this column.
China-Australia FTA
This deal is finally done, as anticipated.
Australia is moving towards more food exports into Asia and China.
The FTA with China will mean that 93% of all Australian goods exported to China will be tariff-free within three years. China is also loosening restrictions on its service industries.
In return, Australia welcomes further investments from China, in particular in the resource extraction areas.
Privately-owned Chinese companies can also invest up to AU$1.08 billion in non-strategic sectors without a review by the Foreign Investment Review Board (FIRB) of Australia.
As part of the deal, China will also establish a currency clearing bank in Sydney to facilitate trade in yuan.
The impact of the China-Australia FTA on New Zealand's trade with China is unknown at this point.
Given our trade volume though, together with China's (increasing) demand for food-related imports, the impact of this FTA might be minimal.
But complacency is definitely not recommended, as Australia's shift in its trade portfolio will mean that they are likely to increase their trade in products that are key to New Zealand.
South Korea-New Zealand FTA
South Korea is currently the sixth largest export destination and the eighth largest import source for New Zealand.
The agreement will initially eliminate tariffs on 48% of New Zealand's exports to South Korea. This is an estimated $65 million.
New Zealand will reduce tariffs for imported automobiles, home appliances, refined oil products and many others.
The FTA represents a win for industry sectors such as the kiwifruit, beef and wine. The seafood and deer sectors were disappointed that their tariffs will gradually reduce over a longer period of time. The milk powder omission was expected though, as other free trade partners of South Korea have also not been able to strike any deal in this space.
For those sectors where the reduction in tariffs will be gradual, the FTA is unlikely to have immediate effect. But at least the playing field is now levelled with many other countries exporting to South Korea.
So foreign competitors in South Korea will continue to enjoy a bit of an advantage over Kiwi players, but we expect that to evaporate as New Zealand companies ride this FTA.
New Zealand beef
The South Korea-New Zealand FTA can represent significant value to the beef sector in New Zealand.
Over fifty-five percent of Korean beef consumption is supplied from overseas. Currently, much of these imports come from free trade partners the U.S. and Australia (South Korea is the third-largest purchaser of beef from both the U.S. and Australia).
Against this backdrop, however, there have been safety concerns in relation to the U.S. beef imports, which increased the attractiveness of Australian beef imports into South Korea. This concern has also helped New Zealand beef exporters to establish themselves in the Korean market.
The FTA can help New Zealand producers build on this and further strengthen their position. From this perspective, it will be particularly important to foster and maintain the positive country-of-origin image and to leverage the New Zealand brand.
Beef consumption has a unique status in South Korea. For instance, Koreans purchase packaged beef products as gifts for a special occasion. Thus, beef products are regarded not only as food, but also as a symbolic product.
A higher quality of beef signifies higher levels of status, and this quality is often judged based on the country-of-origin. Accordingly, there are opportunities to leverage the New Zealand image.
A bigger picture and target
There are bound to be hits and misses in any FTA.
The establishment of an FTA represents a first, successful step towards economic growth.
The next step is for New Zealand companies to capitalise on the tariff reductions brought about by the FTA.
Positioning on price alone in the Korean market will not be easy for New Zealand companies despite the FTA, as foreign competition in Korea have a substantial head start in the game. But the FTA does allow a better margin to work with.
Given that New Zealand products already convey a premium appeal to Korean consumers, our companies should consider further investments in their product brands and also the New Zealand brand more generally in the Korean market.
This will help to cement a positive country-of-origin image for New Zealand products in the minds of Koreans, and thus justify and sustain premium pricing.
At the end of the day though, the advice is always to be focused on core strategy and what a company seeks to achieve in its portfolio of markets, and not to jump on any opportunity without due diligence.
---------------------------------------------
Professor Siah Hwee Ang holds the BNZ Chair in Business in Asia at Victoria University. He writes a regular column here focused on understanding the challenges and opportunities for New Zealand in our trade with China. You can contact him here.  Dr. Yuri Seo is a Lecturer in Marketing at Victoria University.