'Ifs' and 'buts' around the oil and gas industry's ability to bring mega bucks to NZ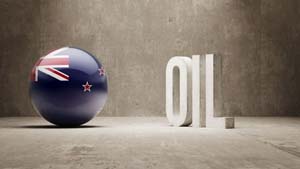 New Zealand can't put all its eggs in the oil and gas basket.
This seems to be an underlying message resonating through this year's Advantage New Zealand Petroleum Summit.
Against a backdrop of plunging oil prices, delegates from around the world have gathered at Sky City for two days of presentations, and to hear what acreage the government is making available for new oil and gas exploration in this year's Block Offer.
Yes, oil is New Zealand's fourth highest export earner, directly contributing $1 billion towards the country's gross domestic product in 2013, and royalties adding $1.5 billion to the Government's coffers over the last four years.
And yes, we've only just scratched the surface exploring the country's potential, with all our production coming from the Taranaki Basin – one of the country's 18 basins.
But the Minister of Energy and Resources, Simon Bridges, opened the conference highlighting the need for New Zealand to diversify its energy sources. He said:
"While the world must progressively transition towards a low carbon future, it can't and won't happen overnight.

"This is why New Zealand takes a long-term view, with a mixed and balanced approach to our energy future, which sees us pursuing opportunities in both renewable and non-renewable energy.

"We are a world-leader in geothermal energy, we have world-class wind generation, our hydroelectricity is extensive, and our abundant forestry resources have incredible potential as a resource for bioenergy.

"But the role of non-renewables, including oil and gas, should not be understated."
Less "disappointing" exploration outcomes needed
The energy research and consultancy group, Wood Mackenzie, said oil and gas isn't a sure high-earner for our economy.
Speaking at the summit, the group's upstream specialist from Australia, Matt Howell, said New Zealand really needs a couple of big discoveries to get developed, for the industry to look up and take notice of us.
"What New Zealand really needs is that PR", he said.
Howell said recent exploration in New Zealand has been "disappointing" and isn't going to help attract significant explorers to the country.
While the summer of 2013/14 saw the likes of Anadarko, AWE and OMV bring rigs here from overseas, commercial quantities of oil and gas were not found.
Going back another few years, Howell pointed out the number of discovered resources, compared to the number of wells drilled has been miniscule.
He said most discoveries in New Zealand produce less than 25 million barrels of oil equivalent per year, with the average being around 13 million barrels.
"This is good enough for small caps operating onshore, but from an IOC [international oil company] perspective, this isn't going to draw you into a country."
Nonetheless the thing that separates New Zealand out from the likes of the UK, Denmark and Brunei, which like New Zealand have had jumps in production before reaching plateaus, is our number of unexplored areas.
While 457 wells have been drilled in the Taranaki Basin, only 81 have been drilled in the East Coast Basin, 36 in the Great South and Canterbury Basins, and 13 in the Northland and New Caledonia Basins.
Bridges today put a total of 429,298 square kilometres up for tender in this year's Block Offer.
This includes an onshore block in Taranaki, two onshore blocks on the west coast of the South Island near Murchison, and offshore blocks in the Northland-Reinga, Taranaki, Pegasus and East Coast, and Great South and Canterbury Basins.
Major international players, Chevron, Stat Oil and ONGC Videsh Limited were among the new comers, awarded permits in last year's Block Offer.
NZ somewhat insulated from oil price drops

Bridges told those gathered at the summit, "It would be artificial today if I didn't mention the sharp fall in the oil price globally."
Howell explained the extent of this, saying global demand for oil almost halved from 2013 to 2015, while supply doubled. The sector's cash flows in Asia-Pacific have decreased by more than US$60 billion this year.
Bridges said, "Of course the fall caused –perhaps primarily – by international energy companies' success in technological innovation and new exploration leading to strong oil and gas supply – has also meant a variety of responses from the upstream sector including reduced budgets for exploration activities in the short to medium term.

"Be clear however: the fundamentals haven't changed. Energy companies can - and must - look past the immediate and take a long term view if they are to fulfil world energy aspirations into the future.
Howell said New Zealand is relatively insulted from plunging oil prices, as a number of the companies operating here at the moment won't enter the exploration phase for another four or five years.
While he said this is the case for the likes of Chevron and Stat Oil, he admits Shell may be in a bit of a tight spot trying to push back potentially ground-breaking exploration work it had committed to doing in the Great South Basin.
He said the Australian Government had expressed some understanding towards companies wanting to hold off work until the oil price picks up.
While New Zealand Petroleum and Minerals has said it wouldn't allow companies to extend work permits due to commercial reasons, Howell thinks established companies may be able to leverage their long-term presence in-country.
New Zealand relatively risk-free and fiscally attractive
Some of the doom and gloom aside, Howell said New Zealand is one of the world's most attractive countries, when it comes to ensuring good returns for oil and gas producers.
Around 43% of what oil and gas companies earn in New Zealand goes back to the Government through taxes and royalties. This is well below the global average of 62%. Portugal has the lowest government take of 20%, while Iran the highest, of 100%.
Howell said the Government take in New Zealand is the fourth lowest in Asia.
New Zealand also poses a very low risk when it comes to social and geo-political issues. According to Wood Mackenzie's scale, Syria is the riskiest country to operate in, while the Netherlands is the least risky.
Environmental issues, including the risk of natural disasters and the reputational impact a spill will have on a company operating in a place where people care so much about the environment, are issues that might make New Zealand less attractive.
In terms of finances, Howell said labour costs in the sector are up to 40% lower than in Australia, however exploration costs are much higher, as getting rigs and equipment to New Zealand is relatively more costly.
Harnessing commercial opportunities
Howell said, "It's important that when a discovery is made, there's consideration to what market it's going to feed and what's important".
With production from the country's main gas supplier at Pohukura in Taranaki expected to drop off around 2020, he said large gas reserves need to be found within the next three or four years.
However he pointed out that as companies look to produce beyond Taranaki, they'll have to factor in the logistics of getting their products to the right market.
Without any infrastructure in place, he questioned the viability of building a pipeline from the Great South Basin for example, if major gas discoveries were to be made there.