A "how to" guide on seeing the glass half full when we talk about our ageing population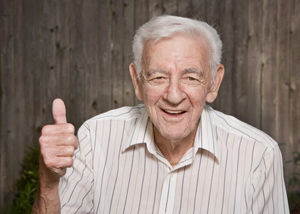 The Government's putting a positive spin on the impact our ageing population will have on the economy.  
The Ministry of Social Development has released a report – 'The Business of Ageing' – which claims an ageing population will bring more opportunity than economic doom and gloom.
The report's found that by 2035, there will be 1.2 million people aged over 65 – almost double the current figure of 650,000.
Seniors will spend around $65 billion a year in 2051, up from $14 billion in 2011.
Including payments on pensions such as New Zealand Superannuation, investments and GST, they will pay taxes of $17 billion, up from $3.6 billion in 2011.
If you put a dollar value on every hour of voluntary work they did, they'd contribute four times more to the economy.
Furthermore, 65% of men and 55% of women between the ages of 65 and 69 are likely to participate in the labour force by 2051–2061, up from about 45% and 31% respectively today.
The Minister for Senior Citizens Maggie Barry says, "In the future they will stay in the workforce longer, give more of their time to the community, and become a powerful consumer base. Seniors are a positive force for change and should be seen as such.
"Too often we hear our ageing population described as a burden. That attitude is objectionable and completely wrong."
But is it really?
Reality check  
Figures released by Treasury in its 2013 'Affording Our Futures' report, show government spending on healthcare is projected to grow from 7% of GDP in 2010, to 11% in 2060. Spending on NZ Super is projected to increase from 4% to 8% of GDP over this time.
Yes, tax revenue is expected to increase from 27% to 29% of GDP between 2010 in 2060, but government debt is expected to offset these gains 14-fold.
The Treasury report estimates net government debt will grow from 14% of GDP in 2010, to 198% in 2060.
Following the release of the 2013 report, Treasury Secretary Gabriel Makhlouf told reporters, "If we do not increase taxes, expenses will soon outstrip revenue, leading to persistent deficits.
"We will need to make policy adjustments, either to spending areas or to revenue, or a mixture of both.''
Harnessing the purchasing power of over 65s
While I will leave readers to decide whether to view the glass as half full or half empty, 'The Business of Ageing' report does make two points I'm sure we can all agree on. 
Firstly it says, "Businesses will need to better understand this group [over 65s] and the role they will play as consumers in the future. The rapid expansion of businesses signing up to the SuperGold card shows how this market is growing."
DDB advertising agency chief executive, Justin Mowday, believes businesses aren't reaching out to this group as effectively as they could.
He says there are a few challenges to targeting this group.
"People's brand preferences and options are entrenched by the time they get to 50… From 50 on, it is very hard to shake someone out of one brand and into another", he says.
"Brands are also hesitant to overtly associate with over 65s, because it may polarise other groups they may like to appeal to.
"If you overtly appeal to an over 65-year-old, there will be some younger demographics who instantly decide that brand isn't for them."
Nonetheless, Mowday says it is possible to target an older age group and get it right.
He points to a TV ad DDB did for Westpac, where they showed a middle aged man (not quite in the 65 plus age group), trying to relax and enjoy his hard-earned cash, but ending up handing out money to his grown-up kids, grandchildren and parents. 
Mowday received a good response from people who said they really empathised with the poor guy dishing out cash and his stage in life.
In terms of marketing targeted at elderly people, he also raises the point that we can't discard the ads seemingly aimed at middle-aged people. No 65-year-old thinks they're old, so will connect with an ad aimed at a 40-year-old.
Hiring and retaining older staff
A second good point the report raises is; "As the traditional 'working age' population shrinks, businesses will need to retain and harness older workers' skills in order to sustain their long-term growth and profitability".
BusinessNZ chief executive Phil O'Reilly says employers are putting increasingly large efforts into retaining their more elderly staff members, but aren't doing as well when it comes to harnessing new employees.
"There's a big recognition now that those workers have skills that are hard to replicate or re-create", he says.
"It's not as though there's a million appropriately qualified young kids out there ready to start. So the idea of retaining talent feels more secure."
He says the population's also become fitter and healthier, so older people are more capable staying in employment.
Nonetheless, O'Reilly admits it's harder to employ a 60 year-old over a 30-year-old, when you're not certain about their commitment to the workplace and their capacity to deal with the fast-moving and uncertain environments that we're familiar with in workplaces today.
On the flip side, he says it's also important for older candidates to demonstrate their skills are still relevant to today's work place.
He maintains they're doing this well, having become much more familiar with technology than say 10 years ago.
He says employers who see the benefits of having diversity in the workplace will be more open towards hiring older staff.
"The smart employers are already doing all of this – the banks, insurance companies and large retail employers. It's a case of making sure we spread this out to those who might not be so sophisticated in their hiring practises."
O'Reilly says it's also important to concentrate on the right opportunities, as a 25-year-old is likely to be a more desirable employee for a labouring job than a 60-year-old for example.